Intel: Hey, enterprises, drop everything and DO HADOOP
Big Data analytics projected to run on more servers than any other app
---
IDF 2014 How important will Big Data be to the typical enterprise IT department within the next few years? More important than any other workload, if you believe Intel.
"Within a couple of years, Hadoop will be the number one application. It will be running on more servers than any other single app. It will be more common for enterprise IT than their ERP system," said Diane Bryant, senior VP and general manager of Chipzilla's data center group, speaking at the Intel Developer Forum in San Francisco on Wednesday.
According to Bryant, for as much hype as Big Data has received already, enterprise data analytics is only just now taking off.
"Big Data is certainly a big industry buzzword. It's right up there with wearables," she said. "But there's reason for all the buzz. We see harnessing the value of data as the next killer app that will drive market growth."
What has enterprises eyeing data analytics now, Bryant said, is that it's finally feasible. Within the last 10 years, she said, the cost of computing has declined 40 per cent and the cost of storage has gone down 100 per cent, putting massive data stores within reach of even smaller enterprises.
Naturally, Intel is interested because it's planning to make a bunch of money. The Big Data market has a compound annual growth rate of 35 per cent, Bryant said, and by 2020, annual sales of Big Data silicon, software, and services are projected to amount to $150bn.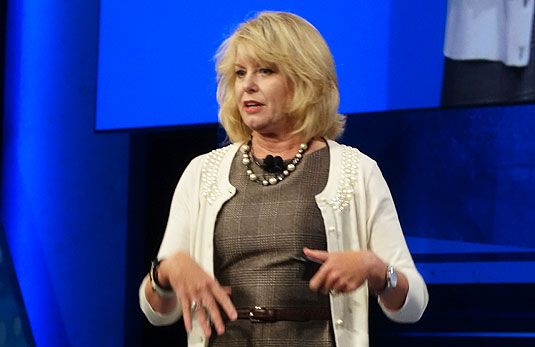 Intel's Diane Briant big-upped Big Data at IDF 2014
Chipzilla has already invested heavily in the software part. For a time it marketed its own Hadoop distribution, but it binned that in March in favor of investing $740m in Hadoop company Cloudera. Intel chief information officer Kim Stevenson also took a seat on Cloudera's board of directors in June.
At IDF on Wednesday, Bryant brought Cloudera chief strategy office Mike Olson onstage to boast about all the work the two companies are doing together, including optimizing Cloudera's software for Intel's latest chips.
"With the new Xeon E5 v3 processor that we just launched on Monday, we more than doubled the performance of Cloudera's distribution of Hadoop, on Intel architecture," Bryant said.
So if Intel has the silicon and software covered, what does that leave for the audience of developers at IDF? You guessed it, services. Bryant said Hadoop alone isn't enough for enterprises to gain insight from their data.
"On top of Hadoop, you need a diverse range of analytics tools, applications, and services that actually create the value to the end user," she said.
Mind you, Intel isn't the only big tech vendor that's hitching its wagon to the Big Data trend, nor is Cloudera the only startup that's selling a Hadoop distribution.
In July, HP made a $50m Hadoop investment of its own – a far cry from Intel's staggering $740m, to be sure, but significant nonetheless – only it chose to back Hortonworks, which like Cloudera also employs a number of engineers who helped develop Hadoop at Yahoo!. HP CTO Martin Fink also now sits on Hortonworks' board. ®