Australia's private sector whistleblower laws are weaker than those in most G20 countries including Turkey, China, and Indonesia, according to researchers at Melbourne and Griffith universities.
The report Whistleblower Protection Rules in G20 Countries: The Next Action Plan found while in roads had been made to improve whistle blowing protection for the public and private sectors, it was insufficient for Australia given the Government's commitments to bolster protection.
University of Melbourne research fellow and report co-author Sulette Dreyfus said Australia led the G20 pack in its strong public sector whistle blower protections but failed to provide support and safeguards for private sector leakers.
"The G20 countries made commitments in 2010 and 2012 to improve whistle blower protection and if they want to honour those commitments they need to do more work," Dreyfus said.
"It's not okay to do worse than China, Indonesia or Turkey when it comes to private whistleblower protection.
Australia needs to do more work in both areas."
Private sector whistle blowers could be sacked, ostracised and afforded few safeguards should they inform superiors or third parties of internal corruption or fraud, and had few formal processes to follow, Dreyfus said.
"[Australia] falls down on third party reporting in the private sector around things like internal disclosure procedures, financial compensation for job losses and re-training particularly needed for older whistle blowers, and protection for contractors including employees."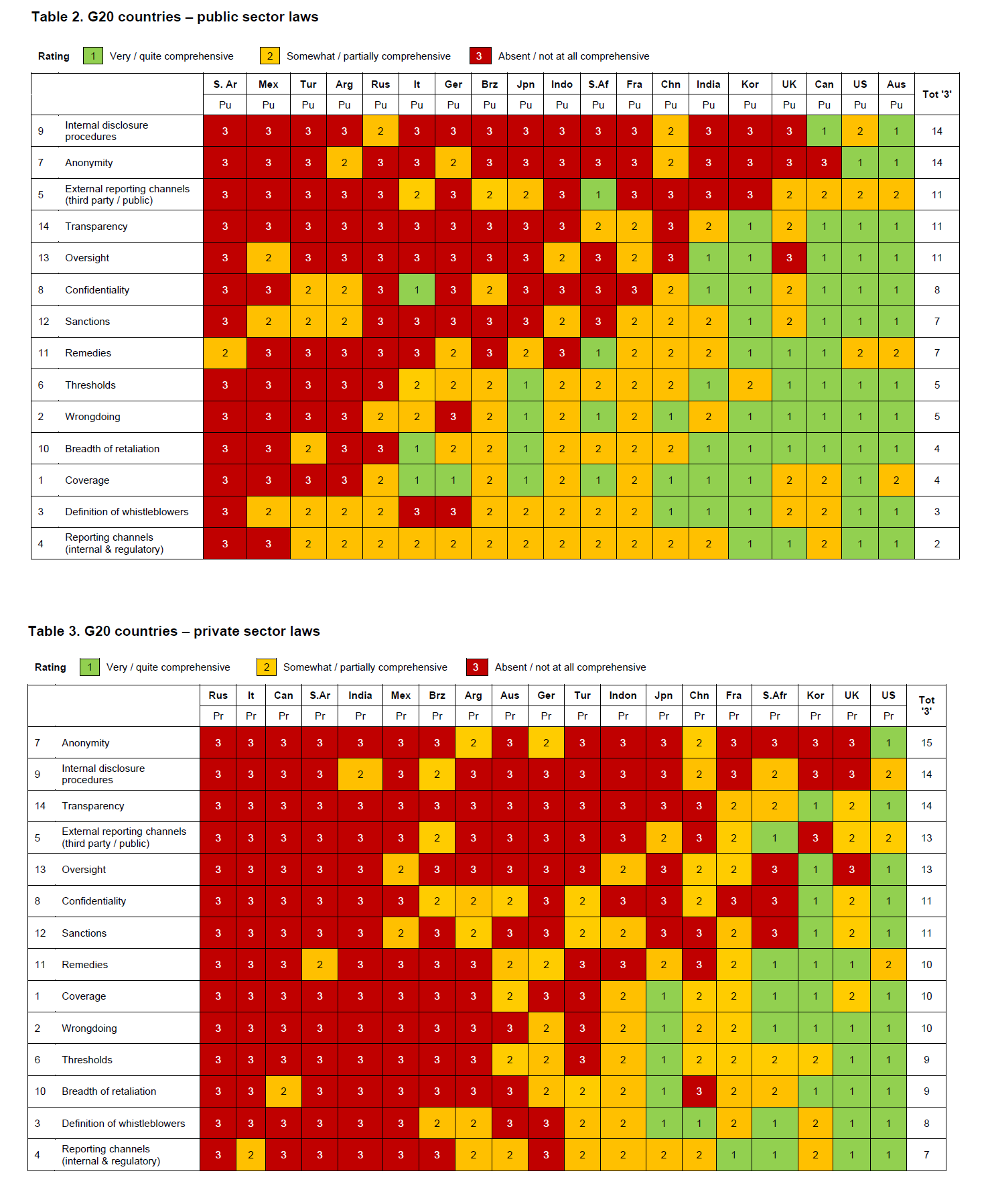 Australia's whistleblower laws rated
The five-month long research was conducted by a team of four including technologists, lawyers and privacy experts. A draft report charting G20 countries was sent to governments and NGOs along with researchers in those countries so they could respond to the listing. The final report is a product of the subsequent alterations and analysis.
While the report charted Australia in verdant green due to its comprehensive pubic sector whistle blower coverage and painted blood red due to its slack private sector black letter laws, Dreyfus warned tough national security legislation introduced to Parliament last year and backed by both Labor and the Coalition carved a "giant section" in Australia's pubic sector protection.
"We need better public protection in the natsec (national security) area," she said. "The new laws have very Draconian penalties and reach meaning you can get scooped up very easily and badly punished. While you don't want your spies to leak information willy-nilly, and you need a higher threshold for blowing the whistle to a member of parliament or the media than what applies to a local council worker, there has to be proper protection for when corruption goes to the top."
Strong whistleblower laws in the private sector made economic sense because it served as a cheap means of cracking down on internal theft and fraud.
She said IT shops would not need to spend time and money on systems to stare over shoulders in search of their own Edward Snowden or slimy executive by appealing to the "collective sense of ethical behaviour" present in most groups of people.
The report contained 14 recommendations for implementing whistleblower protection schemes that were sourced from diverse and respected sources, Dreyfus said.
Reg readers in the USA and UK will be pleased to know that those nations rated very well on the private sector side of things. Canadian readers - turn away now as your laws are even weaker than Australia's. ®