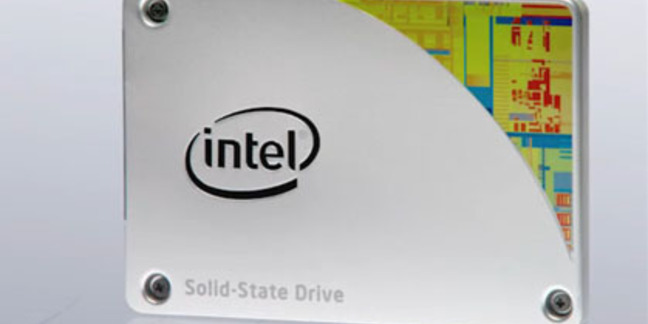 Review Intel has been busy of late launching SSDs for both the consumer market and for the data centre/enterprise segments. But the dedicated business segment, which Intel addressed for the first time last year with the SSD Pro 1500, was the one area where it didn't introduce a new drive. With the launch of the SSD Pro 2500 series, Intel has now plugged that gap.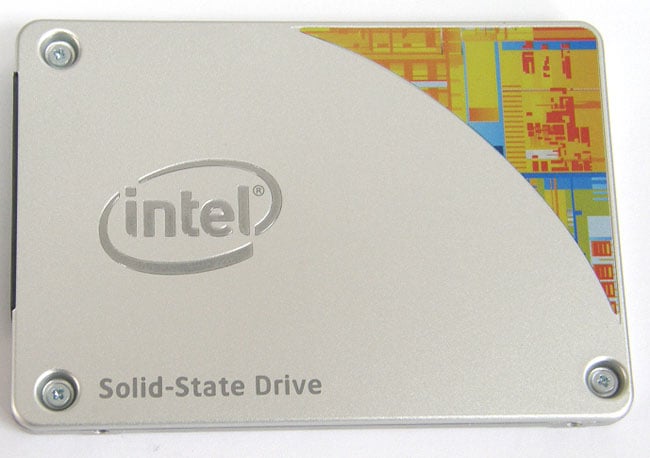 Intel's Pro 2500 SSD comes in all shapes and sizes
Intel offers the Pro 2500 in three formats and has a broad range of capacities. The 2.5-inch form factor has 120, 180, 240, 360 and 480GB storage options. The single-sided version of the M.2 80mm (2280) is 180GB only, whereas the double-sided version is either 240GB or 360GB. The M.2 60mm (2260) double-sided offers 180GB and 240GB capacities. Bear in mind that the M.2 options are SATA based and not PCI-E based.
As befitting the market at which they are aimed, the Pro 2500 drives come loaded to gills with data protection. For a start, these are self-encrypting drives (SED) using 256-bit encryption that is hardware based. The drives have support for TCG Opal 2.0 (the Pro 1500 only supported v1.0) and IEEE-1667 for Microsoft's eDrive, although this is turned off by default.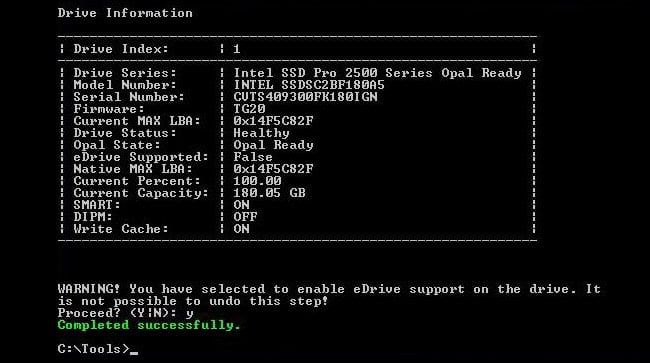 eDrive if you want it, enabled from the Intel SSD Pro Administrator Tool
If you want to use IEEE-1667, it can be turned on by using the new Intel SSD Pro Administrator Tool, a command line utility that also allows IT administrators to perform a complete PSID revert, should the drive's encryption key get lost. By using Intel's vPro and SCS (Intel Setup and Configuration software), IT admins can also remotely manage the drives and they also supports third party management software.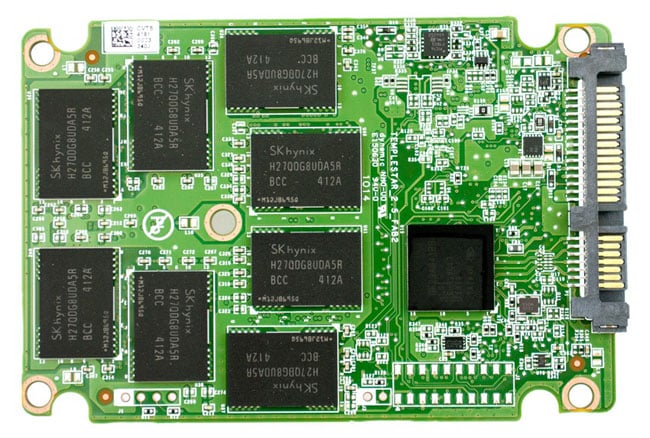 LSI Sandforce controller...
Opening up the drive (bang goes the warranty) reveals that, as with the Pro 1500, Intel is using an LSI SandForce SF-2281 controller but with its own firmware. The big surprise is that the SF2281 is looking after third-party NAND. Yep, not an Intel chip in sight. Instead there are 20nm MLC NAND chips manufactured by SK Hynix.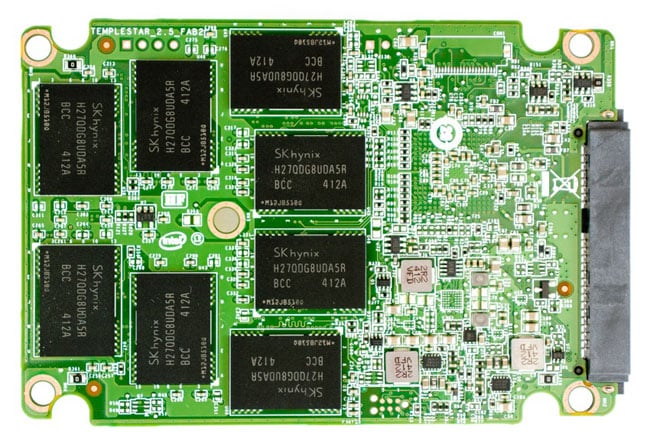 ...and not an Intel NAND in sight
Fear not though, Intel says that the memory has gone through the same vetting procedure as its own products - even so, it's still a surprising move. In the 240GB drive there are 16(eight per side of the PCB) 16GB (2 8GB dies per package) of these SK Hynix NAND chips.
Sequential read/write performance across the range, regardless of format, is quoted as up to 540MB/s reads and 490MB/s writes. My 240GB review sample sailed past both claims when tested with the ATTO benchmark, giving scores of 555MB/s for reads and 533MB/s for writes.

ATTO and AS SSD results – click for a larger image
As it's a SandForce controller, it comes as no great surprise to see that it handles data that is compressed better than uncompressed data. This can be seen in the CrystalDiskMark benchmark. The default uncompressed benchmark gives a sequential read score of 478.8MB/s and a write score of 288.9MB/s. Switching to the compressed data benchmark the Read score rises to 523MB/s but the best performance jump is in the Write where the MB/s figure jumps to 520.1MB/s.

CrystalDiskMark results: uncompressed (left), compressed (right)
When it comes to real life testing, a 50GB folder (28,523 files) took a shade over 10 minutes (at 72MB/s) while a 17GB Blu-ray image took just under three minutes (at 101MB/s) and a 4GB image took 36 seconds at 101MB/s. Intel claims the drive has an endurance of 36.5TB, which works out to be around 20GB of host writes a day for the length of its five-year warranty.
The Reg Verdict
The Intel SSD Pro 2500 leads on from the previous Pro 1500 model offering better, more secure hardware encryption and introduces the Intel SSD Pro Administrator Tool which allows better disk management for IT bods, which is all good. Yet on the other hand, it uses a controller that is very long in the tooth and it doesn't have any form of power loss protection, which these days can be found in consumer SSDs, never mind one designed for the business environment. Close, but no cigar. ®
Sponsored: Webcast: Discover and secure all of your attack surface

We lift the lid on Intel's Pro 2500 SSD. Shock, horror: It doesn't use its own NAND chips
Business SSD that ticks a lot of boxes for administration and security but misses one useful trick.
Price:
Approx: £80 (120GB), £105 (180GB) £130 (240GB), £250 (480GB - 2.5in only) RRP