This article is more than 1 year old
Facebook's self-destruct status update beta test will self-destruct
SnapChat-like posts in limited pilot mode
Facebook has confirmed it is running a limited trial of a new feature that allows people to craft self-deleting posts.
Some users spotted the social network including a new option on posts allowing them to be automatically removed after one hour to seven days. The feature allows a post to be visible for a set period of time and then automatically stricken from the user's timeline.
A spokesperson for the Mark Zuckerberg-run biz confirmed to The Register that it was indeed running limited tests of the proposed feature with a few mobile users.
"We're running a small pilot of a feature on Facebook for iOS that lets people schedule deletion of their posts in advance," a Facebook statement read.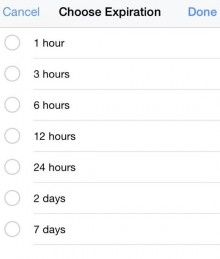 The self-destruct options ... Source: TNW
It's not too tough to see the benefits of a self-destruct feature for Facebook posts. Users could use the feature to make... sensitive... material disappear after a set amount of time and not have to worry about the content being stumbled upon by unintended parties.
Provided the persons on the other end don't think to take a screenshot.
Such an issue was found to be the Achilles Heel of Snapchat, the mobile app for self-deleting photos.
Facebook was said in talks to acquire Snapchat last year, with Zuck offering as much as $3bn. But the deal broke down. Since then, Facebook has moved on to offer its own Snapschat-like tools. ®