This article is more than 1 year old
Go home Google, you're drunk! Desktop Maps says The Shard's TWO MILES from actual loc
Lord Nelson's new neighbour surprises Londoners
Anyone searching for directions to The Shard on the desktop version of Google Maps may be surprised to discover that the pointy, glassy London skyscraper is apparently plonked in the middle of one of the capital's best-known landmarks, Trafalgar Square.
Eagle-eyed reader Pete Jones spotted the mapping blunder and tipped off The Register.
Vulture Central was able to replicate the error on both Firefox and Chrome desktop browsers by searching for "The Shard" and choosing the first drop-down option from the results menu.
Amusingly, as you can see from the image, the correct postal address for The Shard - which opened in early 2013 - does display on Google Maps, even though it erroneously places the iconic building on top of a statue of King Charles I, which stands on a roundabout next to Trafalgar Square.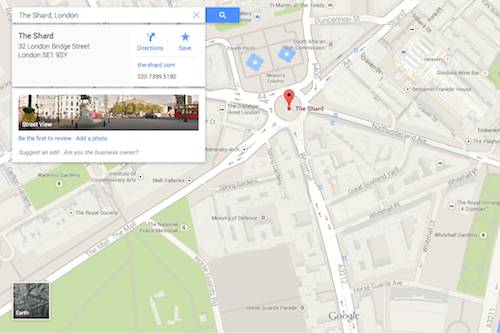 Click here for a bigger version of the image
However, the diagrammatic cockup cannot be reproduced on mobile versions of Google Maps, which is perhaps just as well given our propensity these days to gaze at a screen rather than to look at the environment around us and use, y'know, landmarks and street signs to help us navigate from A to B.
This isn't the first time El Reg has been alerted to Google Maps bungles. In May, Mountain View was wrongly displaying Paris's Metro brand for a number of London Underground searches.
Have you spotted similar Google Map gaffes? If yes, do share with us or send screenshots to the usual Vulture news email address via the "tips and corrections" link below. ®
Bootnote
Vulture Central's backroom gremlins used, er, Google Maps to calculate the distance between the actual Shard and the Google-inspired location as 1.78 miles as the crow flies. Taking into account road layouts, that's near enough two miles to actually travel between the two.