Plane-maker Airbus is working on an inkjet printer.
Currently undergoing testing, the device is intended to paint planes.
Today, airlines' logos and the designs they favour are usually painted onto planes. If the designs are complex, they are built up layer by layer in a time-consuming process. Designs too complex to be painted are printed onto colossal stickers, then slapped onto planes. The stickers work well, but add weight to a plane and degrade over time. That adds up to costs that airlines are keen to avoid.
Those problems with the painting and printing processes are behind Airbus' plans to create an inkjet printer capable of scrawling straight onto a new plane. That inkjets can also create more detailed images than is possible with other methods is also welcome.
Airbus says the still-experimental printer "... functions much like a traditional model, using an inkjet head with nozzles that spray three basic colours (cyan, magenta and yellow) and black."
Just like that ink-guzzler on your desk the printer "prints a design line by line, from top to bottom". Unlike your printer, this one needs "a seven-square-metre bench".
If this all sounds silly, stop tittering because there's demand for pretty planes. The craft pictured below is a new 777 that Taiwan's EVA Air has painted in Hello Kitty livery. EVA has half a dozen "Hello Kitty Jets", each with a unique design, and markets them aggressively.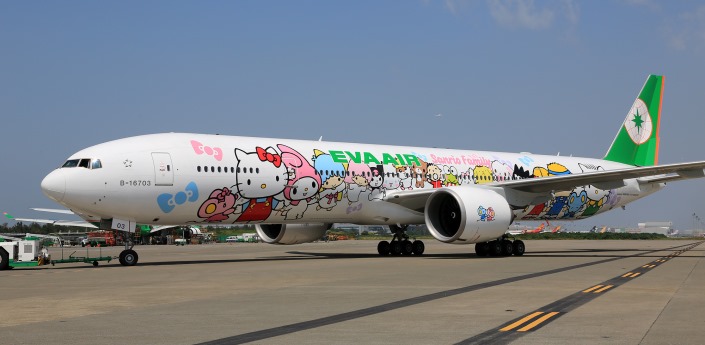 EVA Air's latest Hello Kitty Jet - a Boeing 777 for the Taipei-to-LA run
As your correspondent discovered on an EVA flight in May, the Hello Kitty schtick isn't just skin deep: staff wear Hello Kitty kit, the pillow has a Hello Kitty slipcase and even the food and cutlery have been given the Hello Kitty treatment.
Hello Kitty fishcake and cutlery on EVA Air. pic.twitter.com/bX5AlvYHkZ

— Simon Sharwood (@ssharwood) May 31, 2014
Airbus says the printer has made it six steps up the nine-level technology readiness level scale it uses when developing new technology. It's hoped the printer will be ready for the A320 production line in 2015.
The Reg's aviation desk expects budget airlines to start charging an ink levy not long afterwards. ®