This article is more than 1 year old
SHINY NEW GADGETS! No, we're not joking, here's a load of them
Magnetic fridge projector, stuff to clip to your head and more
IFA 2014 Image is everything - or so it has been said, and if the gadgets at the recent IFA techfest in Berlin are anything to go by, then manufacturers certainly seem to think we're image-obsessed.
With selfies being a global compulsion, perhaps they know us better than we know ourselves. Narcissism aside, the rise of wearable cameras from Google Glass to activity cams seem to suggest others have discovered there's a world out there beyond bathroom mirror.
Sony HDR-AZ1VR Action Cam
On show for the first time was Sony's HDR-AZ1VR Action Cam Mini that's now 30 per cent smaller than the previous models in the range. You might expect it to be dust, shock and waterproof and it is, so long as it's in the supplied waterproof case. Used naked, it's er, splashproof only, earning an IPX4 rating.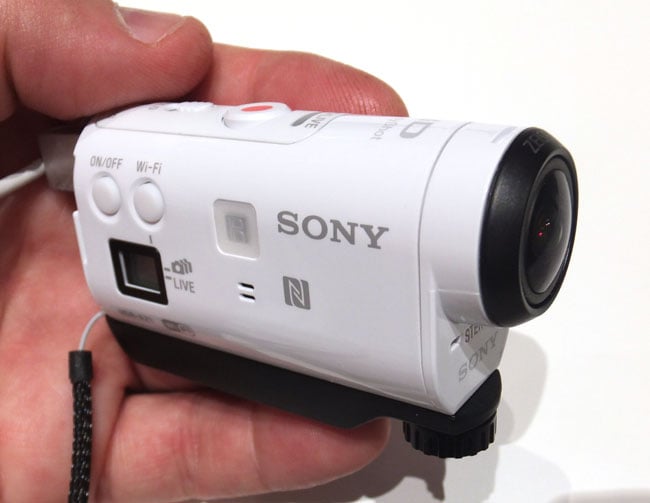 Small, lightweight and ultra-wide angle
Audio is recorded in stereo and the Zeiss lens has an immersive 170-degree wide-angle view or 120-degrees with Steady Shot digital image stabilisation enabled.
Use the strap-on RM-LVR2V Live View remote control to see what's going on from your wrist and fiddle with settings where necessary. Relying on Wi-Fi, it can control up to five cameras and logs GPS info too.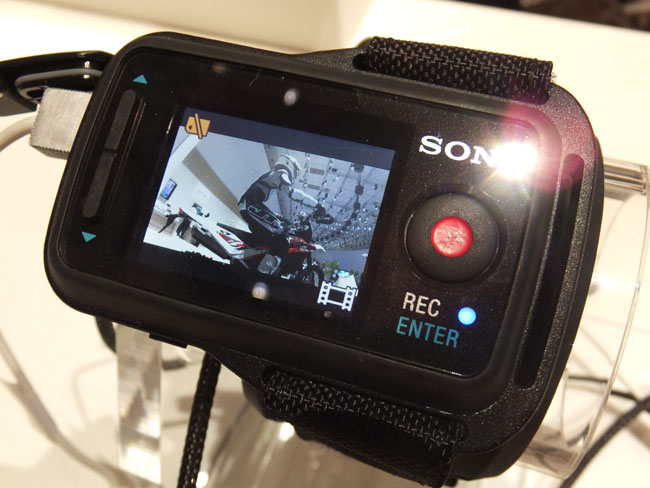 Using Wi-Fi the remote can control up to five cameras
Given the hype for all things 4K these days, you'd be forgiven for assuming the HDR-AZ1VR can work at this resolution, but no. The 11.9Mp sensor can record in the high bit-rate XAVC-S format but it maxes out at full-HD (1920 x 1080-pixels). If you're keen on slow-mo shooting at 120fps then you'll have to make do with a 1280 x 720-pixel resolution.
Panasonic HX-500 4K activity cam
Only a couple of months ago Panasonic was making claims for the world's first 4K wearable camcorder which was on show – although some would argue the clampable GoPro Hero3+ deserves that crown. Like the Sony, the HX-500 also features a camera with a strap on monitoring device, however, appearing like an iPod and headset combo, these two units have a permanent umbilical link.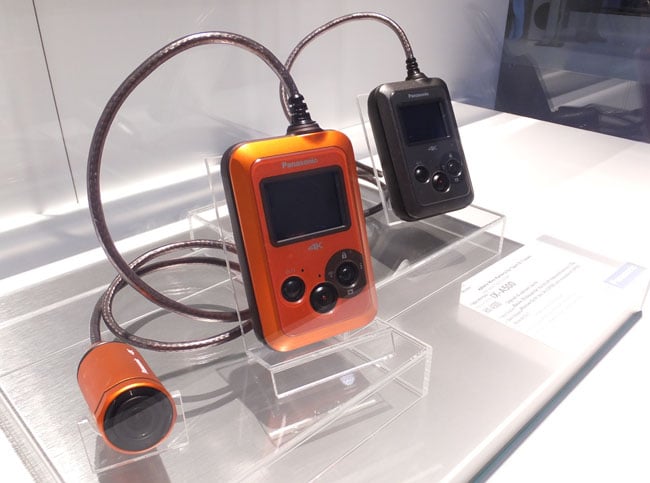 Cable ties: the camera and armband controller cannot be disconnected
Presumably, this arrangement helps to ensure that both devices can live up to their dustproof and waterproof IP58 rating that allows them to be used in depths of up to 3 metres for 30 minutes. When wearing this combo, any slack in the cable can be gathered in the arm band. The headstrap is provided, although other mounts are optional.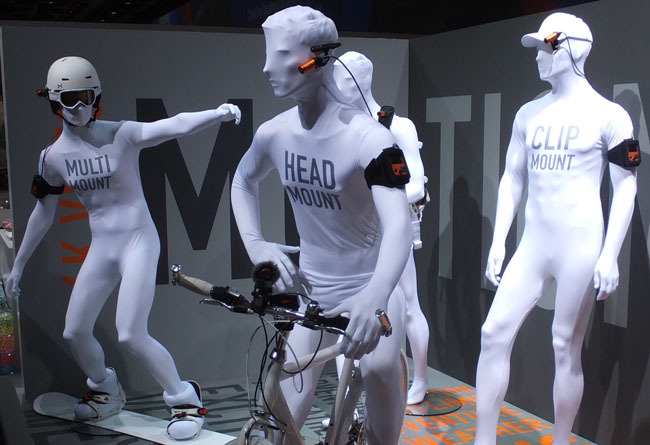 Head mounting included in the box
The Panasonic HX-500 does have a Wi-Fi mode too, enabling remote control from a smartphone, TV playback using DLNA and live broadcasting to Ustream via the Lumix Club portal. The camera 12.7Mp (9Mp effective) camera has a 160-degree view and slow-mo frame rates of 240fps (848 x 480), 120fps (1280 x 720) and 60fps (1920 x 1080).
Samsung Galaxy VR
While Samsung has plenty of cameras and camcorders on offer, its wearables are rather inclined to track activity than capture the view from the summit of the Eiger. After all that effort, who would want a 1.9Mp snap from a Galaxy Gear watch? In fact, the forthcoming Galaxy Gear S doesn't even have a camera, implying that users would be better off with their phones.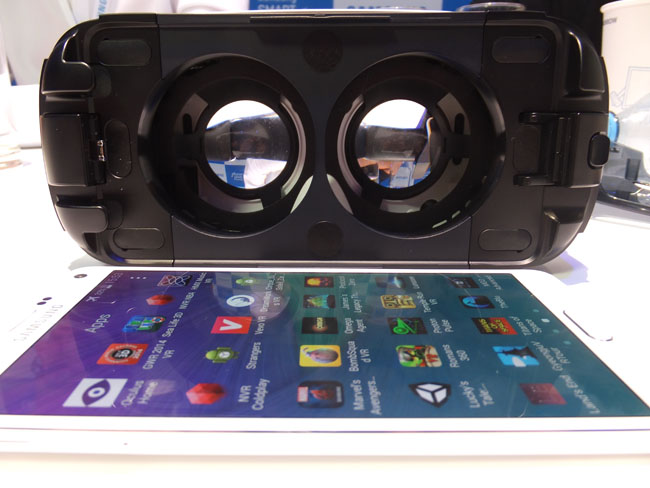 Virtual world construction kit
And after all those daring stunts that must be captured and shared, some time out in a virtual world may well be appeal. Samsung's Galaxy VR does, somewhat predictably, demand the latest Galaxy Note 4 handset is slotted into it. This arrangement capitalises on the clarity of the Note's 5.7-inch 2560x1440-pixel Super AMOLED display.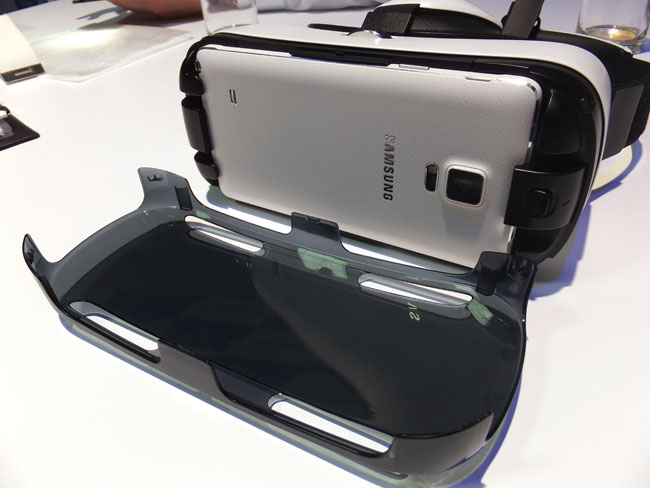 Putting it together is less sophisticated than you might think
Indeed it works rather better than you might think and it's easy to become absorbed in whatever's showing, from a virtual world with cartoon penguins, where head movements are tracked to show you around the environment to a shoot 'em up game that directs your space ship to your foes as you gaze around the galaxy and fire by tapping on the side of the goggles.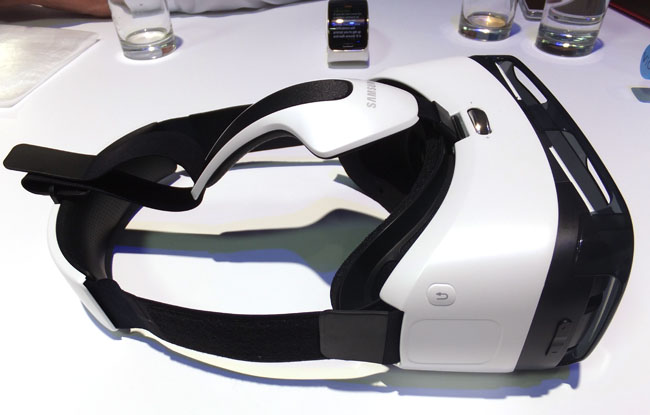 Yes, you do look stupid wearing one, but it is rather fun
Although what you're supposed to see is a 96-degree view (equivalent to a 175-inch screen from 2 metres away). However, when you examine the periphery, the display has the effect of appearing as a circle, much like what you'd see from a pair of binoculars.
Although there's a lot of it to strap on, thankfully, once in place, it doesn't feel as weighty as you might think and thanks to Samsung's collaboration with Oculus, the movement tracking lag leaves little to notice, let alone complain about.