This article is more than 1 year old
SHINY NEW GADGETS! No, we're not joking, here's a load of them
Magnetic fridge projector, stuff to clip to your head and more
Olloclip for Android
Reg readers who have noticed the odd fisheye image appearing in articles from time to time will more than likely have been viewing a snap taken from my take-everywhere, hands-down favourite iPhone gadget, the Olloclip 4-in-1 lens attachment. Now Android users can join in the fun as the company launched its first clip on variant at IFA, choosing to target Samsung Galaxy S4 and S5 handsets and priced the same as the iPhone equivalent at £60.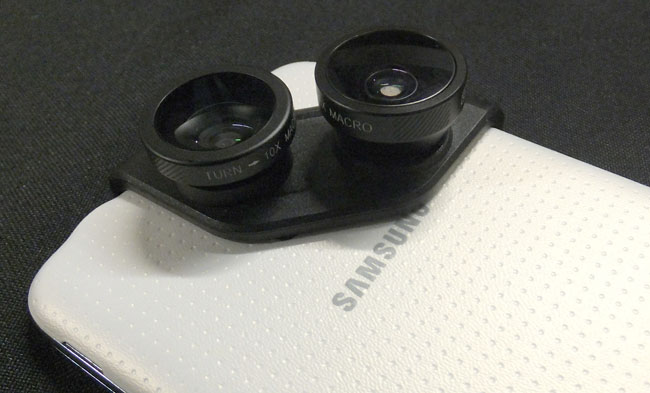 Broaden your horizons with an Olloclip for Galaxy S5 and S4
Although fisheye is the most impressive lens, delivering a field of view of around 180-degrees, you can clip it over to the other lens that offers a satisfying wide-angle view that's dramatic in a rather more refined way. Unscrew the fisheye and wide-angle lenses and additional lenses in the clip-on housing provide 15x and 10x macro close-up shooting respectively.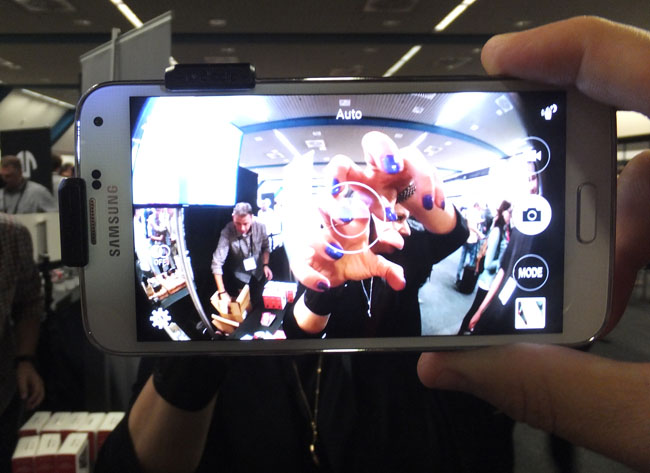 Fisheye frolics
If, out of habit, rather than photographic skill, your phonecam is the only camera you use these days then an Olloclip puts things in a very different perspective and once you've tried it, it might even have a bearing on your next handset choice.
XYZprinting da Vinci 1.0 AiO 3D printer
Imaging of a rather different nature takes place inside XYZprinting's latest product that's touted as the "world's first all-in-one 3D printer". Yup, the da Vinci 1.0 AiO 3D printer has an integrated scanner that can map simple objects in 5 minutes and print in 20 minutes. Depending on the complexity, scanning times can go on for half an hour or more with printing potentially lasting several hours.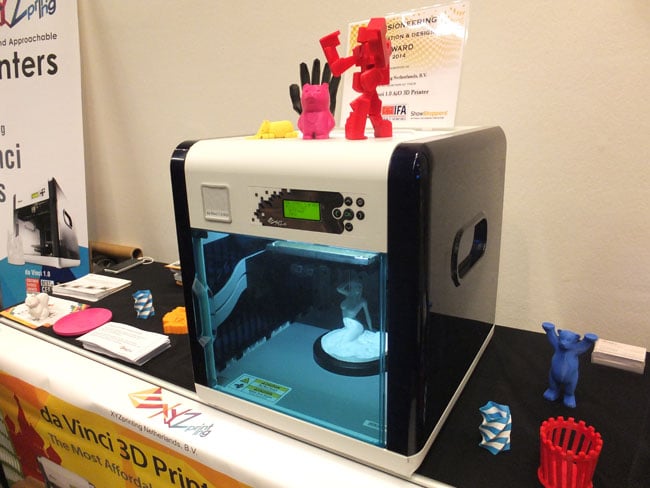 All-in-One printer, 3D-style
You can, of course, have it print from standard .STL files and those from XYZware (.3w format) the company's own application for Mac and PC. The 0.4mm single nozzle print head uses ABS plastic filaments, available in 12 colours and the maximum build is 200 x 200 x 200mm with printing varying speeds from Fine at 0.1mm, up to Ultra Fast at 0.4mm.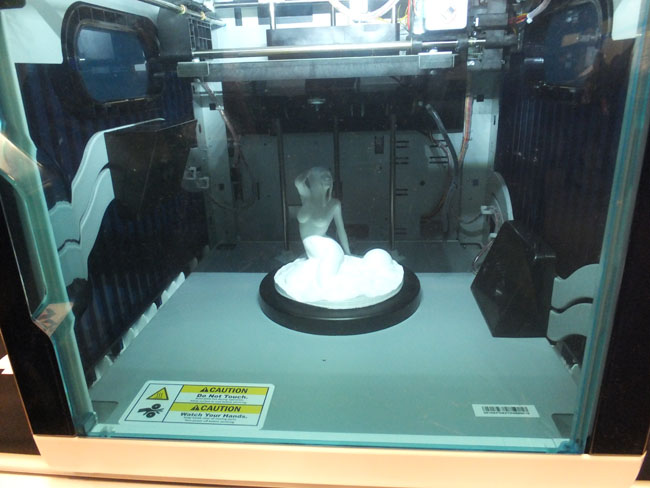 Model modelling
So if you fancied an Olloclip and it doesn't fit your phone, maybe a 3D printed modified clip could be the answer but you'd have to be pretty keen as the da Vinci 1.0 AiO will set you back £499.
Sony Life Space UX
One interpretation of image isn't so much to do with photography, but the impression you make, although Sony and Panasonic rather mixed the two with their respective views of the home of the not-too-distant future.
Although Panasonic was happy to show off an enormo telly that effectively disappeared into a sideboard, Sony's take was more focused on projectors. Called Life Space UX, its living room set had what at first appeared to be a massive sound bar but turned out to be the LSPX-W1 ultra short throw 4K projector that cast a massive 147-inch image on the nearby wall. First shown at CES, the LSPX-W1 is expected to cost around £30K.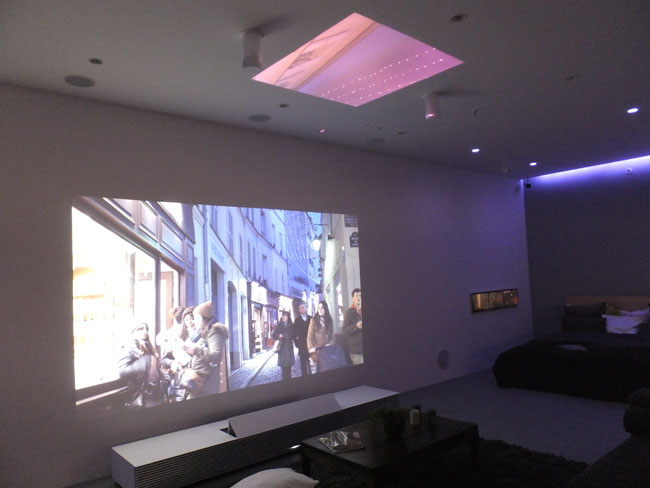 The projection on the ceiling shows the overhead street view pertaining to the main image
And if that wasn't enough, ultra short throw ceiling projectors that looked like coffee canisters beaming slits of light had related imagery displayed overhead. Perhaps not entirely necessary, especially as the additional light undermines the intensity of main projection on the wall.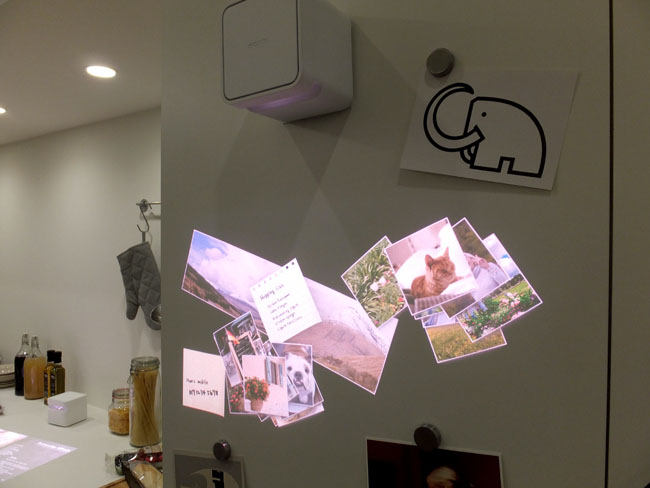 Splash-proof ultra short throw projector might be better suited to bath time
Over in the kitchen, there was more projection indulgence with a unit affixed to cupboard door displaying notes and images that would normally be held in place by fridge magnets – great for evenings and gloomy winters, perhaps not so practical in summer. Still, this splashproof battery operated design can be used in the bathroom which should make staring at the ceiling more interesting.
Panasonic Home of the Future
Panasonic's pop-up telly idea had its various practicalities, being gesture controlled and large enough to display a range of domestic monitoring reminders, including when the roast is ready. When retracted a section of it remained appearing as substitute for mantelpiece ornaments.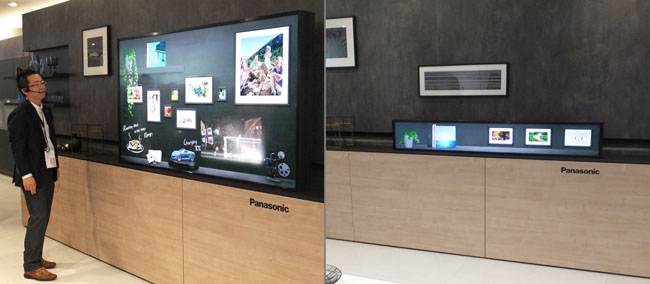 Now you see it, now you don't – click for a larger image
More intriguing though was its kitchen set-up although the oven cam – with a tiny screen above the large windowed door that showed quite clearly what was inside – seemed like overkill.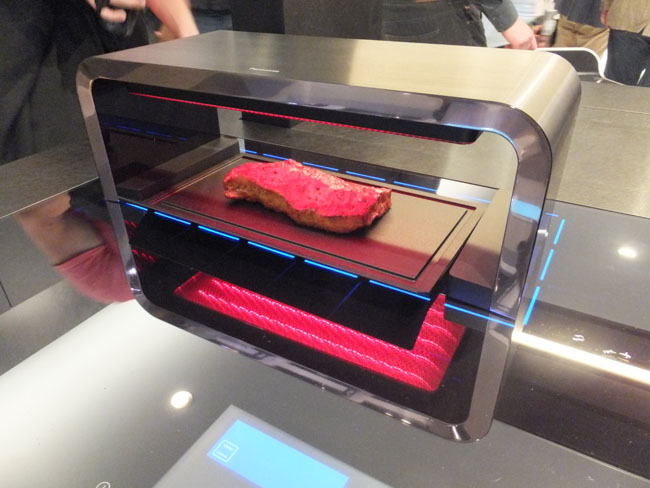 A removeable overhead induction grill enables cooking from above aas well as below
The kitchen hob performed a few wonders though. Based around the induction hobs that the company already produces, the one on show would detect where the pan was anywhere on the surface and only that area would be heated, highlighted by blue lines around the pan.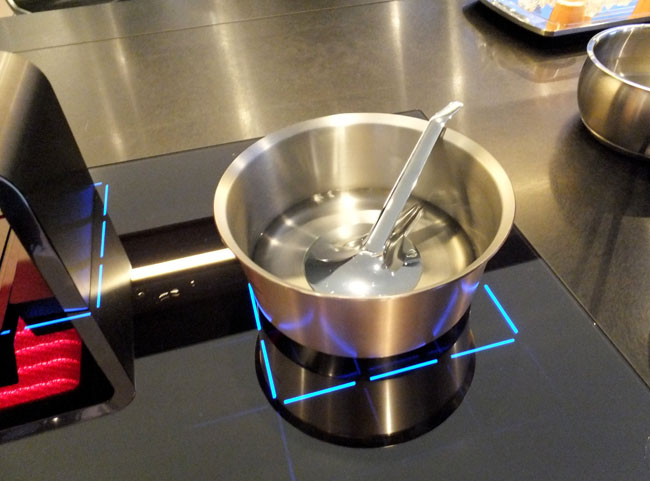 Self-stirring pan works by electromagnetism
A 3D oven grill was also shown where you'd place a bridging element over the top of your food so that it would be heated from both sides at once.
The real crowd-pleaser was the self stirring pot that uses electromagnetism to twirl an integrated spatula inside the vessel. How easy it would be to clean might need another invention altogether. Still as memorable images go, Panasonic certainly created quite a stir. ®