This article is more than 1 year old
Who wants to be there as history is made at the launch of our LOHAN space project?
Two places available in the chase plane above the desert
As our Kickstarter campaign to get the Vulture 2 spaceplane off the ground at Spaceport America rattles along nicely, we're offering our final reward today: the chance for two people to meet the team in New Mexico, spend a few days and attend the historic launch.
The way it works is this: you get yourself to the airport in El Paso or Las Cruces, we pick you up and whisk you to the same luxury accommodation in which we'll be enjoying spa facilities and all-you-can-eat buffets*, and you then spend three nights with us as the drama unfolds.
As an added bonus, you'll get a launch-day flight to catch the action from the air in one of the light aircraft belonging to our US allies at Edge Research Laboratory. That's right, we said "one of". El Reg's Special Projects Bureau boasts a van and a couple of wheelbarrows parked outside the shed, but the chaps and chapettes from Edge have a veritable fleet of flying machines, including this DA-20: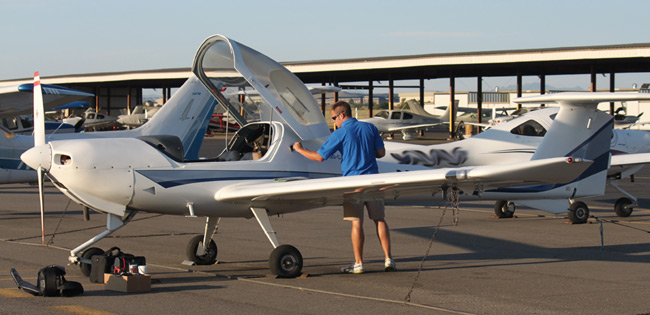 Also on hand are a DA-40 or Cessna 182, should it be necessary to carry more kit, or indeed people in this case.
The cost of this all-inclusive LOHAN launch package is a modest £1,500 (roughly $2,400) a pop, and that's an awful lot of bangs for your buck.
Obviously, there are caveats. We cannot guarantee the LOHAN launch on the planned date (TBC), since weather plays a large factor in our ability to get off the ground. Similarly, the light aircraft flight may be cancelled to to weather or other factors beyond our control.
Edge's David Patterson further notes:
"The participant's dimensions should probably not exceed 6'5" and 300 lbs. General aviation aircraft aren't known for their roominess, and are sensitive to weight and balance. Participants larger than that should contact us prior to pledging the reward so that we can run essential safety calculations.
"The participant should not have a history of motion sickness. We have fantastic pilots, but there's only so much they can do to smooth out the bumps, and we'll be circling the launch site to monitor the activities. If the thought of flying on a turbulent commercial flight makes you even slightly green, this experience is probably not for you."
Fair enough. The British element of the LOHAN team would like to add that participants "must not be allergic to beer or bacon sandwiches and should be completely insensitive to the high levels of effing and blinding which can naturally occur during ballocket launches".
So there you have it. If you want more details of this sensational offer, please get in touch, and we look forward to meeting two of you in due course. ®

Bootnote
*Important note: "Spa facilities" may actually mean "bucket", and "all-you-can-eat buffet" an "enormous tub of beans and rice". Similarly, the definition of "luxury" is flexible for the purposes of this offer. Your statutory rights are probably affected.
---
More from the lovely LOHAN:
---