Be your own Big Brother: Monitoring your manor, the easy way
IP cameras and the quantified shelf
---
HomePlug and play
I began my surveillance set-up some time ago by simply configuring a single IP camera – a D-Link DCS5300G and it performed a reasonable service. A built in web server allowed control of pan and tilt, and though old, it was supported by some third party apps, allowing remote control.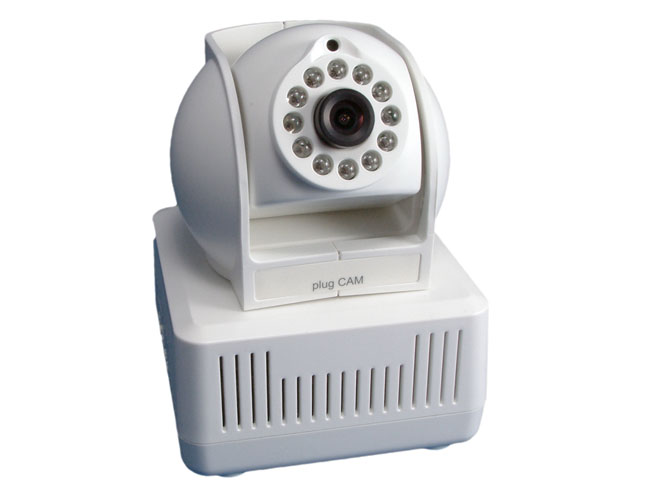 Solwise SEC-PCQ-500S HomePlug surveillance camera – tilt and turn is a manual adjustment
With no IR built in, I took advantage of the reasonable sensitivity of most camera chips to infra-red, and used the relay output on the back to allow remote control of a separate IR lamp. As it's aged, however, the D-Link has started to become less reliable, and now reboots itself a few times a day; I think it's dying. Time, then, to seek a replacement.
If I were wanting full-time monitoring, I'd probably look at cameras that are supported by my Synology. For now, however, something simpler will suffice for my needs, and I've been playing with a camera from Solwise, the SEC-PCQ-500S, which boasts built in HomePlug connectivity, and costs £70.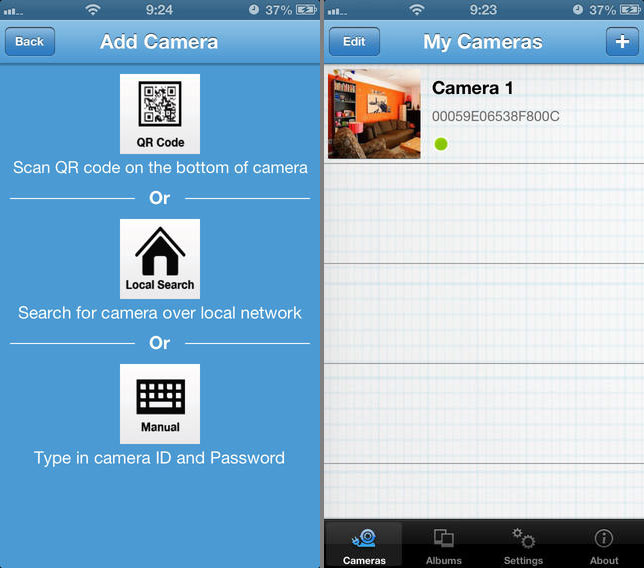 The plugCAM app offers a number of easy ways to add cameras
Based around the HomePlug AV 500 standard, if you already have a compatible HomePlug network – which incluces the AV200 system –then all you have to do with this camera is plug it in. The plugCAM app for iOS and Android is equally simple to set up; click to add a camera, then scan the QR code on the bottom of the device, and that's it.
The plugCAM app presents a list of cameras. Besides QR code scanning, you can search the local network or enter a camera ID and password to add a new one and it's possible to have up to seven on your network – though, of course, that will also depend how many other devices are connected.
Tap a camera to see the picture, and you'll see how many people are connected to it, plus the resolution and frame rate. Tap to zoom to full screen. You can't record but you can take a snapshot, and the most recent is used as the icon for the camera in the list.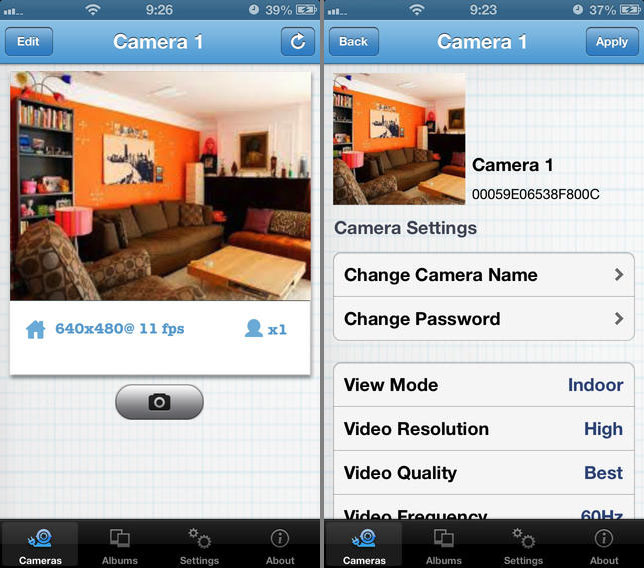 Monitoring and configuration from your phone or tablet
There's pan and tilt, but it's manual, so you can't re-frame the picture remotely other than by flipping it round. Its maximum resolution, at 640x480, isn't stunning, but as my test pics show, the result is good enough for many purposes. The automatic night vision isn't bad, either. On the home network, it managed around 9 frames per second. Again, this is adequate for monitoring. But what about remote viewing?
Play away
My first thought was that, like other IP cams, I'd need to give it a fixed IP address for everything to work through the firewall. I checked the router to find out the DHCP configuration, and tried connecting in a web browser – no joy. I couldn't find any settings in the app for this, either.
With my phone and the camera on the same network, I wasn't surprised that it worked fine. I was, however, sceptical about whether or not I'd be able to view images from beyond the confines of the home.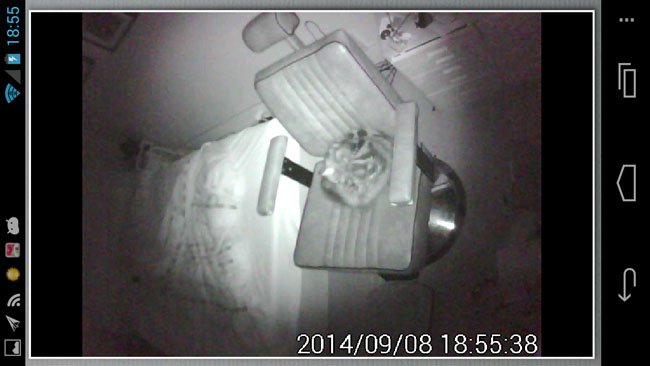 Night vision mode – yes, the cat is still asleep
I have a range of fixed IP addresses for my network, for things like my mail and SIP servers, with all the "private" kit behind an Airport Extreme. The main router has a set of firewall rules, and the Airport Extreme has NAT and the combination can often spell doom for some kit. So, I did what any rational tech person would do in the situation: I went to the pub.