Weekend reads: A new Poirot, drug-fuelled Champagne Supernovas and The Establishment
Narcotics and the '90s revisited with Kate Moss
---
Page File El Reg bookworms Mark Diston and Lucy Orr pore over the latest book releases. Owen Jones, author of Chavs , has a pop at the establishment, Maureen Callahan gets right under the skin of the fashion world's excesses in the 1990s, and Sophie Hannah's new work is the supposed "literary event of the year" – a brand new Poirot mystery written with the blessing of Agatha Christie's estate.
The Establishment and how they get away with it
"Whether the British ruling class are wicked or merely stupid is one of the most difficult questions of our time." – George Orwell.
Surprisingly, the above is not a quote mentioned in this book but such insights wouldn't be out of place here. Indeed, Owen Jones is one of a dwindling species, someone from a working class background who has penetrated to the heart of the establishment. He studied history at Oxford and is a Guardian journalist. In 2011 he published Chavs: The Demonisation of The Working Class; an impassioned, if sometimes patronising account about the perception of the proletariat in modern Britain.
There is an army of well meaning individuals rushing to speak on behalf of the deprived in the UK, yet few are prepared to give them their own voice. It wasn't until page 50 of Chavs that a member of the working class was actually quoted.
The Establishment does not suffer from the same inability to state its own case. Jones outlines their decor, catalogues their refreshments and at times seems positively besotted with them:
"Andrew Mitchell oozes power and authority. As we talk in his grand House of Commons office, he fixes me with a disconcertingly direct stare …"
I cannot recall the subjects of his previous book being paid such rapt attention.
The first 100 pages are pretty much what I expected. Yes, we know politicians are lower than flatworms, the free press isn't fit to tear into strips and hang in your privy, and that it's all just one big racket – a nod and a wink and the old school tie.
Yet somewhere during the chapter on policing – when he makes the connection between Orgreave and Hillsborough – Owen Jones impressed me. He is a clear, passionate writer who builds a case by accumulating forceful arguments.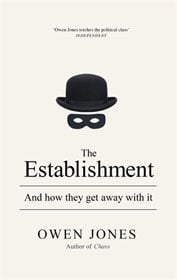 As a historian, he is no Hobsbawm, but then neither was Eric at Jones's age. As a political activist, he cannot match Orwell, as he has neither the prose nor the commitment. It seems highly unlikely that you will catch Jones slumming it with the homeless or dodging bullets for any republic, even his own.
Still, these are different times, when the choice between right and left seems as relevant as expressing a preference for white or wholemeal bread in your shit sandwich. Owen Jones is as good a left-wing apologist as we have. He seems to have the ability to persuade his interviewees to let down their guard, such as David Blunkett:
"You are always in danger of deluding yourself, into believing you're doing good things, when you're actually looking after number one." And Lord Bell: "The McCanns paid me £500,000 in fees to keep them on the front page of every single newspaper for a year, which we did" – a fact that I'd never heard before. No doubt the campaign would have been less effective if "Advertisement" had been engraved above the missing child's photograph.
The most damning chapter in this book is undoubtedly about the Blair and Bush wars. Andrew Gilligan is quoted as saying:
"The whole Iraq episode permanently undermined the credibility and authority of the British state," after describing the witch hunt to which he was subjected. He feels vindicated, unlike Tony Blair and Alistair Campbell, who have been served: "A life sentence in the court of public opinion".
The Establishment is a fascinating book, its observations are insightful, the interviews enlightening and overall it is a well told, if thoroughly depressing story. The conclusion is not exactly radical, which will inspire few and definitely not sway the establishment. I am left wondering if Jones will complete the trilogy with: The Bourgeosie: So Stupid They Let It Happen. We can but hope. MD

Author
Owen Jones
Title
The Establishment: And how they get away with it
Publisher
Allen Lane
Price
£16.99 (Hardback) £8.99 (Paperback) £8.50 (ebook)
More info
Publication web site