Champagne Supernovas
I took a lot of drugs in the 1990s, but from the account in Maureen Callahan's Champagne Supernovas not half as many as my contemporaries Kate Moss, Alexander McQueen and Marc Jacobs – just reading the account of McQueen's coke habit gives me chest pains.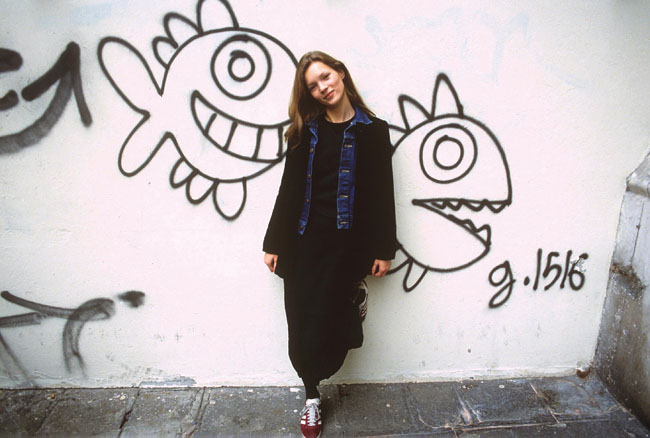 Kate Moss: a supermodel for the street (Paris 1993). Photo: © Geoff Wilkinson/Rex USA
Champagne Supernovas is a detailed if somewhat depressing examination of the rise and rise or fall, of three iconic fashion figures, who took their damaged souls and astonishing vision to make fashion the rock 'n' roll of the 1990s.
I was witness to this shocking sea change, as shoulder pads gave way to jeans and jumpers on the catwalk and Pulp's common people became trendsetters led by their suburban Joan of Arc, a skinny girl from Croydon.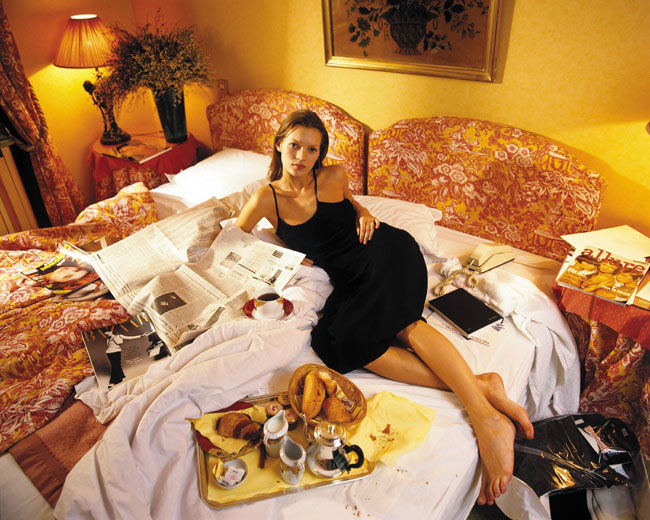 The fashion world's most privileged urchin lounges in a luxury hotel in Paris, 1993. © Geoff Wilkinson/RexUSA
It's the chapters on Kate Moss that are the most intriguing: her astonishing ability to resurrect Calvin Klein as a brand and finally become one of the most iconic brands of the century herself are the glitter glue that holds this book together.
Photographed by Corinne Day – who tried to emulate the style and substance of one of my favourite photographers Nan Goldin – the erstwhile foster mother and daughter changed the face of global fashion with overexposed junkie chic styling.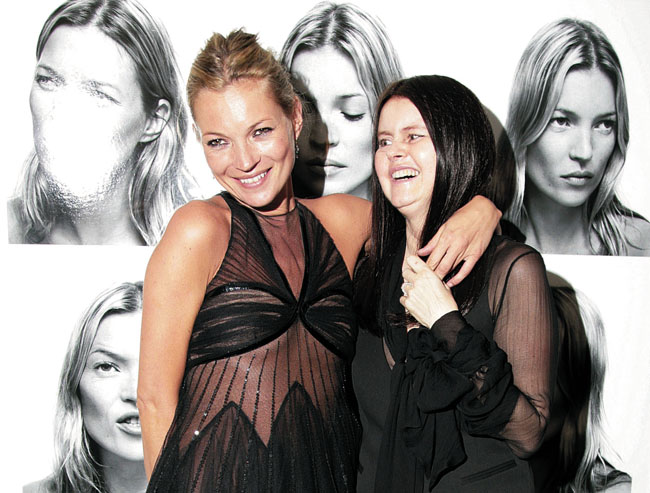 Kate Moss with photographer Corinne Day at Face of Fashion, National Portrait Gallery 2007
Day originally discovered and mentored the young model © Dafydd Jones
Callahan blames Kate's run-in with Hollywood – her doomed relationship with Johnny Depp and too many parties at The Viper Room – for forcing her into the arms of Pete Doherty, from whom she eventually fled after The Sun exposé and a stint at The Priory.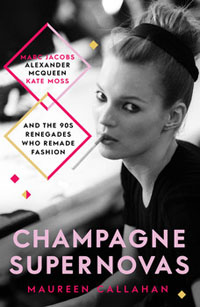 Callahan notes with great relish how the face of heroin chic became the face of Topshop.
I remember the outrage surrounding Marc Jacobs' "grunge collection" and the vitriol it generated among my punk peers. It's beyond me why this American has been held up as iconic in the same dialogue as McQueen and Moss.
That said, Callahan does credit Jacobs along with Tom Ford for mainlining art into the fashion elite.
Indeed, Jacobs' hiring of fine artist Takashi Murakami to redesign the Louis Vuitton handbag was true marketing genius.
On reflection, I'd say that Murakami's handbag artistry remain the only high fashion items that I have ever coveted.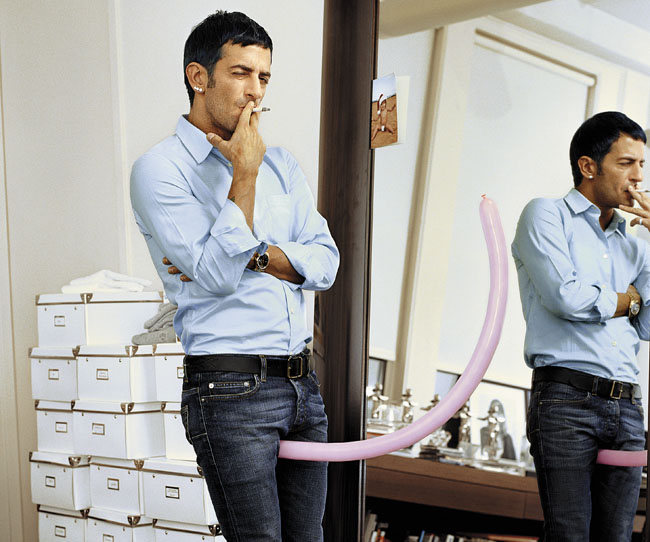 Marc Jacobs with a strategically placed balloon © Martin Scholler
Looking at McQueen's post-rehab/post-plastic surgery makeover, it's hard to believe this guy worked with Sonic Youth and played with acid house smiley faces and Keith Haring imagery on oversize jumpers.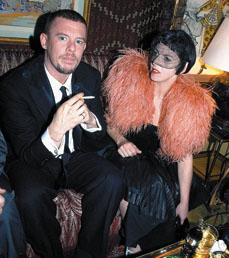 Both battling with depression, McQueen poses with
his mentor and muse Isabella Blow in 2004 © Retna
The chapters detailing the doomed asexual love affair between socialite and fashion dilettante Isabella Blow and l'enfant terrible McQueen makes for depressing fare.
Yet out of the three figures profiled, McQueen is undeniably the true auteur and it's his story that unfolds with fitting romantic savagery and ultimately suicide. Self-mythologising aside, McQueen was the Francis Bacon of the fashion world.
Joel Peter Witkin – assembler of corpses and amputees – inspired McQueen's obsession with impairments and disability.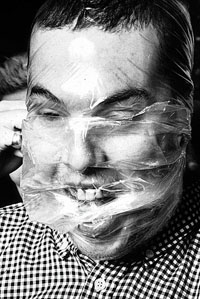 McQueen was often pictured in clingfilm
© Stephen Callaghan/Rex USA
Decadent, disease riddled, severely depressed and alone, Callahan proposes that McQueen became what he despised the most.
By documenting this period during her own work as an editor and writer, in magazines such as Sassy and Spin, Callahan builds this book out of personal reference materials.
Yet just like the frenzied conversation of a coke head, her book sometimes rambles and repeats itself, but her ability to uncover parallels between her subjects' extensive drug use, their creative vision and unbridled determination – ultimately securing their places in fashion and contemporary artistic history – is to be commended.
Recommended reading for first year Central St Martins fashion students and ex-club kids with drug-weakened bladders. LO

Author
Maureen Callahan
Title
Champagne Supernovas
Publisher
Simon & Schuster
Price
£14.99 (Hardback) £8.49 (Paperback) £7.49 (ebook)
More info
Publication web site