The Monogram Murders
One of the more distasteful trends in modern publishing is the exhumation of the corpses of bestselling authors® and their fictional characters™, then signing up any dreadful hack to ghostwrite a piece of dire frankenfiction in their name. Ian Fleming and Robert Ludlum are among the dubious beneficiaries of this accolade, and now Agatha Christie has joined the party.
Agatha Christie? I hear you guffaw. Yes I know, even your Grandma has graduated to Prime Suspect and Val McDermid these days.
"But look at the audience for Downton Abbey – retro sells", one can detect the publishing execs reasoning.
And so, one Sophie Hannah is engaged to reanimate Christie. The Monogram Murders opens in a London tearoom where Hercule Poirot encounters a flustered young lady who announces that she is about to be murdered, but that she doesn't want the crime investigated. What follows is a tale so badly told that any notion of plot is completely subverted.
Sophie Hannah, it is said, is the author of nine psychological thrillers. If The Monogram Murders is anything to go by, then Enid Blyton is the author of a hundred. She has been shortlisted for the T.S Eliot poetry prize, which I assume is awarded for the whimper, rather than the bang.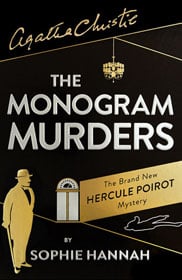 This is writing by numbers and the most dreadful tosh imaginable, I am left wondering if Sophie Hannah only has English as a second language. Fortunately, the publishers sent me two copies, and so quite unable to believe my own eyes, I was able to try it out on my 73-year-old mum, who consumes crime fiction like it is going out of fashion.
Her verdict: "It's like a slow moving game of chess." Me: "And you don't play chess, right?" Mum: "No, it's too boring! ... I don't have to finish this, do I?"
What can I say? Poirot's fastidiousness has been updated to OCD. The characters are so dull and unappealing, that you long for the Quentin Tarantino remix, where the whole cast gets machine-gunned in slow motion while an Italian diva orgasms meaninglessly over a Morricone soundtrack in the background.
It is wrong on just about every level, the dialogue isn't just wooden, it is positively carboniferous. I struggle to present a meaningful quotation from it, but here is an example:
"All right," said Richard, though he did not look happy. "It saddens me to admit it, but yes. Nancy Ducane should not have consorted with another woman's husband. She should not have announced her liaison with Patrick to the village in the way that she did. We do not know that Frances Ive would have taken her own life if that had not happened. Regrettably, Nancy Ducane must also die."
Given a choice between reading this book again and poking myself repeatedly in the eye, I'd go for the latter. It makes Sebastian Faulks read like Dostoevsky and Midsomer Murders seem like Proust.
The characters are zero dimensional, totally unappealing ciphers, who stumble through a contrived plot line that even the author doesn't seem to believe in or care about. The faux retro mannerisms and English class relationships, which this genre is famous for, are about as out of place as Noël Coward in Hollyoaks. The only positive thing I can say about this book is that the cover is OK. MD ®

Author
Sophie Hannah
Title
The Monogram Murders
Publisher
HarperCollins
Price
£18.99 (Hardback) £9.99 (ebook)
More info
Publication web site