Seagate's BUMPER State of the Storage Nation announcement
Wannabe 'digital data steward' speaks to the masses
Analysis Positioning itself as a data steward, Seagate has presented its storage state of the nation pitch, announcing: three new disk drives; LaCie Thunderbolt external storage; two server flash cards and a controller; an HPC array; a new backup appliance; and a bright and shiny cloud and enterprise business unit.
Seagate is continuing to extend itself from being a disk drive manufacturer to develop SSD and server flash card products, HPC storage arrays, and backup appliances. There is a new business group to focus on large-scale cloud and enterprise needs for such products. Disk drives are the core of its business and there is an eighth generation of drives being announced as well.
The separate items are:
New Enterprise Performance and Capacity disk drives
10 million hybrid drives shipped
Cloud and enterprise BU
ClusterStor 9000 array for high-performance computing (HPC)
100TB EVault Backup and Recovery Appliance
LaCie d2 Thunderbolt 2 external storage
Two Nytro server flash cards
OneStor XP NVMe SSD controller
Mainstream disk drives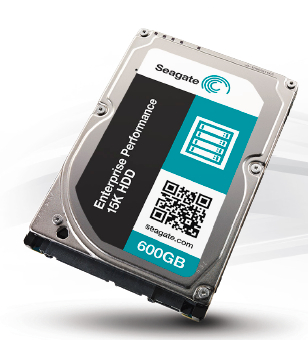 Seagate Enterprise Performance 15K
The Enterprise Performance 15K is a generational advance on the Savvio 15K.3 and its 300GB maximum capacity and 6Gbit/s SAS interface. This new drive, also spinning at 15,000 rpm, has 146GB. 300GB and 600GB capacity points, with 3 platters and a 530Gbits/in2 areal density rating, 200GB/platter.
There is a 12Gbit/s SAS interface and encrypting an secure, instant erase options. The MTBF figure is two million hours.
Check out a datasheet here (pdf).
The Enterprise Performance 10K drive is another 2.5-inch drive, spinning at a slower 10,000 rpm and holding up to 1.8TB of data. It is the 8th generation of what was once know as the Savvio 10K products. Maximum capacity has increased from the 1.1TB of the previous generation to 1.6TB, and the interface has doubled its speed to 12Gbit/s SAS.
Seagate says it: "Delivers 1200GB of high-performance data access for write-intensive applications," using a 32GB NAND flash cache. The Enterprise Performance 15K drive has no NAND cache, according to its data sheet.
The areal density is 644.6Gbit/in2 and it has a 15mm z-height, with 3 platters; 600GB/platter.
It has an encryption option, optional TurboBoost, and you can check out its datasheet here (pdf).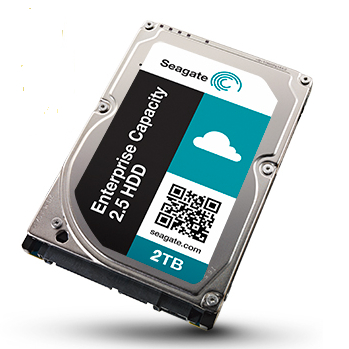 Seagate 2.5-inch Enterprise Capacity drive
In a first extension into nearline disk storage for 2.5-inch drives there is a new 2.5-inch 2TB Enterprise Capacity drive, spinning at 7,200rpm with a 12Gbit/s SAS or 6Gbit/s SATA interface. The sustained transfer rate is 136MB/sec. It has so-called Power Choice technology based on the T13- and T10-compliant power management standard. The drive can use just 1.1 watts when it's idle.
It has a 15mm z-height and the areal density is 585Gbit/in2. We think it has four 500GB platters.
Seagate's datasheet (pdf) says it's a 3rd generation Constellation drive. It also says it has an "over 50 per cent improvement in watts/TB, and 18 per cent sequential performance improvement."
There are self-encrypting and instant, secure-erase models if your data can't be accessed by non-validated systems or personnel.
Using such 2.5-inch drives you can get more spindles into a particular enclosure than by using 3.5-inch drives and so get higher performance from the enclosure overall, even though you'll probably have less capacity in it.