Huawei has swooped onto SanDisk for flash DIMMs to soup up its RH8100 servers.
Flash DIMMs plug lumps of large NAND storage straight into a system's CPU memory bus rather than the slower PCIe bus that server flash cards typically use. The benefit, in theory, is that applications run faster because they wait less for IO – all the hot data they need is sitting in chunks of flash coupled to the host processors.
SanDisk brands its technology as ULLtraDIMMs, and Huawei is the third server maker to tap it up. The first was IBM with x86 machines in its x Server line, which is now being sold to Lenovo. Supermicro was the second, and Huawei completes a hat trick.
We are still waiting for Dell, HP and Cisco to pick the technology – that would represent mainstream success for SanDisk.
The 8U rack-mount eight-socket RH8100 V3 uses Intel Brickland CPUs; those are Xeon E7-8800 v2 processors with up to 120 cores. Huaewei's partitioning design allows the machines to be used as two four-socket severs. There's space for up to 192 DDR3 DIMMs. Loading it up with ULLtraDIMMs means 50 per cent less latency than PCIe flash technology, according to Huawei.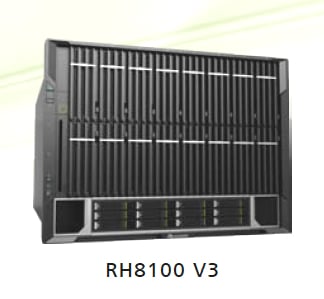 Huawei's benchmarking of SanDisk's ULLtraDIMMs recorded an access latency shorter than five microseconds. It calculates its RH8100 V3 rack servers will deliver more than a 100 per cent increase in random write performance, using a 4 x 400GB RAID 0 disk set up.
The company intends to offer ULLtraDIMMS as part of a Huawei cache system for database and virtualization deployments.
Qiu Long, Huawei's IT product line president of server business, talked of customers getting more "performance per watt [and] per square foot with innovations in power savings and cooling, as well as increased compute and storage density."
The business prospects for SanDisk are good; Sino-Bridges Research and Consulting says its market research for 2014 suggests Huawei's servers are ranked as the top server choice for cloud and mobility ... in China.
Will Cisco, Dell and HP jump on the ULLtraDIMM roundabout, too? It seems inevitable. We wonder if flash foundry suppliers will look to license the technology, paving the way for, let's say, Micron, Toshiba and and Samsung flash DIMMs? At present it looks like SanDisk has an effective monopoly. ®