This article is more than 1 year old
India's MOM Mars mission makes final course correction
Mangalyaan probe will feel the burn of orbital insertion on September 24th
India's Mars Orbiter Mission (MOM) has made its first course correction since June and is now on track to to arrive in orbit around the red planet on September 24th.
Known to Indians as "Mangalyaan", the craft is famous for having left the launchpad, and Earth, last November for the tiny sum of US$74m.
The craft has since performed flawlessly and on Sunday (September 14th) performed a course correction to nudge it into a better spot from which to enter Mars Orbit.
The Indian Space Research Organisation has published a handy slide deck (PDF) explaining what happens next. There's lots of little chores like uploading of commands going on at the moment, but things get interesting on September 24th.
Here are the slides explaining the action on that day: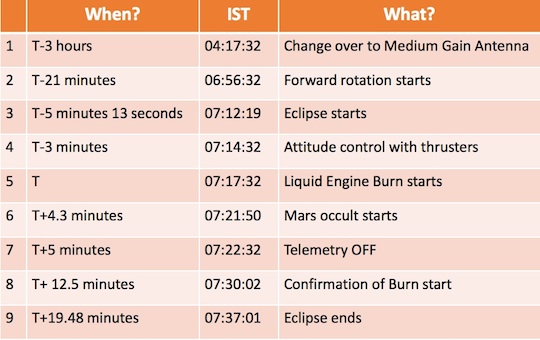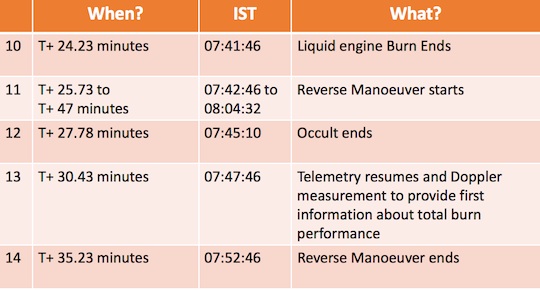 Here's how the final burn is expected to play out: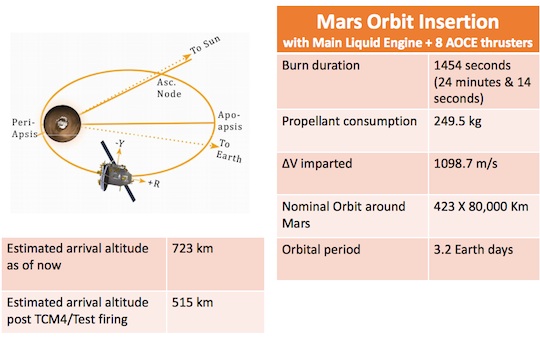 Once the craft nestles into that orbit, its five instruments will hopefully start to beam back new information about Mars. Those instruments comprise:
A Lyman Alpha Photometer to measure the relative abundance of deuterium and hydrogen in the Martian upper atmosphere, which "allows us to understand especially the loss process of water from the planet."
The Methane Sensor for Mars
The Mars Exospheric Neutral Composition Analyser
The Mars Color Camera, a "tri-color" camera that will be trained on Mars' moons Phobos and Deimos and also "provides the context information for other science payloads."
The Thermal Infrared Imaging (TIR) Spectrometer, which will allow observation of Martian soils at night, as "Many minerals and soil types have characteristic spectra in TIR region."
ISRO generally offers a stream of its big events and The Reg will do its darnedest to bring it to you on Mangalyaan's big day. ®