The ceaseless hoovering up of small companies and startups by business behemoths has seen Oracle buy Front Porch Digital. Why did Larry Ellison latch on to this outfit?
Front Porch Digital (FPD) is a content storage management (CSM) business. Its software products sit in a server between a media network on the one hand and a storage resource storing files, such as videos, in online and archive media, on the other.
The FPD server integrates a media customer's proprietary content commands and formats with those in the storage library and does whatever the media customer requires, such as retrieve and distribute them, and receive and store them.
Another way of describing FPD is to say it ids a world-wide broadcast archive management supplier against a media background of migration to digital workflows. WE can observe that its customers' rich media assets are a niche on the overall Big Data market.
Privately-owned FPD has some 550 customers, ones like the BBC's Studios and Post Production division's Digital Media Services business – the commercial subsidiary of the BBC that preserves, remasters and manages content for clients such as the Imperial War Museums – is installing Front Porch Digital's DIVArchive CSM and DIVAdirector media asset management (MAM) systems.
FPD claims it is "the global leader in solutions for migrating, managing, and monetizing media content," and operates both on a customer's premises or in the cloud.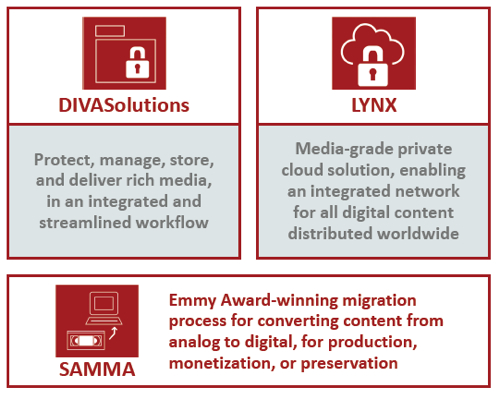 Front Porch Digital products
Other customers include NASCAR and the US Library of Congress. This is the business Oracle is buying.
FPD potted history;
Founded in 2000 with headquarters in Colorado
Mike Knaisch became CEO in 2002
Funding came fro, Equity Pier, Incentra Solutions, and Sumitomo
Acquired by Managed Storage International in reverse merger in August 2004
Bought by Toronto private equity group Genuity Capital Partners for $38m
Bought Samma Systems in 2008 and its videotape migration and preservation technology
Now for some canned quotes.
Oracle says it and Front Porch Digital "will help organisations more effectively and efficiently manage the growing complexities associated with the migration, integration, storage, and delivery of rich media content," and the Oracle/FPD combo will "create the most comprehensive enterprise-grade cloud and on-premise content storage management solution."
Oracle EVP for systems, John Fowler, said: "Front Porch Digital's success and unique capabilities … complement Oracle's existing high performance and scalable engineered storage solutions."
Knaisch said FPD was "thrilled to be joining Oracle to continue our long-standing partnership. This combination will enable us to better serve and support our customers at a global scale."
The price was not revealed by either party. We expect it to be in the $100m area at least. FPD employees are expected to join Oracle en masse.
Oracle is reviewing FPD's product roadmap and FPD customers will get to hear the results of the review in due course. It stated: "Oracle is committed to maintaining Front Porch Digital's open integration platform with third-party systems and applications, and plans to further augment Front Porch Digital solutions with Oracle technologies to deliver enhanced features and functionalities."
So we can expect Oracle technology to feature strongly. The deal gives Oracle a well-defined market niche in which to sell FPD-integrated and optimised storage gear, and a useful cloud service business and opportunity.
See an Oracle FAQ here (pdf), a presentation about the FPD purchase here, and a customer and partner letter here. ®