Hey, Mac fanbois. HGST wants you drooling over its HUGE desktop RACK
What vast digital media repository could possibly need 64 TERABYTES?
---
Pay $7,000 and you could have a 64TB desktop storage pool connected to your Mac workstation. Its a lot of money, but 64TB is a hellacious amount of storage. Say it costs $1.09/GB, which sounds sort of affordable. Who makes such a box?
It's an HGST G-SPEED Studio XL box with eight 8TB helium-filled He8, 7,200rpm drives mounted vertically in two rows of four inside, and Thunderbolt 2 connecting it to your computer of choice. Apple Macs or Windows (after formatting). Its bandwidth is up to 1,350MB/sec (1.35GB/sec).
The glossy black curved box complements Apple's Mac Pro, and desktop warriors with expense accounts may think a 4K monitor, Mac Pro and 64TB of HGST's desktop goodness is uber-macho enough to impress the hell out of everybody else. Order that bigger desk now and mutter about 5-dimensional polyvalent special graphics effects processing to bedazzle the ordinary desktop plebs.
The capacity, 64TB, is a huge amount. With 4TB drives you would need 16 of them, 12 if 6TB, and that's rack enclosure territory. To have 64TB on the desk is startling, but not for long we suppose. HGST has 10TB drives coming and so 80TB is in prospect.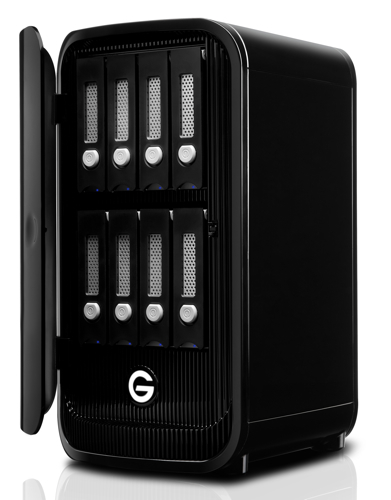 HGST G-SPEED Studio XL
Thunderbolt 2, with its daisy-chaining, means that file transfer into the host will be quick and so huge workloads can be considered; massive InDesign or Quark files, intense Final Cut video-type work, complex music file processing and so forth. HGST says it supports "multi-stream HD, 2K and 4K workflows for creative professionals." The productivity of a subset of workstation users heretofore limited by local storage capacity and access speed can now step up a notch.
These data gobblers and disgorgers are plug and play for Mac users. Windows is supported with a formatting exercise needed, as for the G-SPEED.
With this capacity bump there is a knock-on effect here. HGST is putting the desktop storage market on notice that 50TB+ capacities are going to be the norm pretty soon. Desktop NAS boxes are going to use these drives; how can they not?
Low-end rack arrays are also set to have capacities go up by 50 - 100 per cent with drives like these.
Data protection is a concern and HGST offers user-configurable RAID 0, 1, 5, 10, 50 and 60. Rebuild times will become a concern and, who knows, object storage with its non-RAID data recovery features like erasure coding, may make a desktop entry, either as the storage layer underlying the top-level file access or as a direct offering for apps with built-in object storage access.
The Studio XL complements the existing 2-bat G-RAID Studio and 4-bay, 24TB Studio Thunderbolt 2 products. The capacity points are 24TB, 32TB, 40TB, 48TB and 64TB.
The thing will be available in November, have a 3-year warranty. The manufacturer's suggested retail pricing is: 24TB for $3,599.95 (£2,699); 32TB for $4,599.95 (£3,479); 40TB for $5,499.95 (£4,199); 48TB for $5,999.95 (£4,499); and the mighty max 64TB for $6,999.95 (£5,250). ®