This article is more than 1 year old
Edge Research Lab to tackle chilly LOHAN's final test flight
Our US allies to probe potential Vulture 2 servo freeze
We're on final approach for the Low Orbit Helium Assisted Navigator (LOHAN) ballocket mission to touch down at Spaceport America. Since we're relocating Stateside, it seems appropriate that the final high-altitude test flight should be carried out by our US allies at Edge Research Laboratory.
As we reported yesterday, we appear to have cracked the Pixhawk/servo power issue, but it still remains to be seen if what works on the ground will work in the stratosphere.
The concerns are that the Energizer Ultimate Lithiums powering the avionics may suffer at altitude, where the temperature dips to a nippy -50°C. Similarly, the servos might freeze up, even if we implement preventative periodic "wiggle" on the ascent to launch altitude.
Autopilot brain surgeon Linus Penzlien has already done some sterling preliminary work in the freezer, using an Arduino, a spare servo and a temperature sensor: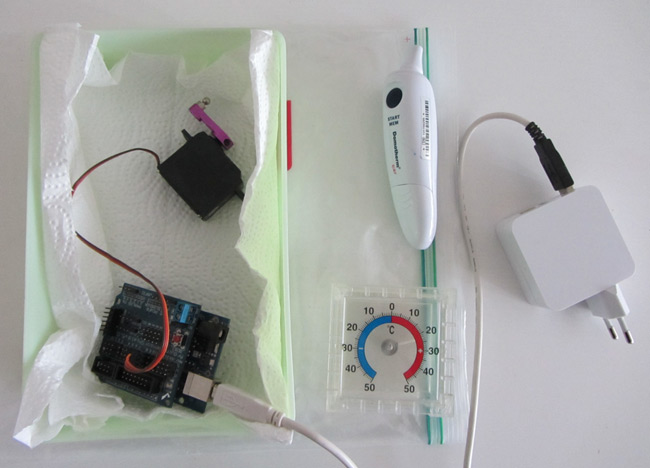 As the temperature dropped, the servo "slowed down gradually and was barely working at -15°C", he reported.
Well, we've sent Edge's David Patterson a Pixhawk, running the custom ArduPilot code installed on our Vulture 2's own autopilot, plus the same BEC/battery/servo rig installed in the spaceplane. He and his colleagues will be sending it heavenwards in the near future, and we'll see what's what.
If there's a problem with the servos, then we'll open up them up and replace the lubricant with Molykote 33.
If the batteries catch cold, we'll have to consider some way of keeping them warm, probably a small heater running off a... oh, hold on... ®
---
More from the lovely LOHAN:
---