This article is more than 1 year old
Damien Hirst, eat your heart out - these guys chop up TAXIS
Half a car stuck to your wall is this season's must-have accessory, darling
100% Design Yes, it's that time of year again when the design world presents its latest creations. The ideas shown off here will no doubt make it into very well-heeled home in the coming weeks – and gives the rest of us a glimpse of what's coming in a year or two.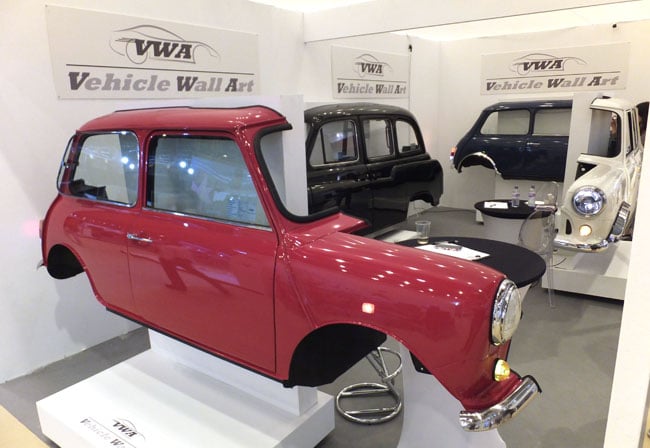 Vehicle Wall Art slices of motoring culture
It's not clear whether Daniel Jay, the brains behind Vehicle Wall Art (VWA) is a Damien Hirst fan, but the similarities are striking. At least slicing up a vehicle is rather more manageable than tanks of bisected cattle immersed in formalin and in some regards, a bit more useful.
For instance, the cab doors open, which could be a stylish way into a cupboard or drinks cabinet. In itself, the iconic black cab would also work as a taxi rank sign
VWA will also equip the black cab – or another British icon, the Mini Minor – with working lights and remotely controlled windows and a horn. Perhaps not what you need in the hallway as your flashing and honking doorbell, but certainly more manageable for window dressing shop fronts than hiring a vintage motor.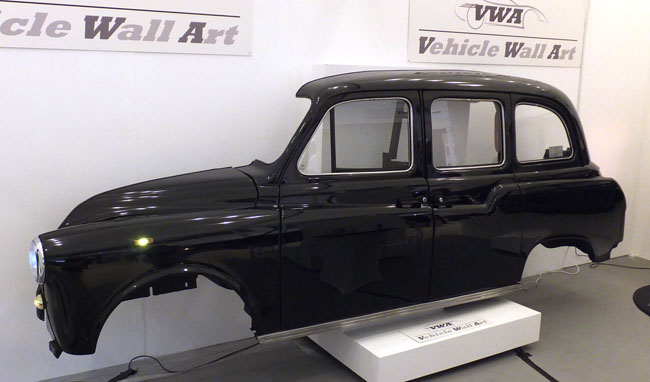 Prices are around the usual fare to Heathrow on a Friday afternoon
Jay used to own a second hand car dealership and sees these slices of motoring history as one way of preserving memories from the streets of a bygone era. While car enthusiasts may be appalled, these vehicles aren't likely to be rescued by restoration specialists – although, surprisingly, Jay did suggest that those inheriting old bangers might find keeping a piece of it rather easier to deal with than keeping a complete vehicle.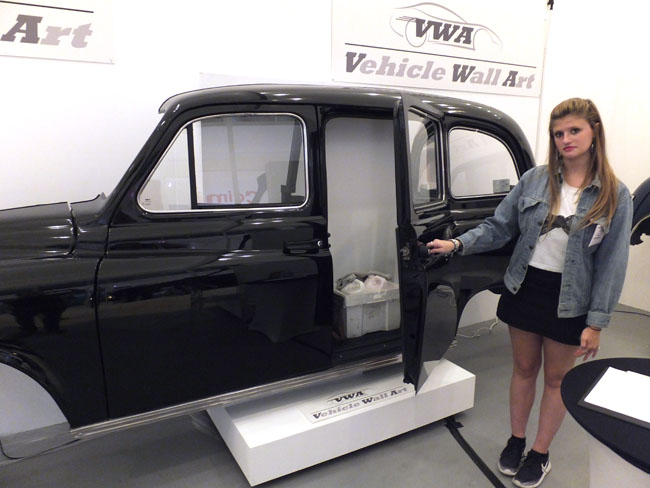 Some features remain fully functioning
But then again, we're in the art and design world here and perhaps hacking through old motors is not too far removed from the thinking of Damien Hirst, especially when you discover that Mini prices start at £3,600 (including VAT) and the black cab will cost you £4,800 from Vehicle Wall Art. More information is from the Vehicle Wall Art website.
Racing Gold
Rather than chopping up old vehicles, John Haigh of Racing Gold is on great terms with Red Bull Racing and World Superbike, picking up their respective scrap and turning them into household objects. All the items would have gone into the usual recycling channels but Racing Gold polishes them up and can turn race winning manifolds into sculptures and lighting fixtures.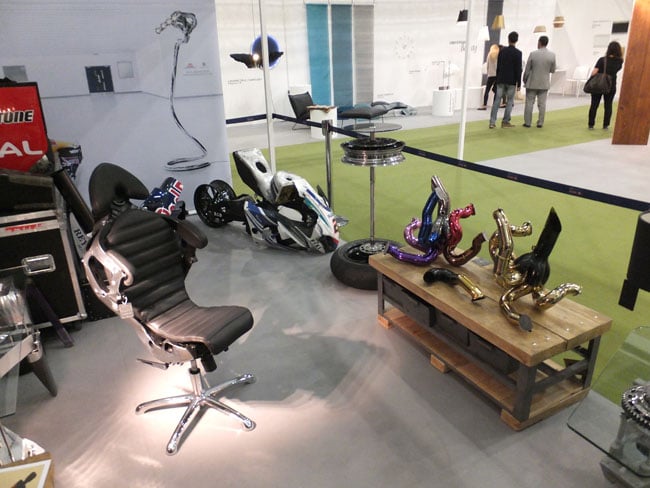 Note the manifold sculptures coloured in stove lacquer and the wheel podium table to the right
One of the most eye-catching pieces is a seat made from a Suzuki superbike frame that John 'Hopper' Hopkins had ridden. Racing Gold doesn't start pulling bikes apart, but if a bike or F1 car has become damaged or superseded by another design, then Haigh and his colleagues get first pick of the scrap.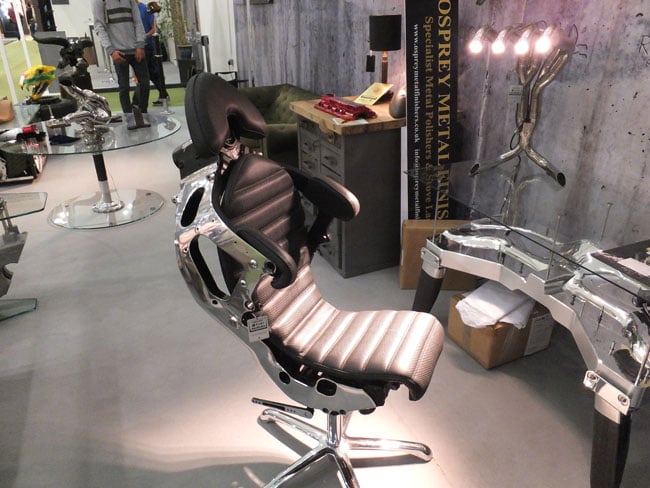 Superbike chair and manifold lamp
Take the F1 gearbox casing that forms the base of a table. It's made of cast alloy but these days the enclosures are all made from carbon fibre. Knackered gearbox cogs form the base of various table lamps and there's podium stands made of wheels and bike tyres, which he produced for the Suzuki team for their race weekends and can be made to order.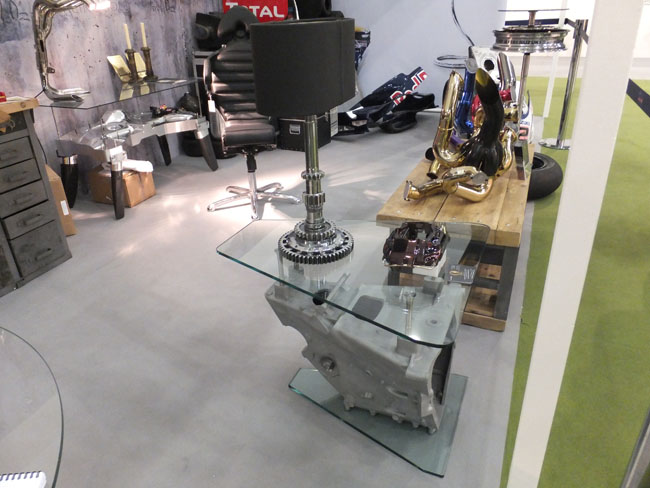 Gearbox cog lamp and gearbox housing table
As so many of these creations are one-offs, they have prices to match. Smaller table lamps are among the cheapest at £2,400, the bigger one £4,200 and chairs range from £5,000 to £10,000 depending on finish and leather upholstery. The manifold table lamp is £3,600 with the floor standing version at £4,200. Proof, if any were needed, that there's a lot of money in motorsport. More from Racing Gold.
E-Roll Prototype
Before we get to scrapping a vehicle, there's the actual creation. Atlas Partners were showing off the E-Roll prototype electric scooter, designed by Ülla Karro with development input from Lauri Hirvesaar.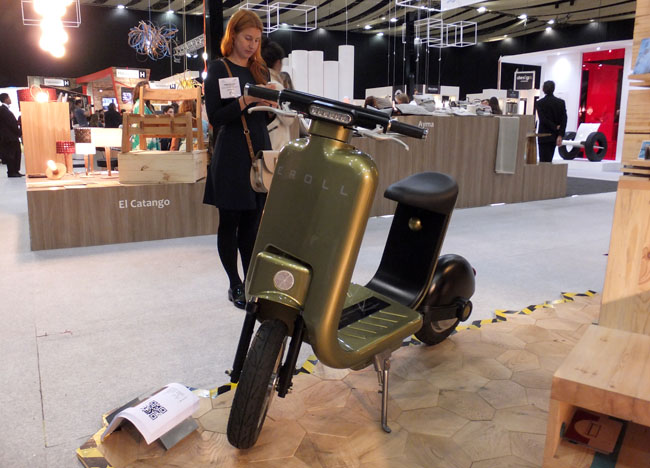 E-Roll prototype electric scooter made with bits from a 3D printer
The project began in 2011 which led to Atlas collaborating with the Estonian Academy of Arts. 3D modelling was used in the later development stage, with some handlebar parts being created this way for the prototype assembly. Rather than just produce an electric bike, efforts have also concentrated on a complete ecosystem for this form of transport.
The quirky little E-Roll bike quite wisely has seating for the rider only, as getting two on board would no doubt affect its range of 37-50 miles (60-80km). The 1kW engine has a top speed of 15.5mph and takes an hour to juice up from the 230V charging station. There's even a domestic cable coiled up in a panel beneath the handlebars for home charging.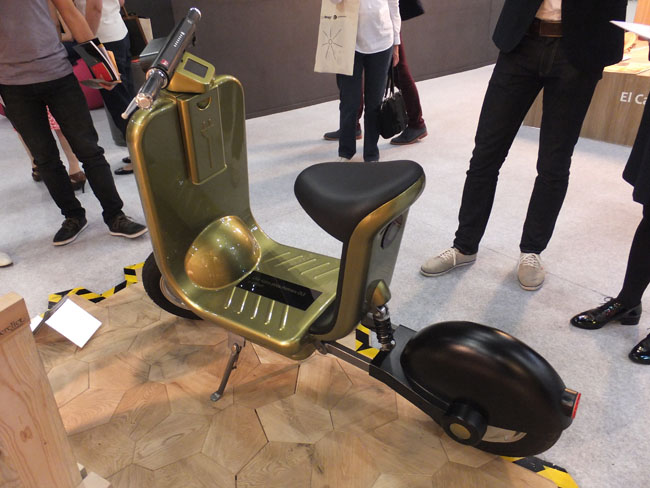 Note the panel beneath handlebars – it has a cable in there for plugging into the mains
One vision for the E-Roll is as a form of bike hire with rental charging posts available. Another is for the daily commute, with businesses having charging ports available in the parking bays. One thing that's not quite so clear is a charge of a different matter. How much to buy one? More from E-Roll. ®
100 Per Cent Design is ongoing this week for trade visitors and students and is open to the public on Saturday 20 September 2014 at London's Earls Court exhibition centre.