Amazon rekindles e-readers and Fire OS without weeks of whack-a-leak fun
One for kids, a new lightweight, and a sub-$100 Fire
Amazon.com has given its Kindle range a thorough refresh, springing a new range on world+dog today without the usual weeks of "will they or won't they and what's inside" leaks and speculation.
Instead we got a series of trim announcements of the new range, which comprises:
A new Voyage model, a mere 7.6mm thick, 180 gms in weight, and a six-inch paper white screen for US$199 (free 3G for an extra $70);
The Fire HD Kids Edition, a US$149 machine that offers a "kid-proof case" Amazon is so confident about it will replace the device for up to two years after purchase under a warranty that "includes coverage for anything that happens to your Fire HD";
New Fire HD models, including a six-incher at US$99 and US$139 for an extra inch, both with two cameras, a quad-core CPU and HD display;
An "all-new" Fire HDX with an 8.9 inch screen, US$379 price tag, 2560x1600 display and Dolby sound;
A new entry-level US$79 Kindle, now sporting a processor 20 per cent faster than in the previous model, 4GB of on-device storage and a touch screen.
There's also content bundles galore, with options for each model. The Kids edition comes with 5,000 pre-curated educational titles so parents can feel better about outsourcing their offspring's education to The House of Bezos.
Version 4.0 of Fire OS, dubbed "Sangria", offers "Advanced Streaming and Prediction which predicts the movies and TV episodes you'll want to watch and starts them instantly" plus a "Smart Suspend" feature that "develops a device-specific profile for when the tablet is typically not in use and proactively turns wireless off and on to deliver up to 25% more standby battery life."
There's also a new way to share content among family members and a UI said to do away with navigating up and down through folder hierarchies.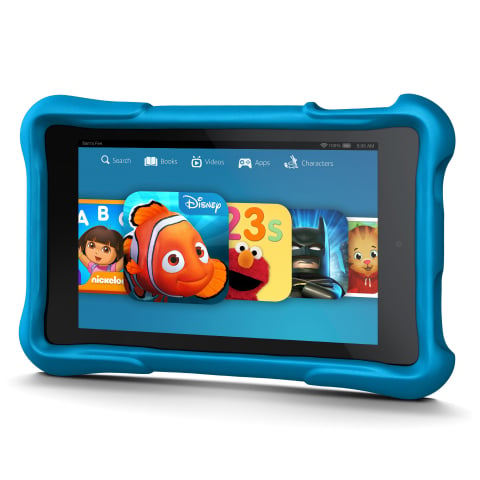 Whatever your kid does to this in two years, Amazon will give you a new one
Amazon's in pre-order mode for all the new models, with a promised shipping date of October 21st. ®