Students playing with impressive racks? Yes, it's cluster comp time
The most comprehensive coverage the world has ever seen. Ever
---
HPC blog This article and the ones following it are the most comprehensive and in-depth analysis of a cluster competition that the world has ever seen. If you can find better coverage, then I'll eat a handful of spider webs.
Let's dive into the results from the benchmark and HPC application portion of the ISC14 Student Cluster Competition....
HPCC: Like "Hotel California" at an Eagles concert, HPCC (HPC Challenge Benchmark Suite) is a staple of student cluster competitions.
The suite is a combination of seven well-known HPC benchmarks including: HPL (LINPACK), STREAM, PTRANS, FFTE, DGEMM, RandomAccess, and b.eff (which isn't capitalized, I wonder why? Modesty, maybe?)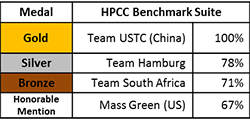 One of the ISC14 newbie teams, Team USTC, pulled down a perfect 100 per cent maximum score on HPCC, which is a damned good performance. Team sponsor Sugon (also new to the student cluster world) has to be feeling good about backing the USTC kids. The average score for all teams on HPCC was 58%.
Team Hamburg was definitely hitting above their weight with their second place finish. Given their traditional CPU-based cluster and their relative lack of competition experience, they did amazingly well on this benchmark.
South Africa snuck ahead of Mass Green for the Bronze Medal. Mass Green gets an Honorable Mention for driving their quad-socket, fat-node monster cluster into fourth place, topping seven other teams with more conventional clusters.
Quantum ESPRESSO is a set of open source codes that are used to calculate materials modeling at extremely small scale. We've seen this app a couple of times in other competitions, and it's caused some problems for teams in the past.
But this crop of student clusterers seemed to handle it in stride, with almost every team posting a valid score. The average score for all teams on this app was around 50 per cent.
GPU enabled versions of QE are available, which was pretty helpful for those teams driving NVIDIA accelerators.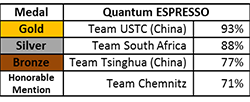 Once again, Team USTC was a standout; grabbing 93% of the points possible on this app. South Africa was close on their heels, only five points back. Team Tsinghua managed to nab the Bronze Medal, even though they didn't have any accelerators in their system – meaning they had to optimize the living hell out of the app in order to top the rest of the field.
Home team Chemnitz gets the nod for Honorable Mention, that's a good score on a tough application.
OpenFOAM is a set of solvers that are often used to model fluid dynamics. You could use it to figure out airflow through a turbine or to model the pressure differential in your lawn sprinkler system.
There ar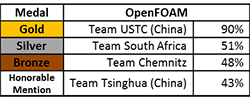 e GPU friendly versions of OpenFOAM available. Depending on the problem and solvers being used, GPUs can provide a 50 per cent+ speed-up while using a third less energy – definitely a competitive advantage in student cluster wars.
We saw a wide range of scores on OpenFOAM this year, with the average score at 32%, making OpenFOAM one of the most challenging apps in the ISC14 competition.
Once again, that plucky team from USTC nabs a Gold Medal on this app, topping the ten other competitors by a wide margin.South Africa takes the Silver, with Team Chemnitz finishing with a Bronze Medal. Tsinghua gets Honorable Mention for posting a score competitive with the field, without the benefit of accelerators.
GADGET-3: Like I've said many times before, if I were forced to model the universe and could only select one software package, I'd take GADGET-3, hands down.
It'll do your gravitational force modeling, and will even show you what happens when galaxies collide – which takes a fair amount of computational power.
GADGET-3 was another tough app for the student teams (the average score was 40 per cent). However, all of them turned in a valid result, meaning that they were able to set up and finish at least one run.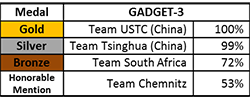 Team USTC adds to their Gold Medal count with their field topping 100 per cent score. Team Tsinghua missed grabbing their first Gold Medal by a heartbreaking one percentage point margin, settling for the silver.
Former ISC champion South Africa led the rest of the field and took the bronze with their score of 72%. Home team Chemnitz nails down another Honorable Mention for their fourth place finish on what proved to be a very difficult application.
In the next article, we'll cover results from the dreaded "Mystery Application", the "Secret Mission" task, and the interview components of the competition. And then full coverage of the winners. Stay tuned... ®