This article is more than 1 year old
Getting to the BOTTOM of the great office seating debate
Belay that toil, me hearty, and park your scurvy backside
100% Design One of the enduring passions of the design world is where we put our arses. Every year at 100 Per Cent Design there's always a new take on where the butt stops. Some are elaborate, others inventive and, if there are a lot of seats to be considered, then things can get quite cosy too.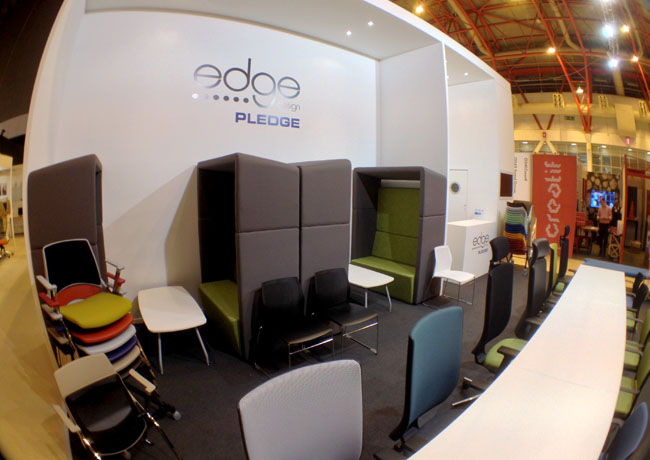 Edge Design Fifteen Environments booths – among many cosy and intimate office furnishing designs on show this year
Last year saw the self-contained mini meeting room style of furniture for offices take hold. This time round everybody has at least one example of these high sided settees, which, set face-to-face allows for some privacy and sound proofing. They all look intimate and appealing and there are plenty to choose from but they do tend to be rather expensive.
Vitra
Maximising space and providing flexibility is all about being able to accommodate agile working. One example is Workbays from Vitra, which the company describes as a "micro-architectural office system".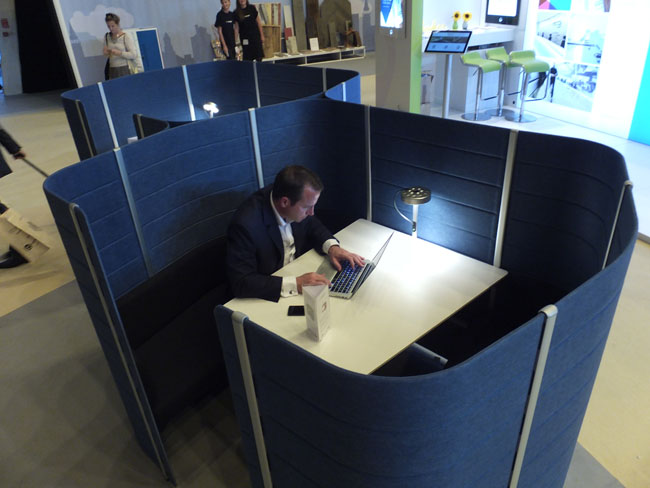 Vitra Workbays or to those in the trade, a micro-architectural office system
The company even has an iPad app to allow office planners to specify the colours and sizes of the various segments available that can be pieced together to create a distinct workspaces or a honeycomb of booths. More from Vitra.
Creatif
At Creatif, the focus isn't just on making cosy secluded areas, but to help maximise the use of existing office space with sliding partitions made of different materials including drywipe glass for felt pen scribblings, metal enriched glass for magnetic note fixing and huge sound absorbing panels covered in fabric that can be printed with any design. These days its task is no longer about soundproofing, but sound absorption, with floors and ceilings made to keep things quiet.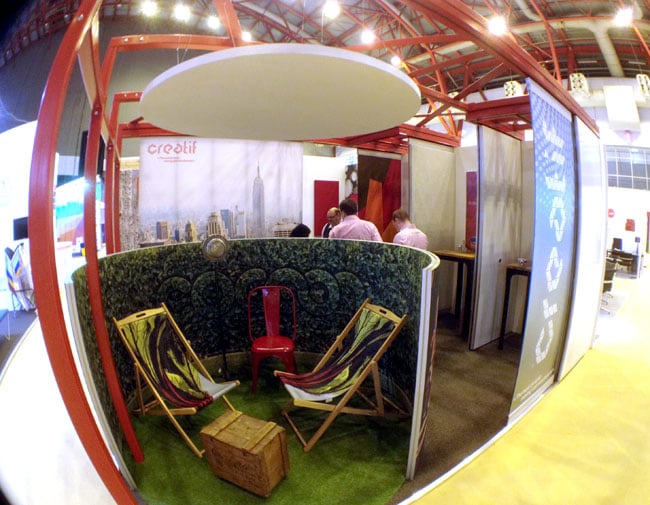 Creatif's Cocoon and sound absorbing ceiling surrounded by its range of moveable walls made of different materiala that rely on a metal framework to enable swift space changes
It turns out that Creatif has been working with Barclays. The bank had a plan for the use of certain spaces in a call centre which Creatif was able to maximise for its client. A construct using overhead rails (later covered with fabric) to move large partitions around enabled areas to be transformed from intimate meeting points to larger board room scale workspaces. More from Creatif.
Icon
As one designer at the Icon stand said, "Everything is going softer." His company makes workplace screens, among other things, and whether it's for acoustic or aesthetic reasons, the booths the likes of Icon produce are mainly covered in soft furnishings this year.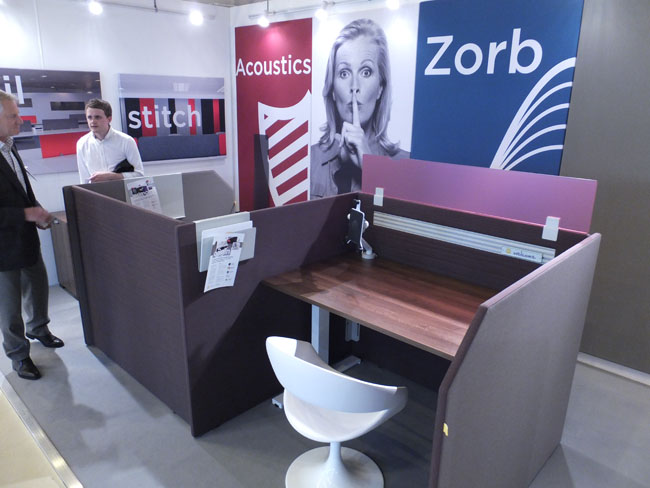 Soft option: Icon Design's Primo workstation
It might look appealing but he confessed but it'll probably be a nuisance to keep clean with people resting hands on the edges of partitions. The other problem is the fitting of metal mountings for monitors and other devices on these cloth covered panels, which adds another layer of difficulty just to keep things looking good. When it comes to making an impression, not all design trends are practical. More from Icon.
Wagner
Making an iconic chair is evidently a design goal for many at this show and Wagner's W-Station is certainly one for our age. Sit on it one way and it's a compact desk; turn around and you've a seat that's still pretty comfortable, although the circular cushion is extra.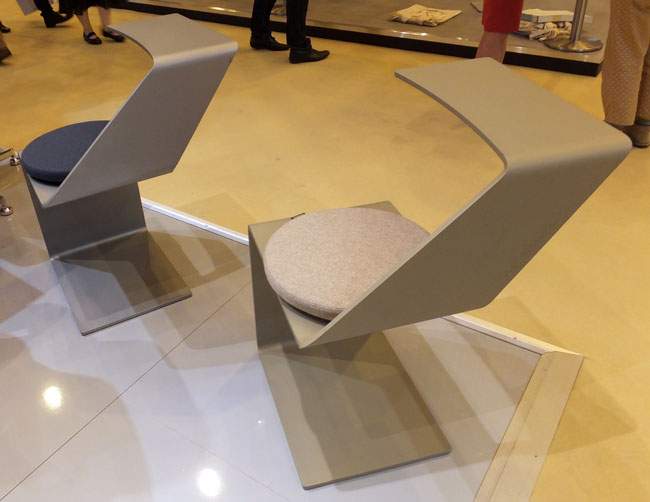 Wagner W-Station: finding the right people to shape aluminium can drive you round the bend
If you think the W-Station was knocked out on the back of an envelope, it turns out that it took Wagner at least two years to find a company capable cutting and bending the aluminium to shape. All that effort no doubt explains the £699 price tag, but it'll obviously get cheaper if you're buying them by the hundred. More from Wagner.
Lina
Shaping up in a rather different and presumably less challenging way is the Ball Modular from Lina Design. Available in 36 different colours this combination of one small and three large balls just draws you in to try out. The fabric weave covering is soft to touch and when sitting on this arrangement you find it has just right amount of firmness so you're not rolling all over the place.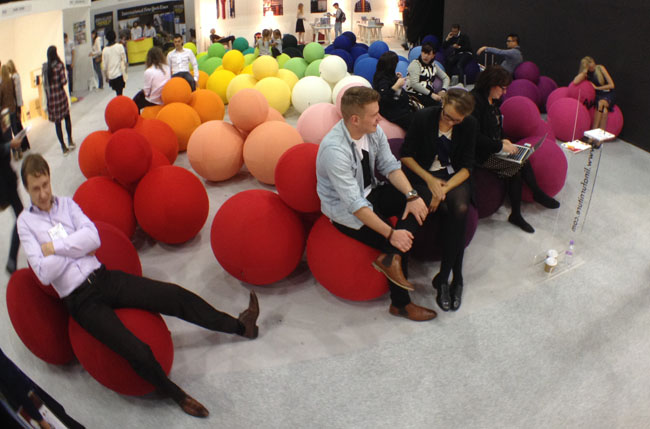 Lina Design's the Ball Modular seating looks delightful in open spaces
It certainly worked well in the open spaces in the International section and wouldn't be out of place in hotel spas, hipster lounges or even one or two around the house if you've £525 to spare. The price thankfully includes delivery costs, as Lina is based in Slovenia. More from Lina.
Jingchu Design
We've already noticed a motoring theme at the show and you couldn't miss the Gommolo tyre chair part of the Ekoo brand from Chinese firm Jingchu Design, also in the International section.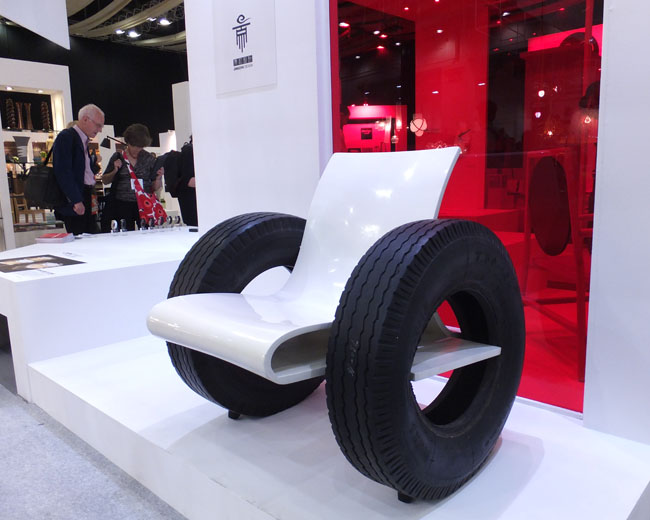 Jingchu Design Gommolo: a tyred idea?
Being on a platform the Gommolo wasn't so inviting as Lina's offering but those tyres enable the fibreglass seat to work as a rocking chair. However, there were some chocks in place – whether they were permanently affixed to the tyres wasn't clear, but it's probably best to have them there as this design could easily become a bit too laid back. More from Jingchu Design (in Chinese).
Samsung SDI
Talking of laid back, would you believe this Hedgehog sofa is made by Samsung? Its Chemical division has been going for 70 years and it makes a synthetic material for work surfaces called Staron that can be shaped and used in similar way to Corian.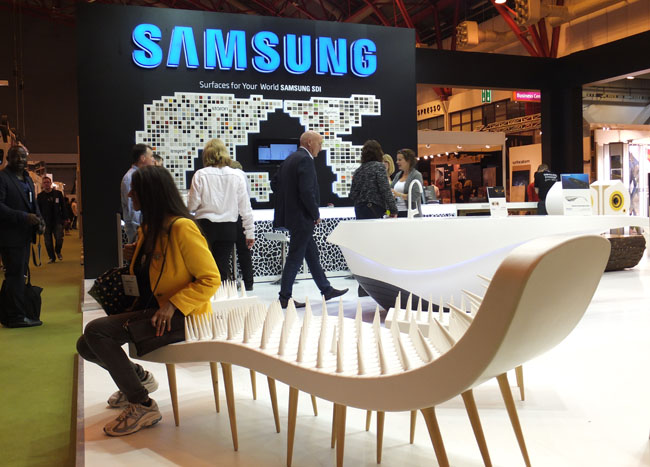 Samsung Staron Hedgehog sofa: you know you want one really
Everyone had to check out those spikes though, which turned out to be made of foam rubber. Not so S&M after all. To make a point of a different sort Samsung also had on show the bizarre Owl speakers to demonstrated Staron's versatility.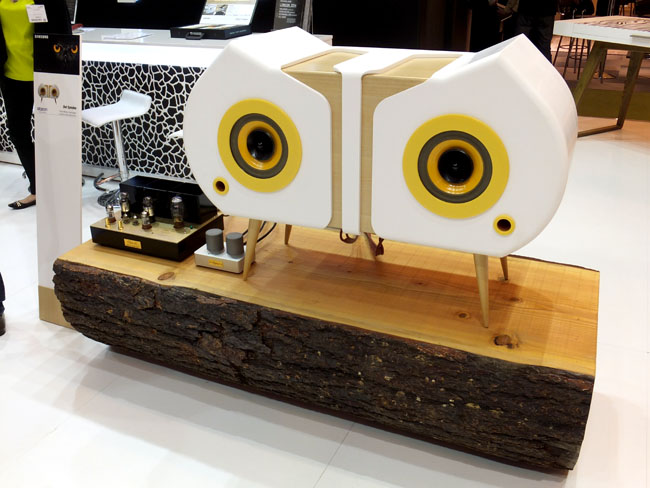 Staron shaped for the Owl speaker cabinet
And no they weren't using Samsung audio gear to run them but the decidedly retro styled Opus 45 amplifier from Hyondae Sound Equipment Specialty Co. More from Samsung SDI.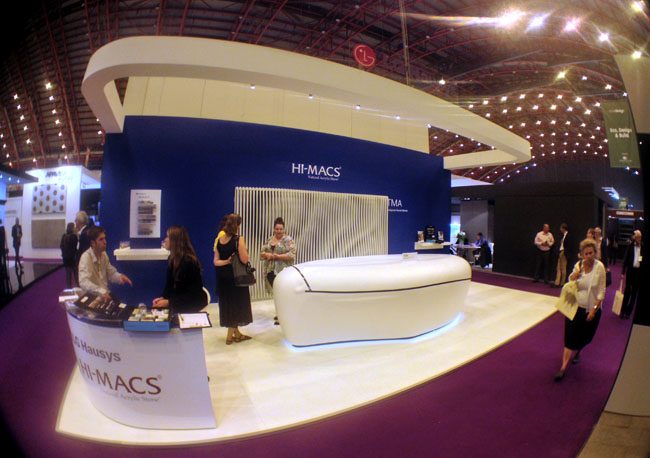 LG stand with its Hi-Macs mouldings and samples
Incidentally, LG also does battle with Samsung in this space (and has done for nearly 70 years) and was also at the show with a rather more low key stand, showing its Hi-Macs brand of surface wares. More from LG Hausys. ®
100 Per Cent Design is ongoing this week for trade visitors and students and is open to the public on Saturday 20 September 2014 at London's Earls Court exhibition centre.