This article is more than 1 year old
Object Storage Alliance launched. Problem: 3 vendors haven't joined
See here, me IBM mateys, why d'ye languish with these scurvy curs?
After complaining for some time that its message is not understood, the object storage industry has set up an Object Storage Alliance – only to have three suppliers refuse to join.
The OSA "is a vendor-neutral industry alliance organised to promote the business value of object addressable storage," organised by and hosted on a Neuralytix website.
It defines object storage technologies as including "object addressable storage systems and software that organise data on a persistent storage medium. Attributes include user extensible metadata, location independence (e.g., on premises or in a cloud) and 'self describing' metadata that stays with the data object unless the metadata is a link that references the metadatabase."
The founding members are: Amplidata; Caringo; Cloudian; DataDirect Networks; Dell; EMC; Exablox; HDS; HP; IBM; Intel; NEC; NetApp; Oracle; Quantum; RedHat; Rorke Global Systems; SanDisk; and Tarmin.
IBM has no object storage-based offering, currently. Perhaps something is coming. Neither is Oracle known as an object storage supplier. Ditto SanDisk, which is a NAND flash hardware and (some) software business.
There are founding knowledge and media members which include; Neuralytix, the SNIA, Storage Switzerland, TechAccelerator and ExecEvent.
The OSA will "assist in offering best practices and education on technologies that enable informed decisions, insight and information innovation," and so benefit sales of its members' technologies and services."
Ben Woo, Neuralytix'sMD, said; "Object storage provides the scalability and flexible metadata management necessary for organisations to effectively use their data to achieve informed decisions, enhanced knowledge and data-driven innovation – which ultimately leads to competitive advantage, growth and value creation."
We understand DataDirectNetworks provided resources to help start off the OSA.
The three supplier holdouts are Nexenta, Scality and Cleversafe.
Cleversafe and Scality are the leading object storage suppliers, according to a 2013 IDC Marketscape chart. Nexenta has only recently announced its Nexenta Edge object storage offering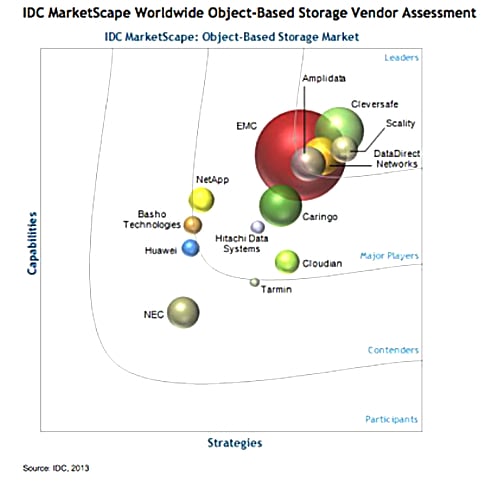 IDC object storage Marketscape
No doubt we'll find out the reasons why the three non-joiners didn't want to play in the OSA playpen eventually. A Neuralytix spokesman confirmed to The Register that neither Scality nor Cleversafe had joined. Nexenta, an obvious candidate for the OSA, was not listed on its website at the time of writing.
Find out out more about the OSA at its website, and inquire about membership at info@objectstorage.org. ®