This article is more than 1 year old
Lumia rebrand begins: Nokia's new UK web home is Microsoft.com
Yarr, them Nokia logos walking the plank and into the drink
Microsoft has quietly begun the process of transitioning its Lumia smartphones away from Nokia branding, beginning by moving the line's website to a new, in-house URL.
Navigating to the UK version of Nokia.com now displays a landing page bearing the message, "Step inside our new home. Nokia devices and services have moved to a new website." All links on the page point to a new Microsoft Mobile Devices homepage, hosted on a subdirectory of the main Microsoft.com website.
Although there are still a few references to Nokia on the Microsoft Mobile Devices site for now, the actual Nokia logo is conspicuously absent.
The move comes as Redmond prepares to discontinue use of the Nokia brand for its Windows Phone devices by November 2015, as revealed in internal documents leaked earlier this year.
Under the terms of the Nokia purchase, Microsoft could have kept the brand for its X line of Android phones through December 31, 2015, but it has already scrapped those plans. It can also keep using the Nokia brand for any dumbphones it makes for the next 10 years, which it may well do, albeit probably only in developing markets.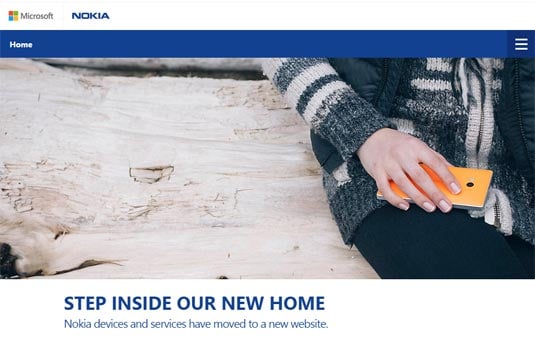 Nokia's UK Lumia website has started directing users over to Microsoft.com
For the rest of Redmond's phone line, however, the Nokia name has to go before the end of next year. Microsoft hasn't announced its new branding plans – we don't even know whether it intends to keep the Lumia brand, but we suspect it will – but it looks like new devices will be plain ol' Microsoft mobes from 2016 and beyond.
What's more, and to make matters even more confusing, the latest rumors claim Microsoft may even be planning to do away with the Windows Phone name in the not-too-distant future.
The idea is that Redmond honcho Satya Nadella wants customers to think of Windows as a single, unified platform for PCs, tablets, and phones – even if it isn't, really. So before the dust settles, we may well expect a future flagship device from the software giant to be called something like the "Microsoft Lumia XXX with Windows."
All of this is still more than a year away, though, and Microsoft appears to be taking its time with the branding transition. For now, at least, the Nokia website redirection only appears to apply to the UK version of the site; the US and European sites appear unaffected. ®