Weekend reads: Tales of Madchester in Chapter and Verse plus Shark and Ring of Steel
New Order guitarist's kiss 'n' tell and Will Self waxes lyrical
---
Page File El Reg bookworm Mark Diston reviews the latest literary treats. Lauded wordsmith Will Self's new novel takes some extraordinary twists and turns. Joy Division and New Order guitarist Bernard Sumner tells his life story and Alexander Watson delivers a unique take on WWI, history, not from the victors, but as told from the centre of events.
Shark
"Ooh, I like Will Self, he is so articulate, so clever ..." so I was informed by a couple of acquaintances, when I told them I was reviewing his new novel: Shark but when pressed, it turned out neither had read any of his books, their opinions were based solely on his TV and radio appearances.
Shark is what you might call a stream of consciousness novel. The action segues in and out, there are no chapters, it is one long narrative based mostly in 1970s' London, but random time and location shifts abound. Sometimes it takes a few sentences to realise that you have been taken back to the Pacific theatre during World War Two, or displaced forwards to the 1990s doing rehab. I'm not saying too much here, the author gives most of the plot away on the dust jacket.
The opening scenes of the novel take place in Concept House, a kind of care in the commune-ity run by Dr Zack Busner, a recurring character in Self's fiction. Anyone who had the misfortune to squat with pretentious hippies in the 1970s will be familiar with the scenario: chaos, decay and self-righteousness abound. Someone turns up with some LSD and while the characters debate whether or not to take it, we are whisked away to the deprived childhood of Jeannie (Genie after the Bowie song) and her Mumsie.
Will Self evokes the 1970s better than almost any writer I have read, the whole spectrum from the Anti-Psychiatry of Ronnie Laing's Divided Self to the juvenile delinquency of Richard Allen's Suedehead is captured beautifully and the detail is impressive. Who remembers Emva Cream Sherry these days? and get this for a description of posh hippy chicks:
"Bobble hatted Fionas make her milky tea in their bizzy lizzy gallies."
The central characters of Genie and Moira, her "Mumsie" are brilliant creations, their stories are fascinating and touching. Their outing to Greenham Common with:
"Fearsome lezzers in leather" is hilarious. The main problem is that they are surrounded by a supporting cast of too many insignificant others to keep track of or care about.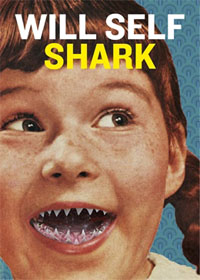 We are transported to the shark-infested waters of the South Pacific, where it seems one of the future residents of Concept House has been sunk by the Japs and is treading water and getting off his face on morphine styrettes.
It also turns out that the person who put up the funding for Concept House is the only Englishman onboard The Enola Gay as it annihilated Hiroshima on 6 August, 1945. Cue scenes of wartime London and Genie's Mum copping off with his brother.
The beginning of the book is reminiscent of James Joyce's Ulysses, beautiful prose, it is just a shame the characters have to get in the way. The disparate threads of the story seem to come together about 250 pages in, before the acid kicks in and renders everyone and everything poetically nonsensical again.
"Dynasties of insect people arise and fall on every step of the stairs."
Genie comes through bad drugs, crap blokes and worse sex:
"Always getting stuff inside me, but none of it ever so much as touches the sides."
Eventually the book OD's on Italics and ellipses and fades out to oblivion.
This is a novel for fans of the beats and surrealists, or the sci-fi of JG Ballard or Michael Moorcock at their most obscure. This is supposed to be a book for people like me, but I find it oversized, over verbose and overambitious. If it had concentrated on the stories of Genie and Moira instead of endless diversions into the lives of a bunch of dull geezers, there would have been a vast improvement.
It is a most annoying book to read as it has the core of a great novel. Like the later Jack Kerouac, when he couldn't be arsed to rewrite, it could just do with some serious editing. While Will Self's talent is without doubt and much of the prose is startling and original, this novel is too long and aimless by half at 50 per cent brilliance and 50 per cent bullshit. The Shark is a red herring.

Author
Will Self
Title
Shark
Publisher
Viking Adult
Price
£18.99 (Hardback)
More info
Publication web site