Vid Elon Musk's private spaceflight company SpaceX successfully launched its unmanned, mouse-laden Dragon 'craft in the early hours of this morning.
The commercial cargo ship is carrying 2.5 tons of supplies destined for the International Space Station, NASA said.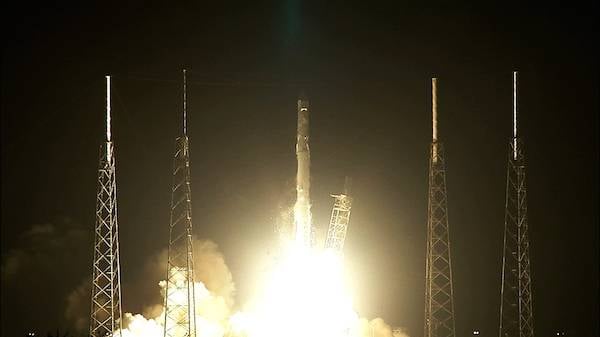 SpaceX rocket lifts off from Cape Canaveral. Image credit: NASA
A 3D printer and 20 mice are among the payload, which is expected to be delivered to the orbiting laboratory on Tuesday, all going well.
Dragon separated from the Falcon 9 rocket at 1:52am EDT, following a lift off from Cape Canaveral Air Force Station's Launch Complex 40.
On arrival at the ISS, NASA said that Expedition 41 engineer and European Space Agency 'naut Alexander Gerst will use the station's 57.7-foot (17.6-metre) robotic arm to grab hold of the Dragon 'craft.
[PHOTO] Liftoff!! Falcon 9 lifts off from LC-40 at Cape Canaveral carrying Dragon to resupply the space station. pic.twitter.com/iLvXcjWrqP

— SpaceX (@SpaceX) September 21, 2014
Cargo on board the Dragon includes techie demonstrations and "critical materials" needed to allow space boffins to carry out 255 science and research probes during Expeditions 41 and 42 on the ISS. ®