This article is more than 1 year old
Hey, what's a STORAGE company doing working on Internet-of-Cars?
Boo - it's not a terabyte car, it's just predictive maintenance and that
It's the coming internet of driven things; HDS is working with the Clarion car audio biz on Internet-connected cars.
What's a disk array manufacturer doing getting in bed with a car radio/satnav firm?
Well, connected cars will be big biz; IHS projects that 152 million of them will be on the highways by 2020. HDS and Clarion say they will explore the data-driven side of in-vehicle connectivity to bring services to existing cars, trucks and fleets. The collaboration aims to establish packaged systems that obtain, correlate, and visualise on-board data (OBD) that will be available in nearly anything with wheels.
Clarion, headquartered in Japan, makes a range of car audio and navigation kit and has OEM deals with Saab (yes, it's still alive), Suzuki, Ford, VW, Proton, Subaru and Peugeot.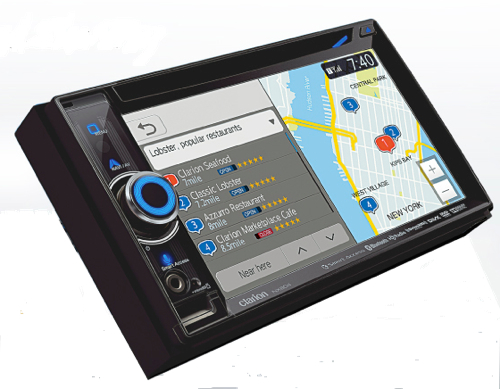 Clarion NX604 DVD Smart Access Multimedia Station
In June last year Clarion said the next generation of its so-called Smart Access-connected in-vehicle multimedia and navigation systems will feature natural speech recognition as well as search and positioning technologies from Google. Smart Access, it said, would offer Clarion's OEM partners and consumers a comprehensive and easy to operate cloud-connectivity facility for in vehicle use.
Smart Access is powered by Hitachi's Global Data Centre and is a cloud-based information access, analysis and sharing platform. In fact Clarion is a Hitachi subsidiary, as is, of course, HDS.
Clarion defines itself now as an in-vehicle information and connectivity systems provider. It joined the Open Automotive Alliance (OAA) in June this year, and The OAA wants to bring Google's Android OS to cars with an interface designed for car use. Android mobe phone apps would "project" their interface onto an in-vehicle screen. There will be, if the OAA has its way, a standardised, Android-based platform for cloud connectivity and app use in the car for both OEMs and aftermarket suppliers.
Hitachi's Clarion is developing several new in-vehicle connectivity products that will use OAA capabilities and standards that OAA members intend to ship as early as 2015.
Where does HDS fit in this? Cars aren't going to run VSP arrays. Presumably.
A Clarion US market/product planning Veep, Allen Gharapetian, didn't cast a huge amount of light on this with a piece of canned opacity:
"We are working with HDS to make driving and traveling in cars safer, more entertaining and significantly more personalised to both the vehicles' specifics and drivers' preferences."
Gee, thanks Allen.
HDS chief engineer Michael Hay was a little more transparent, saying that our "expertise in data analysis and real-time streaming enables us to deliver on the promise of the connected car, adding value across the ecosystem from drivers, to manufacturers, the aftermarket, fleets and more."
Sorry HDS, but what expertise in data analysis and real-time streaming? Who knew you had any?
Then Hay went off into driving utopia:
"Safer, better performing cars that maximise performance and provide exhilarating and entertaining driving experiences will prove to be key differentiators in this highly competitive market."
Exhilarating and entertaining driving experiences? Can't wait.
Then he actually hinted at HDS' back-end role, not an in-vehicle role at all:
"Our ability to extract data from the field, identify trends, make predictions, and adjust for desired outcomes will allow players throughout the automotive value chain to innovate cost-effectively."
HDS and Clarion will:
Jointly research and develop new data-driven solutions for deployment in the next generation of Clarion in-vehicle connectivity products. The collaboration will give drivers and manufacturers usable insights that will lead to improved auto performance and safety, increasing value across the burgeoning market for connected cars.
Here's a list of benefits -
Manufacturers: Performance and usage data
Underwriters: Risk management
Fleet Management: Utilisation and usage
Heavy Industry: Fleet management and utilisation
Consumers: Safety and high performance
The two companies' systems will correlate a variety of in-vehicle data streams to help improve safety, performance and value, it seems. HDS storage arrays will, we understand, store data streamed from the cars by Clarion gear and may run analytics SW to help manufacturers and fleet operators get more use/value/safety/lower fuel consumption, etc from their vehicles.
For example:
With predictive maintenance, auto manufacturers will be able to gain insights such as key maintenance data points and the ability to predict wear over time. The outcome is lower costs of service and support, and increased driver satisfaction.
Oh, it's boring predictive maintenance, engine efficiency, emission-reduction and safety for cars; hardly contributing to "exhilarating and entertaining driving experiences."
That's marketing for you. ®