This article is more than 1 year old
Apple iPhone 6: Looking good, slim. AW... your battery died
Alas, not the generation where batt life stops being an issue
Review When Apple released the first commercially available multi-touch phone in 2007, it had to decide how big it should be. And it got it right first time. Yet this year's new models – the iPhone 6 and the iPhone 6 Plus – both break that mould.
The iPhone 6 Plus, which we review tomorrow, makes a feature of its bigness; but the straight iPhone 6 is just this year's new iPhone, and it's not obvious why it needed to gain square inchage.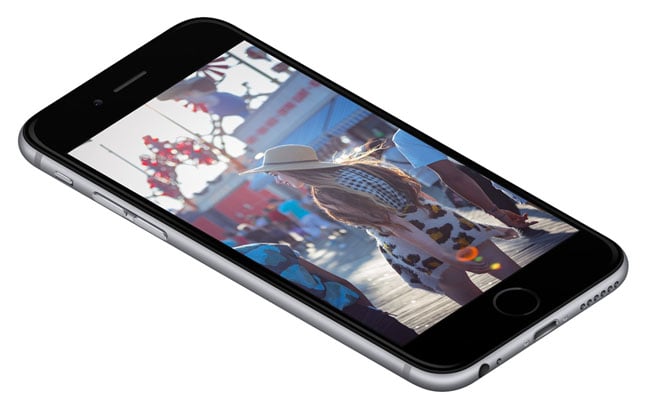 Slimmer and curvier... we're talking about the phone, stupid
As Sir Jonathan Ive mused on 2012's iPhone 5: "By making the screen taller, but not wider, you can see more of your content, but still use it comfortably with one hand." Which made sense. Logically, it can't therefore make sense that it's now even taller and also wider.
The iPhone 6's Retina pixels are the same size as those of the iPhone 5, 5c and 5s, at 326 points per inch, but there are over a third more of them in its 4.7-inch screen: 1344 x 750 compared to 1136 x 640. Even with a slight reduction in the border at each side, that's a lot more to fit in your hand.
Is it too much? My hands are larger than average, and although the iPhone 6 didn't feel incongruously big as I got it out, in use it's pushing the limit of what feels natural to hold. I can curl the whole distal phalanges of at least two fingers around the iPhone 5s, holding it fully secure, and still reach all parts of the screen with my thumb.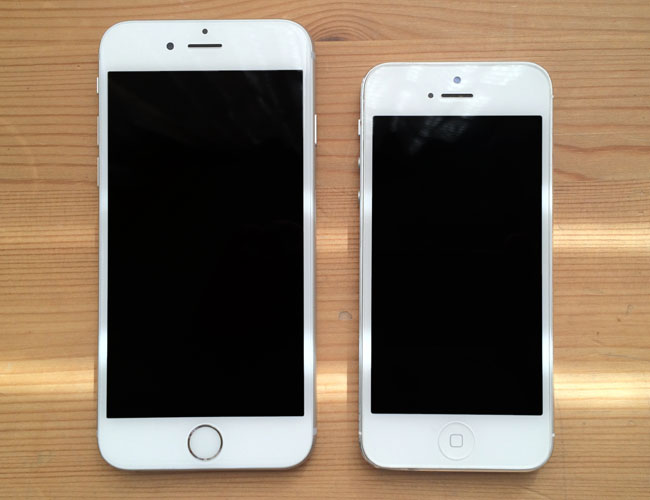 Size matters: iPhone 6 (left) v. iPhone 5 (right)
When I try to operate the iPhone 6 with my thumb, my fingers have to retreat to their tips, and my little finger dances between supporting the bottom edge, assisting in shuffling up and down when needed, and retreating to permit the thumb more freedom. And I'm much quicker to give up and jab at the screen with my other hand.
It works, but it certainly isn't better. For those with smaller hands, it could certainly be worse. I know of one who's returned his iPhone 6 already. And yes, I said "his". Keep in mind that this is Apple's M, not L, size. If you prefer S, last year's iPhone 5s and 5c are still on sale at reduced prices — the latter only with a painfully tight 8GB of storage, which seems a waste of a cute design.
So what's the advantage? Well, apart from competing with Samsung's youth-baiting telefondleslabs, it means you can fit more content on the screen. Not that you have to: the Zoomed display mode, selectable from Settings > Display & Brightness, simply scales up a notional iPhone 5 screen, making everything slightly bigger. The upsampling isn't betrayed by "jaggies", although black-on-white text did look just a tad choppy to me.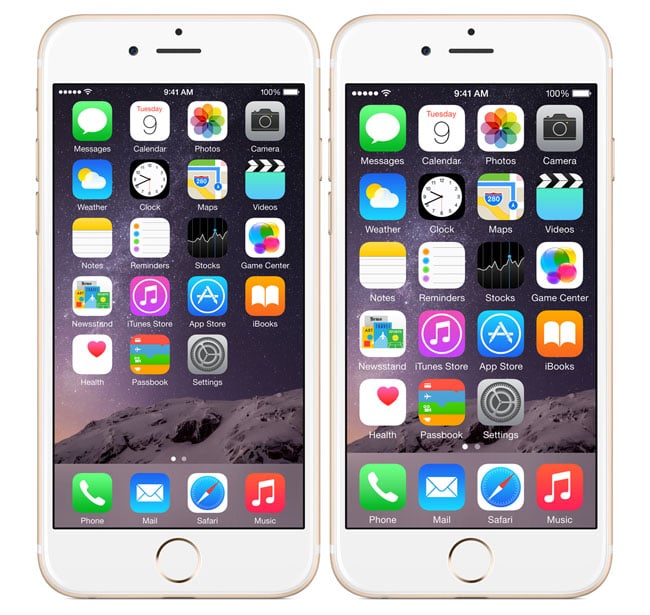 Standard display (left) and Zoomed display (right)
Stick with the preferred Standard mode, on the other hand, and only apps that haven't yet been updated for the iPhone 6 will use this scaling. Apple's default apps, along with a rapidly increasing number of others, instead show 38 per cent more content. And even black text in un-updated third-party apps looks perfect.
In the Mail app on the iPhone 5 and higher, you can see extracts of four messages plus the Sender line of a fifth without scrolling; on the iPhone 6, five plus the start of a sixth. The Contacts app used to list ten names per screen; now it's 12. It does feel more expansive, and everything is noticeably cramped if you go back to the 5.
If you have trouble reaching stuff with your thumb, tapping (not fully pressing) the Home button twice activates Reachability, which simply moves the whole display downwards, leaving the top half of the screen empty. It's a ridiculous kludge, but could help.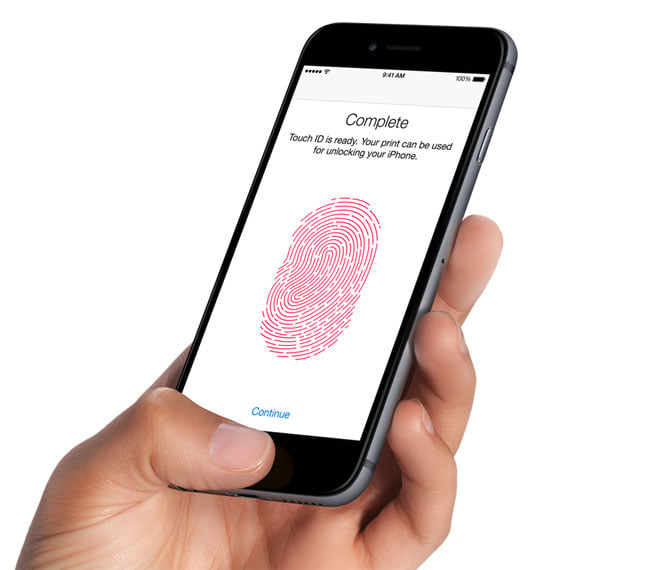 Apple's iPhone 6: All fingers and thumbs?
Size isn't the only change to the display. Although its overall colour gamut remains just under full sRGB, colours looked a little purer and more vibrant to me than on the 5s. The extra pixels, exceeding 720p resolution, bring more detail to video playback, and the 1400:1 contrast ratio, up from 800:1 on the iPhone 5s, provides visibly increased dynamic range. In short, films look excellent.
They could sound better. The iPhone's single speaker, which is either at the extreme left or right while you're watching, is still not ideal. I found the new unit, with its minimalist six-hole grille, just as loud as the 5s but not quite as clear.