Power play
The A8 system-on-a-chip, designed by Apple and and manufactured by TSMC, is more powerful than its predecessor. Optimisation for particular types of task is now as big a focus of chip design as advances in raw processing power, making it harder to compare like with like, but across a range of third-party benchmarks published online, the iPhone 6 seems comfortably ahead of Samsung's notably capable Galaxy S5 in most CPU and GPU operations, tripling its frame rate in some graphics tests.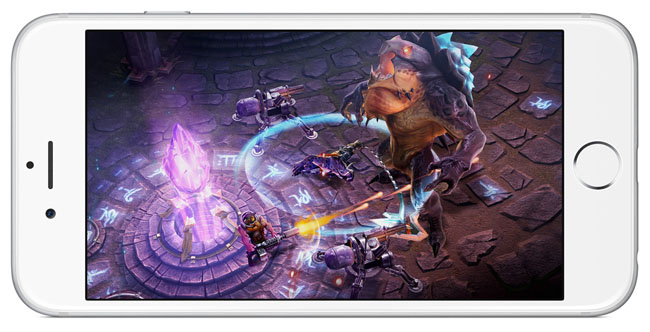 Bigger screen and GPU optimisation makes for a more absorbing gaming experience
That enables more console-quality effects in games, but more importantly for most users it makes everyday operation instantly responsive. Delays in trivial tasks like attaching several photos to an email are a smaller fraction of a second than on the 5s, which all helps, although iPhone users already take luxuries like ultra-smooth scrolling for granted.
If there's one thing they'd have asked for in a new model, it would be more battery life, and here the 6 barely delivers. The 5s was rated for 10 hours of internet use via 4G (LTE) or Wi-Fi, eight hours on 3G. The 6 promises to bring 3G up to 10 hours and increase Wi-Fi life to 11, also improving video playback time from 10 to 11 hours.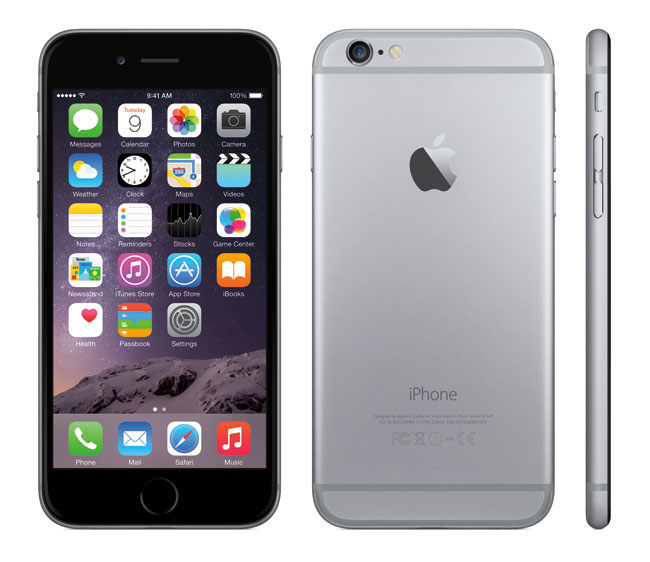 Being slim is one thing, getting the battery to last a day is another
That's hardly a breakthrough, and my iPhone 6 narrowly made it through its first full day of use with a few percent remaining, just like the 5s. You may notice a bit more of a "reserve tank" remains after the 20 per cent low battery warning, which is very welcome. But it's not surprising to see users questioning the decision to shave the device's thickness rather than pack in a few more lithium ions. This is not the generation where iPhone battery life stops being an issue.
iOS 8, Apple's new mobile operating system, is also available for existing devices, and by most accounts works fine on all of those supported, going back to the iPhone 4s and iPad 2. Compared to the previous version's radical redesign, however, not much has changed. A new Health app stands ready to collate biometric data, but apart from a count of your steps from the built-in pedometer it won't do much until you add third-party apps and accessories.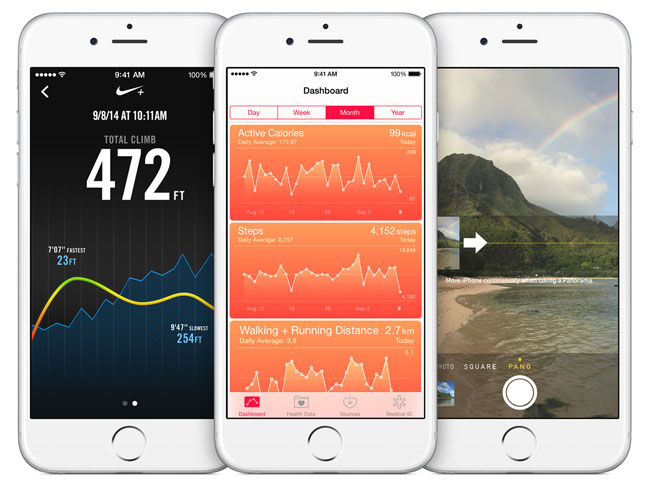 The pedometer and health apps keep track of your daily movements
Some of the most promising new features relate to iCloud and integration with your Mac, but so far they haven't materialised. iCloud Drive lets you use Apple's cloud storage in a more flexible, Dropbox-like way, and iCloud Photo Library stores and syncs your pictures in a less counter-intuitive way than Photo Stream, but neither is fully functional yet.
Both will encourage you to use more cloud storage, which accordingly comes at reduced prices. 200GB, at £2.99 a month, should be plenty for most users, but the default 5GB is unlikely to suffice even to back up one iPhone. While apps and iTunes purchases don't count towards your limit, photos and videos do.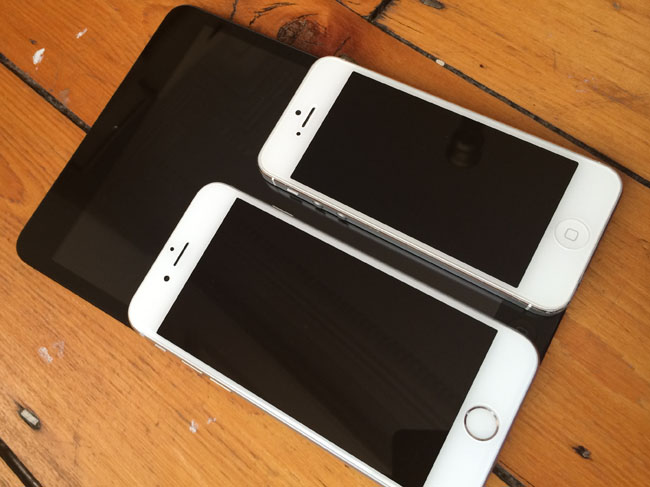 iPhone 6 (left), iPhone 5 (right) on top of an iPad mini
"Continuity" lets your iPad or Mac make and take calls via your iPhone, as long as it's nearby. It's hard to imagine why you'd grab your iPad rather than the phone, but desktop telephony looks useful; it'll have to wait, though, until OS X 10.10 Yosemite arrives in October. You can also make voice calls via Wi-Fi when cell reception is unavailable, as soon as your carrier permits it (EE says it will support this later in the year). We saw no obvious difference in 3G and 4G reception on the iPhone 6 compared to the 5s, incidentally.
"Handoff", another convenience feature, syncs apps so that whatever you're editing or viewing on one device appears in the same state as soon as you open the equivalent app on another. It works with Apple apps between iOS 8 devices, but again OS X support will be the real draw.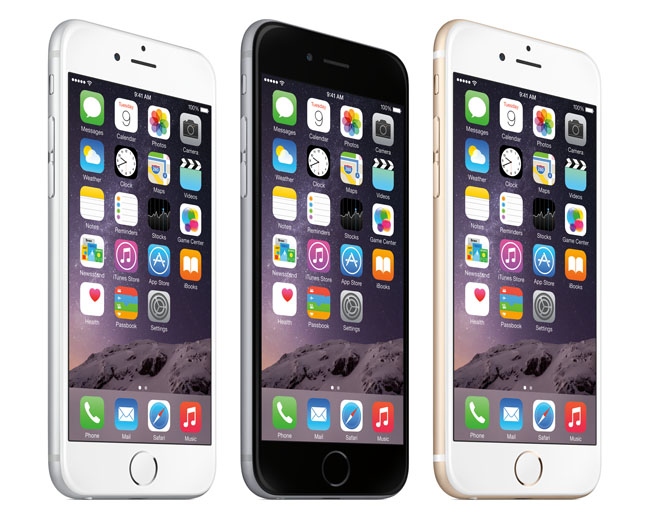 Storage options as pricey as ever but what did you expect?
The Reg Verdict
Something many users have requested is for the operating system to be more customisable and extensible, which is what iOS 8 delivers to some degree. The benefits will take time to emerge, but already a choice of third-party keyboards can be installed, including the popular Swype. Apple's built-in autocorrect has also been supplemented by a neat predictive text bar that's designed to guess better as it gets used to you.
Combined with new options to reply to messages (including audio snippets) directly from the lock screen, this makes the iPhone 6 an even more practical daily companion. Another practicality is that old chestnut of micro SD storage expansion or the lack thereof. It will remain a sticking point for many but it certainly doesn't seem to have affected sales. But Sir Jony was right: the 5 was more comfortable in your hand. ®
Adam Banks is editor in chief at MacUser, the UK's longest-established Apple magazine.

Apple iPhone 6: Looking good, slim. AW... your battery died
Apple's bigger screen and iOS 8 combination provides plenty to play with but ease of use is hampered slightly and battery life leaves room for improvement.
Price:
£539 (16GB), £619 (64GB), £699 (128GB) RRP
Similar topics