Staff unions call for removal of controversial UN patent agency chief
Masked meeting to be held in Geneva tonight
Three unions representing United Nations staff have called for the immediate removal of Francis Gurry, the controversial boss of the World Intellectual Property Organisation (WIPO).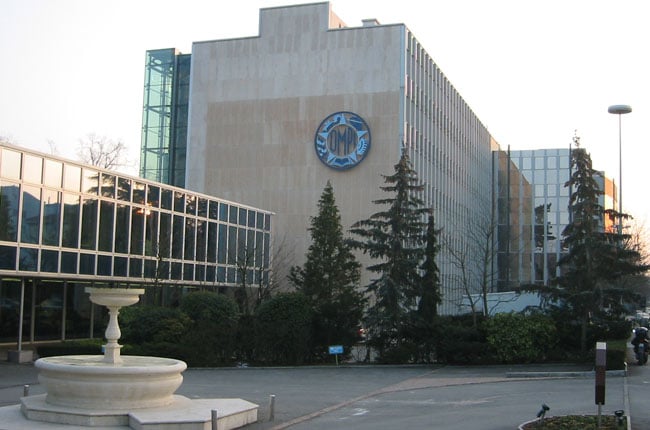 Guy Fawkes masks optional. via WikiCommons Licensed under CC by-SA 3.0
Late last Friday, WIPO's Director-General Francis Gurry sacked the head of the organisation's staff council, Moncef Kateb – the man who first blew the whistle on Gurry's sending of computer equipment to North Korea and Iran in apparent breach of UN Security Council sanctions.
This followed Kateb's suspension on 5 September. He was frogmarched from the patent body's Geneva headquarters having been accused of improperly using confidential information relating to two colleagues' disciplinary cases.
The unions insist the accusations are groundless and the real reason for the suspension and sacking was to stop Kateb speaking at this week's Assembly of Member States – the week long meeting of ambassadors who supposedly oversee the WIPO.
Kateb was expected to call for the suspension and full investigation of WIPO director general Francis Gurry. Gurry is accused of illegally collecting staff DNA in order to identify the author of anonymous letters of complaint. A separate complaint accuses Gurry of breaching UN and US sanctions by sending sophisticated computer equipment to north Korea and Iran. He is also accused of improperly influencing WIPO's procurement of an IT security contract. The Register exclusively published an internal WIPO report detailing the allegations against Gurry in July.
The unions called on the Assembly ambassadors to reinstate Kateb and to: "find a new Director-General for WIPO who inspires all Members States and staff, commands trust and respect, and is fully above reproach."
The letter is signed by presidents of the Coordinating Committee of International Staff Unions and Associations, Federation of International Civil Servants' Associations and the United Nations International Civil Servants Federation.
The letter, written before Mr Kateb was sacked, said:
We believe the real reason Mr Kateb was suspended on the eve of the Assemblies of Member States of WIPO is because he would have used his speaking slot to continue raising inconvenient questions on Mr Gurry's style of leadership. Mr Kateb has blown the whistle in the past, including on the shipment of sophisticated IT equipment to the Democratic People's Republic of Korea, and as you may know, Mr Gurry is currently the subject of a preliminary investigation for two different charges, one for improperly influencing a procurement process, the other for improperly using the Geneva police to obtain the DNA of WIPO staff so as to identify the author of a letter against him.
The full text is available online (pdf).
A letter sent to Kateb by Cornelia Moussa, WIPO's director of human resources accuses Kateb of: "destabilizing the relationship between staff and the Administration".
Kateb's lawyers have responded to WIPO's accusations with a vigorous denial. Their letter states:
[The charges against Mr Kateb] are so clearly tainted by mistakes of fact, errors of law, both substantive and procedural, and erroneous conclusions, which should have been patently obvious to Ms. Moussa and the DG that they could have been undertaken only for nefarious or illegitimate reasons amounting to an abuse of power, harassment, discrimination and reprisal...
The lawyers demand an investigation and whistleblower protection for Kateb. They note that the allegations made against Kateb, that he misused information, would not represent "serious misconduct" under WIPO's code of conduct which defines such offences as theft, fraud or violence, or threat of violence, against another WIPO staff member. Kateb is not accused of any such offence.
The WIPO staff council has called an Extraordinary General Meeting for 5pm this evening (Monday 22 September). In a bizarre indication of how frightened staff at the UN agency are, the invitation concludes:
"Masks will be provided for colleagues who wish to remain anonymous."
Kateb said in a statement:
The recent trumped-up charges against me are only the latest in a long pattern of retaliation and harassment by the WIPO administration, which wants a compliant, weak Staff Association that will not trouble it with substantive opposition. In 2011, I was subjected to a groundless disciplinary charge that was later withdrawn. In 2012, after I blew the whistle on the administration's secret transfer of computer equipment to a regime subject to worldwide condemnation and sanctions, the administration blocked a request by the U.S. Congress Foreign Affairs Committee for my testimony. It is widely known within WIPO that the Director General has for years been looking for an excuse to get rid of me.
Kateb added: "Whatever happens to me and my family as a result of my firing, I plead with the Member States to recognize that something much larger is at stake here. The concentration of unbridled power at the top of WIPO has led to wilful disregard for the fundamental human rights of freedom of speech and association. It is ironic that the United Nations, which holds the promise of advancing respect for universal human rights, finds itself in such a retrograde position. Please, look at what is happening, see the truth, and do something about it."
Asked to comment on the case, a WIPO spokesperson told the Register:
As you will understand, personnel matters are confidential. However, I wish to clarify that the disciplinary action taken was in this person's capacity as an individual staff member of WIPO, and not in his capacity as President of the Staff Council ...

WIPO fully respects the important work of the Staff Association for the benefit and interest of all staff. The right of association has always been, and will continue to be, valued and respected by WIPO. The Administration looks forward to continued collaboration with the WIPO Staff Association.
Earlier this year when the Register published internal documents detailing the accusations against Mr Gurry, a WIPO insider told us:
"Gurry is known as a smart guy and he's had some success in reforming the organisation. But his competence as a leader and manager, his lack of impulse control and the lack of proper governance structure within WIPO mean he must now be suspended while the investigation is carried out." ®