Puppet-wearing devs: There's now an app (or two) for that
New tools aim to connect customers with IT automation utilities, services
PuppetConf 2014 Puppet Labs has taken wraps off new updates to its open-source DevOps-friendly Puppet IT automation software, along with a set of new company initiatives designed to grow the ecosystem around the tools.
Puppet Labs CEO Luke Kanies made the announcements Tuesday morning at PuppetConf, the company's annual event that kicked off in San Francisco this week.
Kanies, who is the original author of Puppet, said the Puppet Server has been re-engineered for increased efficiency, greater flexibility, and improved stability and scalability. The new version, which is now available in Puppet 3.7, improves improved performance by 300 per cent, he said.
The updated release also adds new, role-based access controls that integrate with standard directory servers, including Microsoft Active Directory and OpenLDAP. In addition, a new profiler and a metrics service provide health and usage information about the Puppet Server itself, which can in turn be monitored and graphed using third-party tools.
The Puppet language, which admins use to describe the infrastructure that they manage with the tools, has been updated with new capabilities. The version of the language that's now available for testing supports iteration and includes a new data-type system. Templates can also now be written in Puppet code without resorting to Ruby, and the runtime handles errors better and provides more detailed information about what went wrong in Puppet scripts.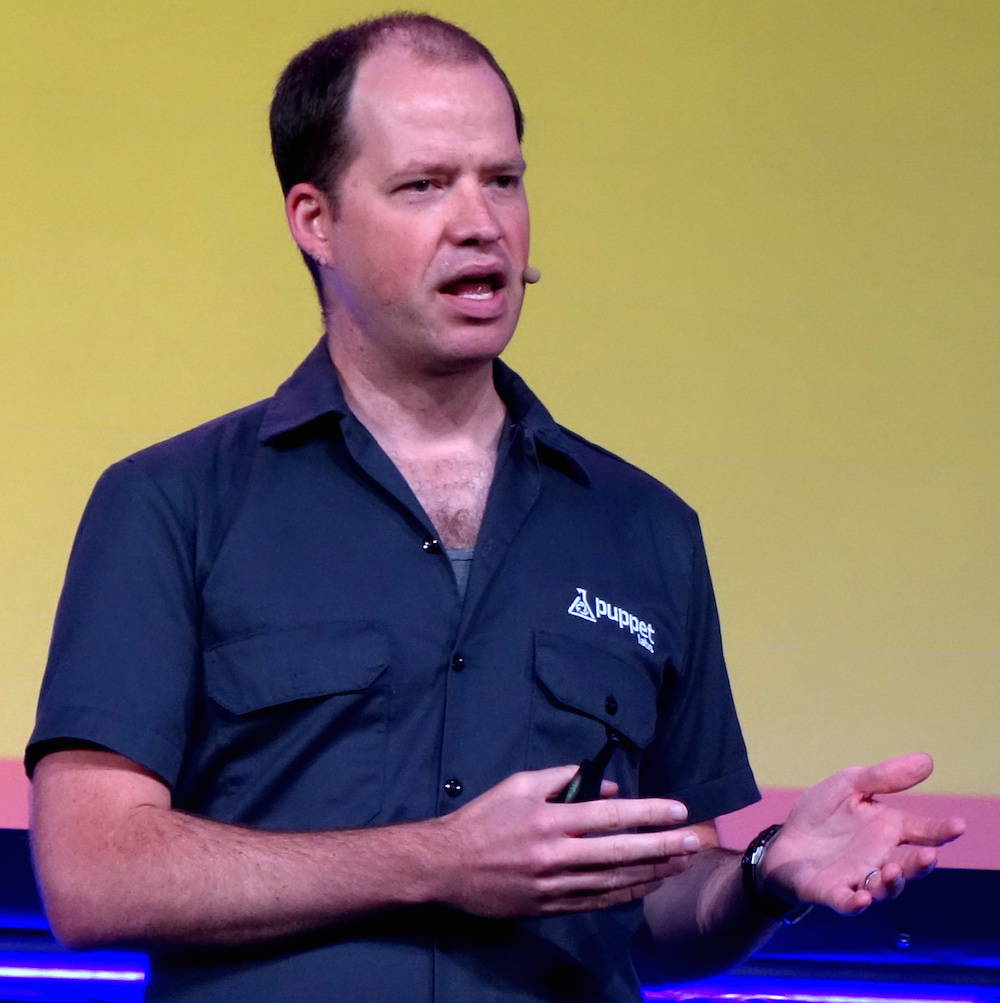 Luke Kanies, CEO of Puppet Labs, speaking today
Also new are Puppet Apps: purpose-built applications that work with Puppet to perform various tasks. The first of these, Puppet Node Manager, allows admins to classify Puppet nodes based on such characteristics as operating system, IP address, or geographic location, and then manage nodes based on their classifications, rather than their names.
Kanies said Puppet Labs plans to release additional Puppet Apps beginning in 2015 and that they will be available to customers of the company's commercial Puppet Enterprise product based on their existing licenses. By releasing Puppet Apps independently of the main Puppet Enterprise product, Kanies said, the company will be able to deliver frequent updates and let customers mix-and-match the functionality they need.
Also on Tuesday, Puppet Labs announced three new programs aimed at making it easier for Puppet users to find the tools and services they need to support their infrastructures using the software.
The first, the Puppet Labs Partner Network, helps connect Puppet customers with company-authorized solutions vendors, service organizations, and training providers. Participating companies gain access to Puppet Labs expertise and sales tools.
The other two programs lend the company's stamp of approval to third-party modules. Puppet Enterprise Supported Modules, for example, are ones that have been fully tested and validated for use with Puppet Enterprise. A number of such modules are already available, and new modules for managing Microsoft SQL Server, F5 load balancers, and Arista networking equipment are coming in the fourth quarter, the company said.
Puppet Approved Modules, on the other hand, are modules that Puppet Labs has recognized as meeting its standards for "quality composition, reliable operation, and active deployment." Modules for managing Elasticsearch, Jenkins, and Cloudera Manager were announced on Tuesday, and Puppet Labs said it plans to expand the program rapidly in the coming months.
Puppet Enterprise 3.4, which will ship with the updated Puppet Server, the improved reporting and management capabilities, and Puppet Node Manager, will be released in the fourth quarter of 2014, Puppet Labs said.
PuppetConf continues in San Francisco through September 24. ®