The International Space Station has snapped up the latest SpaceX Dragon and its supplies, including the floating lab's new 3D printer.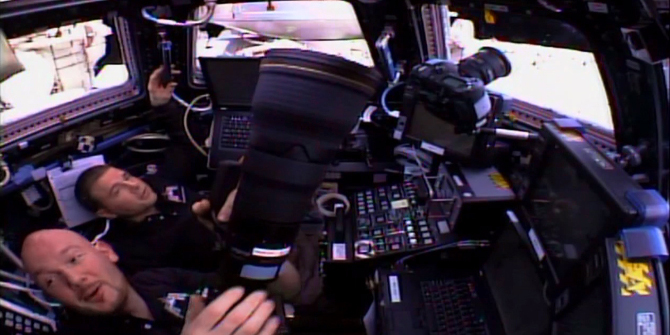 Are you there, Dragon? It's us, Alexander Gerst and Reid Wiseman. Credit: NASA TV
The commercial cargo craft completed its trip to the station just before 1pm BST today, docking after the Canadarm2 robotic arm grappled it into position.
The Dragon is due to spend four weeks attached to the ISS' Harmony node as the Expedition 41 trio of 'nauts unload its 2,216kg of supplies, hardware, experiments and other equipment. Amongst the booty is the aforementioned 3D printer, biomedical hardware and a new plant study, as well as other nifty scientific exploration kit.
The ISS Rapid Scatterometer was delivered to be installed outside the Columbus laboratory. The remote sensing instrument is aimed towards improve weather forecasting by using radar pulses to detect the speed and direction of winds over Earth's oceans.
A student-designed experiment will observe fruit flies to try to learn how diseases work at the cellular and molecular levels. The experiment was brought to the station from the Ames Research Center, which partnered with NanoRocks and the Centre for the Advancement of Science in Space to get the research off the ground.
Once everything has been offloaded, the Dragon will load up with nearly 1,486kg of cargo to take back to Earth, including research that's ready for analysis and bits of hardware for engineers to analyse. The cargo will be recovered from the Pacific Ocean after the craft splashes down. ®