Huawei prez: A one-speed internet is bad for everyone
Live free or die neutral
Western regulations like the mooted US changes enforcing "net neutrality" will hold back internet development for consumers, Huawei President and board member Ryan Ding told us today. Ding said it was absurd to have a put up with one-speed slow, dumb networks when different consumers and applications had different requirements.
"When you try to send a letter in China it can take several weeks. But FedEx style services can deliver a package in 24 hours parts of the country. Some people might be sensitive to latencies and some more sensitive to the bandwidth," said Ding. "We cannot accept that there should be a difference between ordinary logistics and digital logistics."
You can take EasyJet or Lufthansa, he said. Why be stuck with undifferentiated services?
We'd asked him specifically about politicking over the net neutrality issue in the US, concerns echoed by the European Commission's outgoing "Digital Czar", Neelie Kroes, who so far appears to closely follow Silicon Valley's agenda.
Ding, who joined Huawei 18 years ago, typifies the modern Chinese business executive: he holds an MSc in Electrical Engineering. Many executives also have MBAs.
But the US broadband agenda today appears to be set by comedians. British cable show host John Oliver (English Literature, Cambridge) is leading the net neutrality campaign to reclassify data services with Bell-era switched circuit regulation. And former funny man Senator Al Franken (Politics, Harvard) has campaigned on the issue.
Franken argues that what he calls "discrimination" – where internet packets can travel at different speeds and priorities – must be prohibited. But as this excerpt from the most important internet specification of them all, RFC 791, written in 1981, illustrates, the internet was designed with this in mind: as a vari-speed network, with different types of service.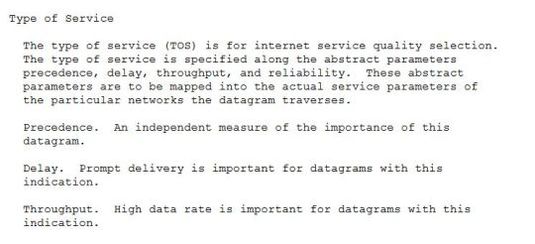 Neither Oliver nor Franken have a technical background - but perhaps that would be hindrance here.
Ding continued: "The FCC believes broadband should be diversified, but some people don't like that; they want a standard and unified broadband. However, the consumer's requirements are 3-dimensional: bandwidth, latency and the connections. The content we can provide today is a tiny proportion of the content we can provide."
Ding added that regulators needed to catch up.
"The majority of countries – their fixed regulatory environment still stays in the old mindset of 20 years ago."
Huawei was announcing a $4bn splurge on fixed line R&D globally over the next three years. That's needed, said Ding, because bandwidth would have to catch up with anticipated demand. Even 20 Mbit/s downstream was barely enough for one channel of 4K TV, he told us.
"For 8K, we have found you need 115 Mbit/s."®