Fake tape detectors, 'from the stands' footie and UGH! Internet of Things in my set-top box
All these and more at Euro broadcasting conference
IBC 2014 At this time of year, the tech press is often focused on IFA, the massive electronics show in Berlin where many companies unveil their latest products, including smartphones, flatter, curvier TVs than ever before, and all manner of other things.
Taking place a week later in Amsterdam, IBC, the International Broadcasting Convention, is a rather different sort of show. Aimed at people producing news and entertainment, it could slip under the radar – especially as it's not open to the general public.
But where IFA showcases the technology that will be in your living room within months, IBC can offer the chance to see some of that technology years before it reaches the consumer. DVB-T2, for instance, was shown at IBC in 2008 well ahead of its April 2010 UK launch as Freeview HD. So this year I visited once more, to see what the future may hold. Spread across more than a dozen exhibition halls, there's alway huge amount happening at IBC, but these are some of the things that caught my eye.
A world of objects
We've talked about object based audio on The Register before, most notably Dolby Atmos. But it's going to have an impact far beyond simply souping up surround sound.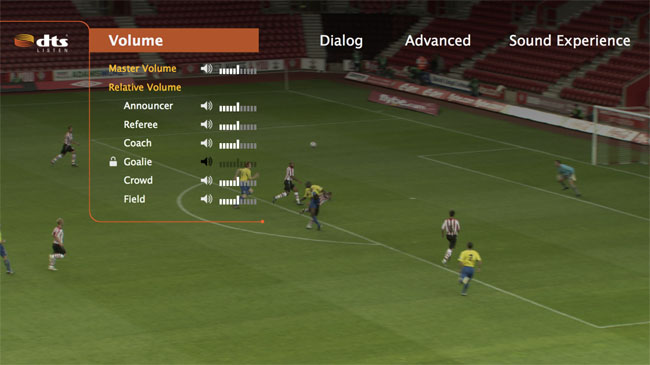 DTS-UHD Object Audio interactive broadcast demo
DTS showed an impressive personalisation demo on its stand, where, instead of listening to the soundtrack of a football match as it's supplied by the broadcaster, the viewer can select which elements they want. For instance, picking up audio from the goal keeper, or turning off the commentary.
Extra audio is delivered via an internet stream and synchronised with the picture. BBC R&D has a similar web based demo for football commentary, allowing you to change the mix between commentary and crowd noise, and even select which end of the stand you want to listen from.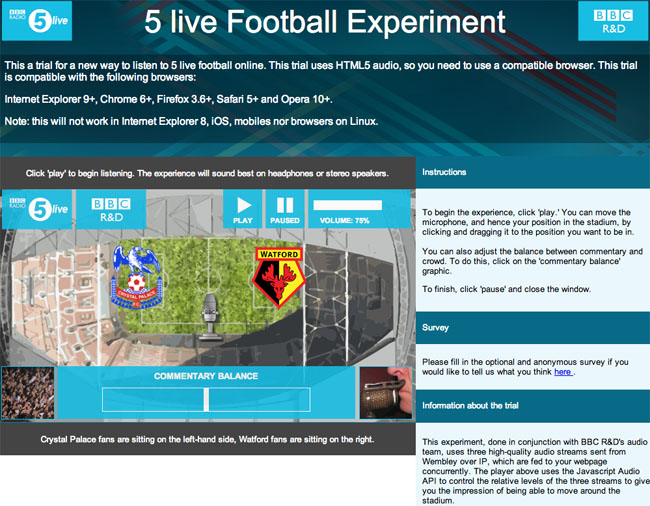 BBC 5 Live football experiment – click for a larger image
Objects make their presence felt in binaural audio too – essentially surround sound delivered through standard stereo headphones. Some in-depth experimentation on that topic is available here. The principle is not exactly new, but the computerised processing of the objects allows for a very realistic effect, which can be customised for different listeners.
On top of that, a small sensor module on top of a pair of the headphones allows head tracking, so it appears as if you can turn your head towards different speakers in the drama; potentially, the sensors in your phone could do the same job, too.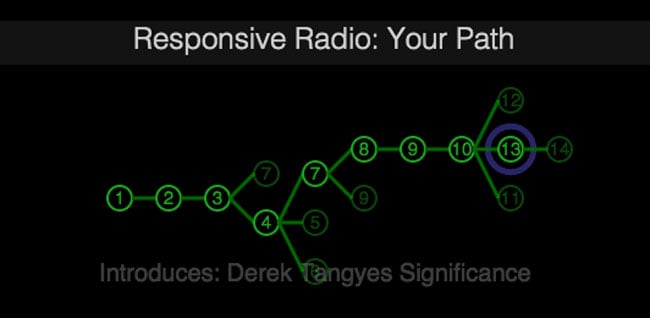 Responsive radio: each circle represents a section of documentary shown as mapped to varying lengths
As if that's not enough, the BBC is also working on variable length content. Pick how long you have to listen to a documentary, and you'll get to hear a version that takes exactly that time; it's all in the mark-up, so dependencies should be taken care of. While the example at IBC was a documentary, there could be great opportunities for things like educational material too.