This article is more than 1 year old
Ordnance Survey intern plonks houses, trees, rivers and roads on GB Minecraft map
I can see my house from here!
Blighty's Ordnance Survey organisation has updated the country's map in Minecraft, adding roads, national rail networks and houses to the digital overview.
A plucky intern at the mapping org stuck Britain into the vastly popular game this time last year. Now that he's bagged himself a full-time position on the grad scheme, Joseph Braybrook decided to add 83 billion bricks to the map, which is now so detailed that folks can find their houses on it.
"The terrain has been doubled in scale to provide more detail. It uses 1:25 000 scale OS VectorMap District to give a smoother, more expansive appearance that is closer to real life," Braybrook explained.
"The water features now appear in sharper detail, too, so you can see individual streams and tributaries coming off rivers. The forests and woodlands are now populated with generated trees, and the national rail network has been added. I'm looking forward to seeing if people eventually build a working railway system in game," he added.
The original map was built in the Lego-like digital environment using 22 billion bricks and was thought to be the largest Minecraft map built using real-world data when it was finished last year.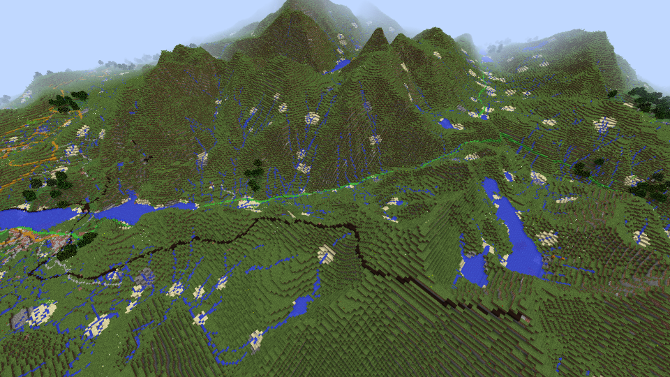 The... hills... are alive, with the sound of Minecraft players
Now the map is crisscrossed by roads coloured in using Ordnance Survey's colour classification system, railway lines and more precise placing of water features.
The organisation is well chuffed with the map and reckons the new features should allow gamers to play with the environment more.
"Joseph's Minecraft map of Great Britain really caught the imagination and each month since its release it has had tens of thousands of downloads," proud innovation lab manager Graham Dunlop said.
"Although it has been excellent as a learning tool, Joseph recognised that his previous map was limited in terms of its gaming possibilities. This new map he has created not only looks better, but it offers a much more interactive environment to play in."
Minecraft has millions of players engaged in world-building with its digital bricks and has proved immensely popular. However, like so many new tech experiences, the game has yet to make any money and its developer Mojang has now been snapped up by one of the old guard, in this case Microsoft, for a whopping $2.5bn.
The acquisition has definitely made Minecraft users nervous, including Braybrook.
"The community is massive and very protective of Minecraft. The attraction of Minecraft is that you can take an idea and with a little imagination you can create new worlds, much as I have done with GB Minecraft and GB Minecraft 2. We have to hope and trust Microsoft to do this right and to appoint the right people to oversee the development of Minecraft," he said. ®