This article is more than 1 year old
Database virtualisation outfit Delphix: Lotsa dosh, few competitors
Nice niche if you can get it. El Reg chats to founder
Interview Production data copier and virtualiser Delphix says it makes the provision of largely structured data to non-production applications a heck of a lot easier, claiming it speeds it up from days or weeks to minutes.
The company's software receives a copy of production data and stores it in server engines: servers with direct-attached storage that run its software. On request it delivers a virtual copy of a data set to applications that need it, such as test and dev, or compliance and analysis.
Crunchbase describes Delphix as a "firm developing software for simplifying building, testing and upgrading of apps on relational databases."
Delphix's CEO and founder, Jedidiah Yueh, says the company has no direct supplier competitors: instead, according to him, it competes with the "status quo."
This status quo competition is, as we understand it, the non-production app data provisioning process, with the data typically coming from production databases and needing careful preparation, which, if done manually, can take hard-pressed storage/database admins a week or more. Delphix's edge is that it automates and speeds up the process dramatically.
When it does, this sensitive data can be masked or occluded so that, for example, social security and credit card numbers aren't exposed to users or applications that shouldn't have access to them.
Server engines' scale-out and data is organised, Yueh says, in terms of the application lifecycle, such that, as applications are retired their data can be retired too, using a Live Archive feature. But the data is not managed from a point of view of a data lifecycle, with offloading of old, low access rate data to tape. Everything stays on disk, although it can be moved to or stored on lower-cost, slower access drives.
For Yueh Delphix is not a backup resource and nor is it focussed on copy data management, although the amount of copied data is greatly reduced when Delphix is used. He says that there is no need for a backup system like Data Domain or Avamar for data within the Delphix universe. It contains its data change history and data can be restored to any point in time using that.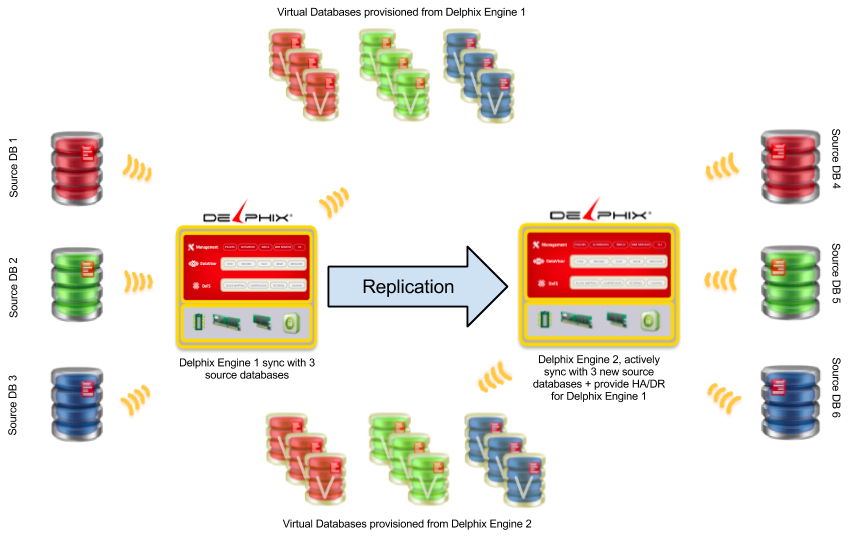 Delphix replication schematic
Yueh says customers have recovered from disasters by using their Delphix data stores.
We think that Delphix does compete with Actifio in the copy data management space, and also with purpose-built backup appliances, like Data Domain and Avamar's, by rendering them redundant in its application space, in that their functionality can be subsumed into Delphix's software. This is ironic as Yueh founded Avamar and sold it to EMC.
Yueh disagrees concerning Actifio, saying it "is primarily selling in the backup space. Our solution is designed to achieve higher throughput."
Data management and delivery to teams using production data copies are the problems that Delphix's software is intended to deal with.
The data can come from 20-50 separate production environments and is synchronised by Delphix, with up to 400 application environments using a single Delphix engine. In general, though, an engine sources data from a handful of production apps. Dev teams tend to be app-focussed and finding data is relatively easy.
The Delphix store becomes the master store for test and dev, etc. It caters for self-service, with Yueh saying: "We can set up an integrated testing environment down to transaction boundaries in minutes." He added: "We have a lot of customers that run us on flash."
There is an enhanced security angle to Delphix use as well, according to Yueh. "We eliminate the chain of risk from having multiple sysadms touching the data. We can reduce the at-risk surface of data. We can take the volume of data at risk and collapse it by 80 per cent."
A Delphix system can be used in a remote or branch office and replicate its data to a central Delphix installation. It can also be replicated to a Delphix system in the cloud, such as AWS. Note that Azure is not yet supported and Delphix would hope and expect a partner to develop that support.
Founding, funding and sales
The company was founded in June, 2008, and has had three funding rounds, totalling $44.5m. The last (C-round) one was in June 2012 and for $25m. A B-round for $11m took place in April 2010, and an $8.5m A-round occurred in February 2009.
Yueh says the company is now cash flow-positive and could make a non-GAAP profit in its next year. As it is a subscription-based company, recognising profits takes time and GAAP profitability lies in the future.
He wouldn't reveal the number of customers, but said there had been around 300 sales of the Delphix product, with an average sale value of $500,000. Sales have tripled in each of the previous four years and Delphix claims 100 of the Fortune 500 list are customers, including the world's top four retailers. Yueh said: "We've only ever been baked off four times in our history."
Sales are made through strategic partners, like SAP, and channel partners in the USA and Europe.
What's Delphix's total addressable market (TAM)? Yueh wouldn't give a figure, but pointed out that application projects account for half the spending in IT, so the TAM is in the tens of millions of dollars area.
Actifio recently gained $100m in funding so we might wonder about a fourth funding round for Delphix so that it could accelerate its business expansion.
We think production database suppliers must be looking at the copy data management market and working out if they can "do a Delphix" with their databases, providing a single virtualised copy of data from multiple data base instances and farming it out to app developers, analyst apps and compliance departments that need it. It will be hard to develop and the longer they delay, the more entrenched Delphix will become and the deeper and broader its software capabilities.
Delphix and Actifio seem to be the two leading copy data management companies, albeit with different focusses, and look set to continue growing strongly while database and other enterprise software suppliers work out their likely impact – and what to do about it. ®