This article is more than 1 year old
Apple 'Genius': iPhone 6? We've had NO COMPLAINTS about our BENDY iThing
Right, whip out your curved doodah. Let's have a look
Apple has told El Reg that the risk of an iPhone 6 Plus bending in the pocket of a fanboi has been greatly overstated.
The fruity firm's British support service told us they had received no calls about the issue and criticised Apple rumour sites for stoking an atmosphere of fear.
Fanbois have been tying themselves in knots over the past week after some unlucky people found that their brand new supersized iPhone was bending under the pressure of their pockets.
The problem could be be down to the heat of Apple lovers' red hot crotches or the pressure exerted by their skinny jeans, some suggested.
However, Cupertino has not officially admitted the problem and has not yet announced an official policy.
We tried to speak to Apple about the scourge of the bendy iPhone, but were met with the usual iMerta policy of silence generally more associated with the mafia than a tech giant.
So we decided to get in touch with an Apple Genius online and after waiting for close to an hour, were put into contact with an Apple worker named Aoife.
She told us the following:

We also asked whether the problem could be held at bay by keeping the mobe well away from any overheated nether regions (dashing off a to/too typo while caught up in the excitement of actually speaking to a real live Apple employee).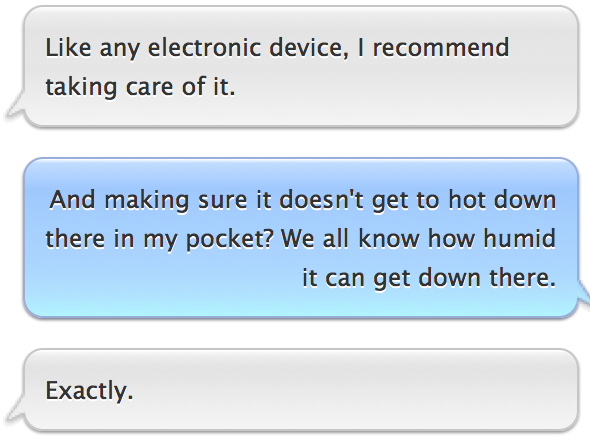 Apple has also said that it would consider replacing the bent phones, as long as fanbois are willing to let a Genius have a good look at it.
According to The Next Web, an Apple iSlave wrote the following comment after being asked if a bent iPhone 6 Plus qualified for a free replacement.
"That is 100 per cent up to the Genius you speak with at the store. There is a test called a Visual Mechanical Inspection that the device will have to pass. If it is within the guidelines, they will be able to cover it. If not, the replacement would be a paid one."
We also tried to ring a Genius at the Regent Street store. Sadly, after listening to hold music courtesy of Adele and Coldplay (what, no "ludicrous boyband" U2? - sub), we also gave up. There was no chance of checking with the main Apple support line either, because they require a serial number for a phone and this impecunious journo is still languishing in iPhone 4S land.
We contacted Apple for an official comment, but it has not replied.
Some things are just meant to be bent, it would seem. ®