Perhaps looking to cut Apple's iPhone 6 Plus phablet off at the pass, Samsung is rushing out its 5.6-inch Galaxy Note 4 smartphone in China and South Korea ahead of schedule.
Sammy said on Wednesday that its large screen Android phone will be available in South Korea on 26 September, with the Associated Press reporting China will receive the phablet this month.
Those of us in the West will have to wait a few more weeks at least as the Galaxy Note 4 isn't due to arrive in the US and Europe until late October. The smartphone was due to go on sale in Asia around that date.
Samsung's smartie also has a S Pen stylus as well as having a touchscreen 0.2 of an inch bigger than that of the iPhone 6 Plus.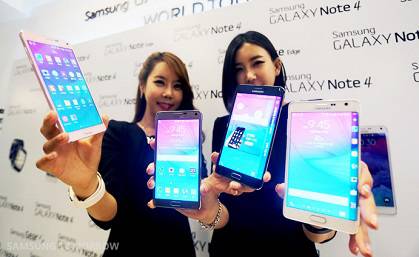 Galaxy Note 4 ... but will it bend?
The timing of the release suggests Samsung hopes to beat Apple to the punch in two of its most important markets: its home country of South Korea, and the massive untapped base that exists in nearby China.
Though Apple shifted about 10 million iPhone 6es in its first three days on the market, Apple has yet to bring the new models of its flagship smartphone line to either South Korea or China. Apple stores in SK still offer the last-generation 5S, while Apple is still awaiting Chinese government approval to bring the iPhone 6 to mainland China – leading to scenes like those pictured below in New York:
In getting the Galaxy Note 4 to market ahead of Apple, Samsung could rack up some valuable sales numbers ahead of what will surely be a competitive holiday shopping season between the two smartphone market leaders.
Of course, if Samsung really wants to beat Apple, it can start by making sure its phones don't bend in pockets or kill the ability to make calls when the firmware is updated. ®