Google has penned a response to News Corp's accusations that the web firm is a "platform for piracy" and its exhortation to Europe to crack down on on the search firm even further.
In a post on the Choc Factory's official blog, Rachel Whetstone, head of global comms, rebutted News Corp's points one by one while taking a few pokes at the company's British tabloid The Sun. The post was addressed "Dear Rupert" in reference to News Corp head honcho Rupert Murdoch – although it was chief exec Robert Thomson who nominally penned the missive to the European Commission.
When it came to News Corp's accusation that Google's search "undermines the basic business model of professional content creators" and its belief that will lead to "a less informed, more vexatious level of dialogue in our society", Whetstone pointed people to an image of The Sun's front page (see below) with the following comment: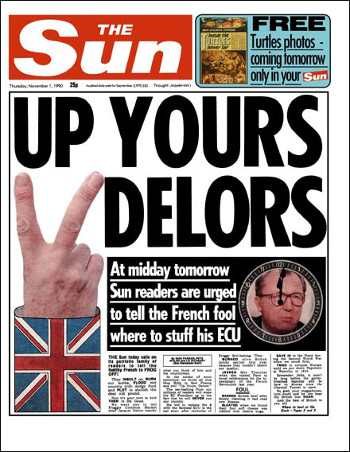 "People probably have enough evidence to judge that one for themselves :)"
Whetstone also said that Google had spent tens of millions of dollars on its ContentID tech, which handles piracy on YouTube, and had removed 222 million web pages from Google Search because of copyright infringement.
"The average take-down time is now just six hours. And we downgrade websites that regularly violate copyright in our search rankings," she said.
Murdoch's minions had also complained to the EU that its proposed restrictions on Google's search didn't go far enough. The letter said that the ad giant's "power" over search results made it difficult to access independent information online. But Whetstone denied that Google was "the gatekeeper to the web, as some claim".
She pointed out that huge numbers of readers went directly to News Corp sites like wsj.com and thesun.co.uk and asserted that Google had plenty of competitors.
Google has been the subject of an ongoing investigation by the EU over its search dominance in the region since 2010 and has made repeated attempts to reach a settlement with European Commission antitrust officers.
The wrangling has gone on for so long, it's unlikely to be sorted out before current competition commissioner Joaquin Almunia steps down in October to be replaced by former Danish economy minister Margrethe Vestager. ®