This article is more than 1 year old
Stanford Uni: Google cash leaves us entirely impartial and unbiased
We just coincidentally didn't want to do privacy with it
A court document drafted by a recipient of Google's generosity appears to show that the latter comes with strings attached, prohibiting university researchers from investigating its controversial data slurping practices.
The donation went to the Stanford's Center for Internet and Society, which drafted the filing. The part that has raised everyone's eyebrows?
"Since 2013, Google funding is specifically designated not be used for CIS's privacy work."
The university has since denied having promised not to use Google money for privacy research, telling public interest group ProPublica, which unearthed the document, that the filing was simply "unartfully drafted".
The details emerged in a filing attached to an unrelated suit, one of the notorious "cy pres" class action settlements, which have seen privacy actions killed by tech giants Google and Facebook - with large sums distributed not to individuals affected, but academic departments, think tanks and activists like the Electronic Frontier Foundation.
A judge rejected another of these recently, commenting that it "doesn't pass the smell test".
Where does the money go?
Google's core business is consumer data-processing, and it is has shown it is prepared to spend billions underwriting projects like the Android mobile platform to gather ever more private consumer data in your home, or while you're on the move.
The data-slurping Wonkas have been a significant donor to several "cyberlaw" departments, including Stanford's Center for Internet and Society, created in 2005. But, judging by the "unartfully drafted filing", funding to the department by Google cannot be used for privacy research. This runs counter to Stanford's own rules on corporate donations - which say that donors give their funds as "unrestricted gifts" - with no strings attached.
Google's funding of The Incorruptible Academy isn't completely unselfish.
Its donations help fund a network of "attack dogs", who rally to the data-processor's cause when it finds itself accused of breaking the law. Which, given that there are still some legacy laws intended to protect the dignity of the individual, happens quite frequently. In France, Google has created a Google Professorship. It's part of what the FT describes as Google's "soft power" initiatives, such as hyping London's Shoreditch internet "startup miracle". These ventures are designed to win influence behind the scenes. And it has been doing it for years.
Stanford's "cyberlaw" centre was founded years before, in 2005, with the star signing of Professor Lawrence Lessig. In 2006, Google assured the department's future with a $2m donation. Shortly after that donation was made, Google found itself in a legal battle with Viacom over copyright infringement. Lessig wrote an op-ed piece in the New York Times newspaper defending the Chocolate Factory.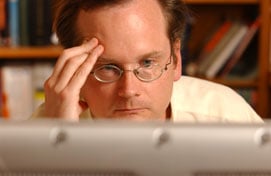 Deep Thought: Lawrence Lessig's iCommons initiative
accepted money from the online gambling industry before
he re-invented himself as an Ethics Professor*
The Stanford/Lessig connection was widely noted and ridiculed. In March 2007, parody blogger "Fake Steve" imagined a conversation with Google's then CEO, Eric Schmidt:
<parody>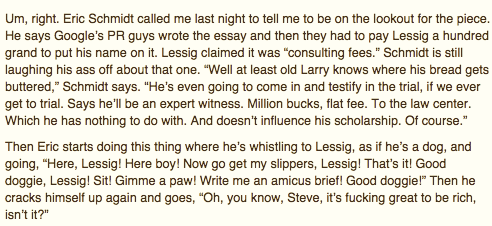 </parody>
Stanford responds
The lawyer who drafted the filing, the director of civil liberties at CIS, has since written a blog claiming she had been referring to an "internal SLS/CIS budgeting matter".
In a non-denial denial, Jennifer Granick, the head of Stanford's cyberlaw centre, wrote:
"The designation to which we were referring is an internal SLS/CIS budgeting matter, not a policy change, and we very well may decide to ask the company for a gift for privacy research in the future. But in 2013, we had other funding sources for our consumer privacy work, and so we asked for, got, and designated Google money to be used for different projects."
So there you go.
Granick was an attorney at the EFF, which received $1m from the cy pres slush fund, more than half of its entire income that year, and was also counsel for Aaron Swartz. When the EFF conducted "a privacy audit" of major Silicon Valley data slurpers this year, entitled "Who Has Your Back?", guess who came out top, with six out of six star ratings? You've guessed it - Google and Facebook.
It's a small world. ®
*Bootnote
Lessig, whose iCommons charity accepted huge donations from the shady online gambling industry, has now re-invented himself as a "Ethics Professor" at Harvard, from where he gives lectures on "institutional corruption". And they say irony is dead. ®