Move over Brazil: Australia has become the most phished country on Earth, accounting for a quarter of all targeted malicious emails sent globally.
Down Under has worked hard at the title, according to Kasperksy, more than doubling its share of phishing attacks received.
This despite that a mere 23 million people inhabit the antipodes, compared to 200 million in Brazil accounting for 19 percent of phishes.
Britain's 64 million citizens could only score bronze with 15 percent of global phishing traffic while Canada's 35 million managed a close but paltry fourth place.
Traffic in August boomed all round, increasing 62 percent with Kaspersky detecting 32 million hits. Researchers in the latest spam report said the rise was at the expense of a "seasonal decline" in the demand for advertising spam.
"In August, we recorded a significant increase in the number of phishing attacks. To keep making money cyber criminals have switched to other types of spam, including phishing scams," anti-spam analyst Tatyana Shcherbakova said.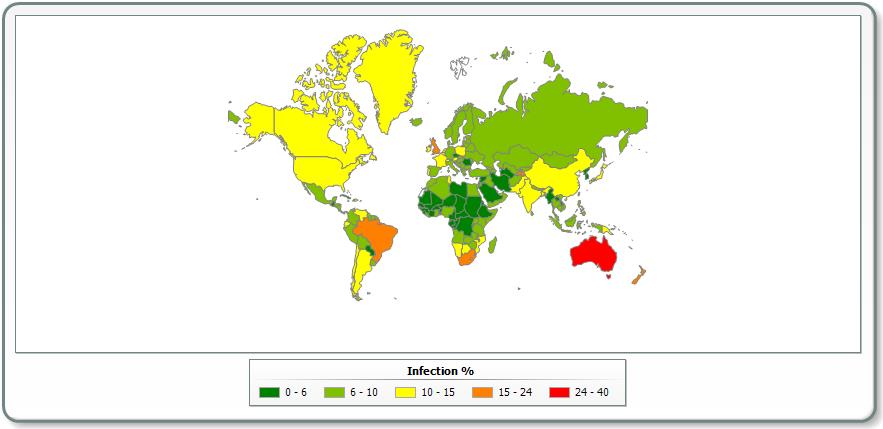 No it's not a global temperature map. It's Kaspersky's phishing results.
"By faking messages from well-known services, social networks or financial organisations, phishers are able to significantly improve the chances of their spam being successful."
Blighty blitz the pack in the game of malware and spam distribution, however. It accounted for 13 percent of malware detected in emails, followed by Germany with 10 percent and the USA at 8 percent.
Australia fell shamefully flat with less than 3 percent of detections.
Google was the most phished web property in front of Facebook and Yahoo! with Hotmail trailing possibly due to an absence of human users.
The two of the top malware phishing offerings, the Redirector and Fraud trojans, pushed users to sites offering the binbot financial software, while the eponymous latter option ripped off bank accounts through phishing sites.
Kaspersky urged Australians to stop clicking so much. ®
Similar topics