You like jumping out of planes? Try the new GoPro 4. Short walks? There's a Hero instead
Now you can film 40m below water in full 1080p. Happy?
GoPro, the maker of video cameras for those who like to mix danger with their hobbies, has added two new models to its range: the GoPro 4 and and the GoPro Hero.
The GoPro 4 follows the GoPro 3, and is available in black and silver editions. Like a posh credit card, the black version is better than the silver one.
The black version isn't actually black. It's silver and comes in Standard, Surf, and Music editions. All three are capable of recording 30FPS 4K video, or 120FPS 1080p video, from the 12Mp camera. They also each support Wi-Fi and Bluetooth, and are waterproof to 40m.
The surf version has surfboard mounts, as you'd expect, and there is a new night mode that will do long exposures of up to 30 seconds.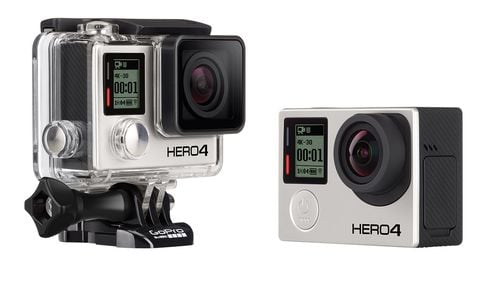 GoPro 4: This is the Black edition. We must be colour blind
The Wi-Fi and Bluetooth networking work with apps on your phone or tablet that act as a live remote control, as well as allowing you to configure the camera settings, which include easy shot preview and playback plus sharing via text, email, Facebook and the like.
The app will control multiple GoPro cameras from distances of up to 600ft (180m). There is a new user interface on the camera and a button which lets you tag interesting points in the video. It will be £369.99 when it ships on Oct 5th.
The silver version is, disappointingly, also silver. It doesn't do 4K but will do 2.7K at 30fps , 1080p at 60FPS and 720p at 120FPS. What it does have is a touchscreen and an RRP of $399 (£245).
And far less exciting is a new GoPro Hero, a budget camera that is capable of capturing 1080p at 30FPS or 720p at 60FPS, and carries a $129 (£80) price tag.
All the new GoPros use the latest mounts, which are the dog's danglies. ®