ARMs head Moonshot bodies: HP pops Applied Micro, TI chips into carts
First 64-bit ARMv8 SoC emerges in ProLiant form, but it's not for everyone
---
HP taking another shot at its Project Moonshot by today announcing two new ARM-powered servers, one 64-bit and the other 32-bit.
The US giant hopes its two new ProLiant models will live up to the hype: for years now the ARM world has claimed the architecture will provide high-density, power efficient systems for data centers.
Raj Thakur, a general manager for converged infrastructure and the cloud at HP, told The Register the new kit means the training wheels are coming off Hewlett-Packard's ARM strategy.
He said both servers are now production-ready, with units now in the field in select customer sites – PayPal is among the early users.
The ProLiant M400 is HP's first 64-bit ARM-compatible system for enterprises: it sports a 2.4GHz ARMv8-compatible Applied Micro X-Gene eight-core system-on-chip in a cartridge-like box. Each of the cartridges – the Moonshot chassis holds up to 45 – will hold from 64GB of DDR3 RAM, and 120 to 480GB of storage in M.2 solid-state drives. There's a Mellanox Connect-X3 Dual 10GbE NIC per CPU.
The servers ship with Canonical's Ubuntu Linux 14.04 – configured with Ubuntu's JuJu orchestration kit, and metal-as-a-service automated server provisioning – and HP suggests web caching for the system's workload.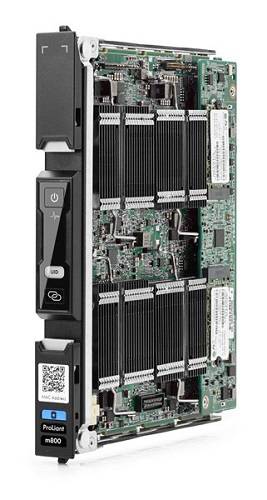 The M800 server 'cartridge' for Moonshot
The second ProLiant server will be the M800, designed for "heavy-duty multimedia processing." That cartridge uses the 32-bit Texas Instruments quad-core 1GHz ARM Cortex-A15 Keystone 664 AK2H system-on-chip that also bundles eight DSP cores. It has a dual-port 1GbE NIC per CPU, and supports the HP 2D Torus Mesh Fabric for higher data throughput. Each cartridge can store 32 or 64GB in flash, and up to 32GB of DDR3 RAM.
The M800 is aimed at "businesses wanting VOIP/LTE, seismic processing and/or real-time video transcoding while saving on energy, space and cost," according to the company.
"We see the M800 as being a key platform for telcos building a workload-defined infrastructure," Thakur told us. He also reckoned the extra DSP oomph pitches the hardware at HPC, fraud detection, and purchase-pattern analysis.
For telcos, the M800 also supports the Enea developer platform and eInfochips' Multimedia Transcode Engine. It can also be wrapped up into network function virtualization (NFV) and similar stuff.
Meanwhile, the M400, for things like web caching, provides twice the density and four times the available compute, with a 30 per cent cost of ownership reduction, compared to an HP 1RU rack server, Thakur claimed.
HP has, for years, hyped up the benefits of the ARM architecture in servers, but it's taken until now for a 64-bit ARM SoC – Applied Micro's in this case - to emerge and fill the gap. HP had a deal with Calxeda to provide 32-bit systems, but demand was relatively weak, and Calxeda ran out of money.
In the aftermath of that crash, HP remained a staunch supporter of the platform, perhaps because it has invested so much with Moonshot.
Getting more and more ARMv8 kit on the market is a crucial step for the ARM-in-the-data-center movement: the 64-bit architecture is more suitable than 32-bit systems for the memory-hungry apps you find in data centers, thanks to the wider virtual address space (as well as other benefits).
It's not for everyone
But HP is advocating the M400 and M800 for auxiliary or specialist tasks: web caching, VoIP, video transcoding, and so on. These boxes are far from the grunting, watt-gobbling generic x86-64 boxes that will chew on just about any workload, and power most of the modern web.
Thus, software engineers will need to get their hands on the gear as soon as possible so they can port programs and bang out code to harness what the ARM world tries to bring to the data center: high density and low power compute with extra magic – such as digital signal processors – tightly bolted in.
To that end, HP said that it will expand its ARM64 developer program to include remote access to the M400 servers, allowing programmers to develop and test code for the new servers via VPN connections. Coders lucky enough to be within a reasonable commute can get physical access to the Moonshot Discovery Labs for software testing.
And if you are building software for the hardware, get your distributed systems thinking hats on. Thakur said HP's ARM boxes are "geared to open-source Linux workloads, dense environments where you require a lot of compute and a lot of nodes."
He told The Register the ARM architecture is central to getting the node density HP wants out of Moonshot. "ARM gives you the benefit of reducing your power envelope," he said, "which allows us to build dense environments."
HP regards it as a workload-specific architecture: "We don't expect everybody to run everything on ARM," Thakur said. "When you bring out a new architecture into the data centre, success is around the time and effort that goes into service, support, and development."
You can find pricing and availability information, here. ®