Inateck BP2001 Bluetooth speaker: The metalhead sysadmin's choice? Not exactly
Cheap, simple and just works
---
Volume metrics
After playing more incomprehensible things at volumes that make me paranoid, Josh finally declares that the treble is "OK" and the midrange is "good". He launches into a tirade about how a real speaker set would be so much better, and it's probably all the fault of Bluetooth, (he really hates Bluetooth,) before stopping mid-sentence and asking "wait ... how much do these things cost?"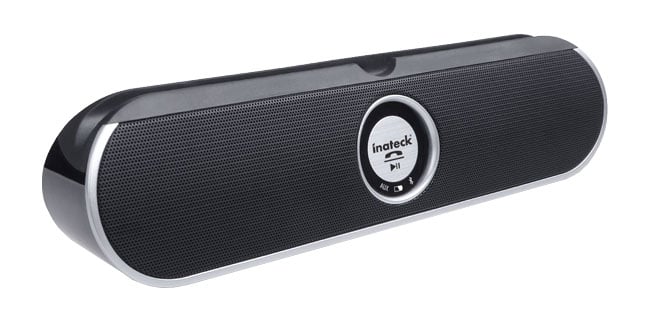 2 x 5W speakers in a 100 sq ft hotel room is loud
When he finds out the price point, his entire demeanour changes. Josh's final verdict? "You know, for the money, these are actually pretty good."
Sysadmin's sound thinking
My music tastes run more towards jazz, classic rock, and neoclassical music (think the sound tracks to sci-fi shows and movies). I hooked up my iPad and gave the thing a spin. A great midrange song, Christopher Tin's Baba Yetu comes across from these speakers clear and crisp. Even with volume maxed, it sounds great, even if the bass doesn't rattle my bones and make my liver duck and cover.
For the treble, I listened to Wintersleep's Weighty Ghost, and heard notes in it that I hadn't been able to hear on the speakers integrated into my notebook, my television, my Galaxy Note 2 or my iPad. Works for me!
For my bass test, I chose Bear McCreary's Storming New Caprica and it delivered better quality (less distortion) than any set of headphones I own excepting my Zalman ZM-RS6F.
For testing a complex mix of sounds, I chose The Kraken, from the Pirates of the Caribbean: Dead Man's Chest soundtrack. At full volume, the sound feels a little washed out, but way better than any other 2 x 5W speaker set I've listened to.
Naturally, I tested all songs in FLAC format, and with the volume turned up to 11. Turn the volume down a little bit past the redline and the bass distortion smooths out beyond my ability to detect it.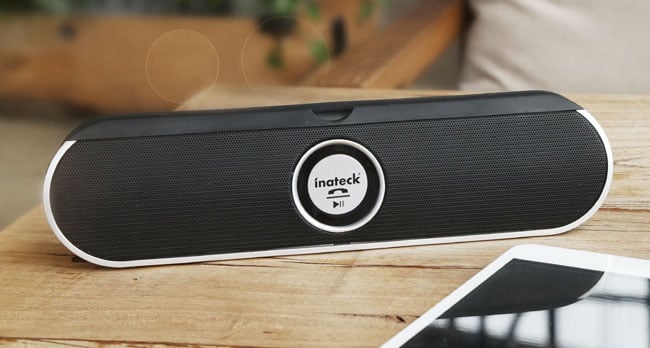 If anything else in IT worked this easily, I'd be out of a job
The Reg Verdict
If you want a speaker set to plop down on a meeting room table to augment your Powerpoint slide, this is a good choice. If you want a small, cheap, portable speak to play some multimedia while you're trapped in a hotel or puttering about the kitchen, you can't go wrong here.
The output, however, has its limits. This isn't the speaker set I'd choose for a backyard barbecue, or a conference room bigger than a couple hundred square feet. It just doesn't have the power. I like the BP2001, but I'd like a bigger brother with 5x the battery capacity and 2.5x the output power more.
At about five hours of battery life, the BP2001 will see you through most meetings, and the ease of use means multiple individuals can use it in sequence. Despite our difference of opinion on the importance of audio clarity for frequencies outside the normal range of human hearing, both Josh and I agree that for the price, you can't go wrong with the Inateck BP2001. ®

Inateck BP2001 Bluetooth speaker: The metalhead sysadmin's choice? Not exactly
Punchy 2 x 5W Bluetooth enabled portable stereo speaker with an aux input and a 5 hour battery life.