Chromebooks are great for browsing the web, but they're not much good for running applications like Photoshop – not yet, at any rate. But they may become much more versatile devices soon, thanks to a new experiment cooked up by Adobe and Google.
On Monday, the companies jointly unveiled "Project Photoshop Streaming," an effort to get Adobe's flagship photo editing software running inside browser windows via application streaming.
"This streaming version of Photoshop is designed to run straight from the cloud to your Chromebook," Google's Steven Konig said in a blog post. "It's always up-to-date and fully integrated with Google Drive, so there's no need to download and re-upload files – just save your art directly from Photoshop to the cloud."
What's more, Konig said, streaming makes managing applications like Photoshop easier for IT admins, because there's no client software to install or maintain on individual users' machines.
Technically, you don't even need a Chromebook to try it out. Adobe says its application streaming tech also works with version 35 and later of the Chrome browser running on Windows 7 or 8. (Sorry, Mac and Linux fans; you're not supported.)
If you do want to use a Chromebook with it, however, your kit will need some juice. Adobe only recommends up-to-date models that shipped within the last two years (which, to be fair, is most of them).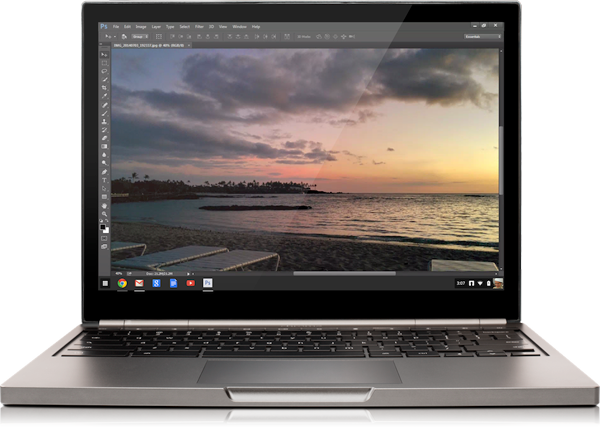 You spent $1,299 on your Chromebook Pixel. Why shouldn't you run Photoshop on it?
The version of Photoshop that streams from Adobe's cloud is the same as the current version that's available to Creative Cloud subscribers, with a couple of distinctions. Because it doesn't have access to a GPU, it can't offer any of the GPU-accelerated features that Adobe has been adding to Photoshop since the CS4 version. It can't print or use input devices like scanners, either.
Photoshop is the only application from Adobe's suite that's getting the streaming treatment so far, but the company says it plans to offer other applications via the same tech soon. That doesn't mean it's planning to phase out its on-premise applications, though.
"Creative Cloud products will continue to be available as local download and install," Adobe says in its FAQ.
The catch? At this phase, Project Photoshop Streaming is only being offered as a trial balloon to a very limited audience. Only Creative Cloud subscribers in North America can sign up, and then only if they are students or teaching staff at an accredited school. They also must be members of the Adobe Education Exchange program.
The program won't last forever, either. Adobe says this test phase of Project Photoshop Streaming will run for six months, beginning on September 29. What happens after that, the company has not said. ®
Similar topics