This article is more than 1 year old
Anna Wintour, Karl Lagerfeld and some Apple bloke attend glitzy iPhone 6 Paris launch
Never mind Jony Ive - who's the hobo lookalike?
Pics Tim Cook has made a bid to colonise the wrists of fashionistas everywhere by holding a series of promotional events for the Apple Watch in the world's most fashionable city.
Sadly, he didn't manage to get a place in London and had to make do with Paris instead.
Apple ditched the usual "town hall" approach of its product launch and instead showed off its new wearable computer to the cool mob at Paris Fashion Week.
It was shown behind glass at a shop called Colette, although some of the rag trade illuminati were reportedly allowed to touch the things.
What's more impressive than the Apple Watch? Clearly whatever mystical force is keeping German arch-fashionista Karl Lagerfeld breathing. He was at the event along with the wicked witch of the West Village, Vogue US editor Anna Wintour – she of the scowl, fringe and dark sunglasses – and tired-looking industrial design guru Marc Newson, who looks like he just nipped down from his hotel room.
Tim Cook tweeted the following picture from the event. The first thing you might notice is that despite Apple's fashionista claims, no one at the event looks particularly trendy.
Amazing to see the excited crowds today in Paris to preview Apple Watch for the first time at @coletteparis pic.twitter.com/YTqzbqSGhC

— Tim Cook (@tim_cook) September 30, 2014
It is unclear whether Cook took this photo from a ladder, or if he's actually 20 feet tall. It may also have been taken by a freelance snapper, but that's nowhere near as fun to imagine.
In case you're in any doubt, Jony Ive wore a pale blue shirt and equally pale blue suit to the event.
He is now expected to become every bit as important to the fashion world as, say, the elasticated sock. And for that, Mr Ive, we salute you.
Don't forget your real fans are a bunch of nerdy fanbois who delight in sneaking into Apple stores to bend iPhones. Which isn't very hip, last time we checked.
Here's what a fanboi really looks like, as pictured queueing for the iPhone 5 in London on its launch: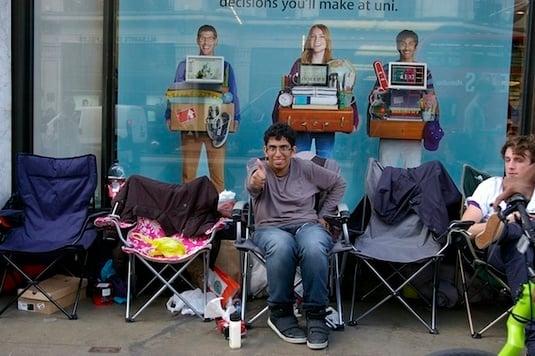 Not so trendy now, are you Apple? ®