Welcome back to SAN array land, Oracle. Larry Ellison's company has reinvented its Pillar Axiom 600 SAN array as a hybrid flash/disk array, the FS1-2, with auto-tiering and noisy neighbours sorted.
It is a general-purpose hybrid array but tuned for Oracle software. Calling its new storage box the Flash Storage System (FS1), the Big O has honed in on EM's all-flash XtremIO as its competitive focus, even though that system has no disk storage. The FS1-2 should more properly be compared with hybridised enterprise-class arrays from all the mainstream storage suppliers - EMC VMAX/VNX, NetApp FAS, HP 3PAR, etc. - as well as hybrid arrays from Nimble Storage, Tegile and Tintri.
Hardware
It has dual active/active controllers, fans, power, and non-volatile mirrored cache. One FS1-2 controller can support up to 30 2U drive enclosures and enables storage processing power scaling with no need to purchase another system. The controllers support multiple I/O ports — 16 Gbit/s Fibre Channel, 10 Gbit/s iSCSI, and 10 Gbit/s Ethernet.
It can provide up to two million random read/write IOPS in a 50:50 mix, and up to 80GB/sec of throughput.
There is a base controller and performance controller, each with 4 x Intel E5-2620 CPUs (24 cores, 2.0 GHz). The base controller has 64GB RAM cache/16GB NV-DIMM while the performance controller has more, 384GB RAM cache/32GB NV-DIMM.
Two nodes can be configured to provide a high-availability pair.
The FS1-2 array scales to 912TB of flash, and up to 2.9PB combined flash and disk capacity. There are four SAS-2-connected storage tiers; 400GB performance-optimised flash and 1.6TB capacity-optimised flash for read-intensive and mixed-use I/O, plus 300GB and 900GB 10K 2.5-inch performance disk drives, and 4TB 7,200rpm 3.5-inch capacity disk drives.
The hardware has no single point of failure, and features:
One-second controller failover capability
Warm-start technology for upgrades and error containment
Pre-emptive copying of data away from potentially failing media
Monitoring of SSD usage patterns and wear levels
T10 Protection Information (T10-PI) for application-to-storage data integrity verification
Complete copy services
Remote real-time diagnostic telemetry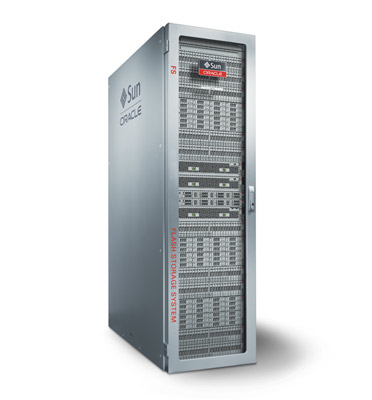 Oracle FS1
Scale-out is increased by being able to cluster 8 high-availability FS1-2 pairs together.
Oracle claims users will be able to scale throughput, media types, and capacity independently (so-called multi-dimensional scaling). The array has a modular approach with separate system controllers, storage controllers, and flash-optimised storage enclosures.
Software
Storage domains in the FS1-2 are virtual arrays — data containers that isolate their data from other storage domains, which are good for multi-tenancy environments as users set up container-specific quality-of-service (QoS) settings. This should mean that storage performance per domain can be relied upon once set.
The FS1-2 comes with tuned storage provisioning profiles for Oracle Database, Oracle applications (Oracle E-Business Suite, PeopleSoft, JD Edwards EnterpriseOne, and Siebel) and also apps such as SharePoint and Exchange. There is one-click provisioning for these, with Oracle revealing "database storage profiles can disaggregate database components such as index files, database tables, archive logs, redo logs, control files, and temp files, hence provisioning automatically optimises Oracle Database performance without requiring detailed knowledge of the database components."
New app profiles can be added, existing ones modded, and profiles can be exported to other FS1-2s to standardise storage provisioning.
Its Quality of Service Plus (QoS Plus) feature places auto-tiers sub-LUN data across 4 tiers of flash and disk storage to optimise performance, efficiency, and cost (from a $/IOP and $/GB standpoint) based on usage profiles and business priorities. Oracle claims the FS1 has the most efficient data granularity - 640KB - in the storage industry.
Oracle also claims the FS1-2 supports the Hybrid Columnar Compression feature of Oracle Database, which "compresses data by up to 50x and speeds queries up to 5x when compared with competitive storage systems." Compression is supported only on Oracle storage systems such as the Oracle FS1-2 flash storage system.
An optional MaxRep Replication Engine supports both synchronous and asynchronous replication to local and remote locations, including many-to-one, one-to-many, and multi-hop replication. Multiple recovery point objectives (RPOs) and recovery time objectives (RTOs) are supported. Application-consistent recovery options restore applications to a consistent point.
MaxRep Oracle supports both the FS1-2 as well as Oracle's legacy Pillar Axiom 600 storage system to enable replication between the two systems.
Oracle FS Pilot is the primary management interface for the FS1-2 and is fully redundant for high availability.
System management is via the wonderfully named MaxMan feature. Sysadmins can manage multiple Oracle FS1-2 flash storage systems and/or Oracle's Pillar Axiom systems from a single console. There are management plug-ins for Oracle Enterprise Manager and the Storage Connect feature of Oracle VM for single-pane-of-glass monitoring and management.
Oracle's competitive claims
The FS1-2 building blocks deliver up to 8x higher IOPS and 9.7x higher throughput than EMC's XtremIO X-Bricks at less than half the cost per terabyte. However, we don't know if this is based on raw storage or effective storage after deduplication.
It is 400x more efficient than HP 3PAR and EMC VNX2 – moving data in 640KB blocks, which dramatically saves valuable flash resources and optimises performance.
The FS1 Series supports both flash and HDD while outperforming competitor all-flash arrays
We can already visualise what the near future holds — all the all-flash array vendors running Oracle's competitive numbers through their spreadsheets, and coming up with justifications for why their kit is necessary and cost-effective in Oracle shops.
Oracle believes it is not necessary to have separate high-performance all-flash arrays and lower-performance bulk capacity primary storage arrays. The FS1-2 can do both jobs. But it does not have deduplication, which is not thought to be absolutely necessary in relational database environments where Oracle's hybrid columnar compression does the data reduction job.
We predict a series of FS1 systems becoming available over time. It is not yet clear how the FS1-2 will compare with similar enterprise-class arrays from Dell, EMC, HDS, HP, IBM and NetApp. When running Oracle's SW we expect its built-in features to give it an advantage.
There is a single-year warranty and optional Oracle Business Critical Service for Systems, which provides 24/7 fault monitoring and event detection, rapid response and hardware replacement SLAs, priority handling of IT service requests, and quarterly reviews and patch installation.
There is broad operating system and hypervisor support: Oracle Linux, Oracle Solaris, Oracle VM, IBM AIX, HP-UX, Microsoft Windows, and VMware.
The FS1-2 was announced at Oracle OpenWorld in San Francisco. Pricing was not revealed and the boxed beast should be shipping in October. ®