This article is more than 1 year old
Larry Ellison, Oracle's humble CTO, demos cloud migration at OpenWorld
Ex-CEO still knows his way around a server
OpenWorld Larry Ellison is so confident that Oracle's new platform-as-a-service (PaaS) offering lets customers move their databases and applications to the cloud "with the push of a button" that he was even willing to try it himself in front of an audience of thousands.
Ellison used his Tuesday afternoon keynote at this year's OpenWorld conference – his second talk of the week – mostly to big-up the company's new cloud efforts, which he described as "quite different" from the platform Oracle first offered two years ago. He punctuated his comments with a walk-through of the migration process.
"Because of my job – I'm CTO now – I've got to do my demos by myself," Ellison quipped, drawing chuckles from the audience.
A bespectacled Ellison, aged 70, proceeded to migrate a hypothetical Java application running on a WebLogic server and an Oracle database to the corresponding cloud services – a process that, it must be said, was brief enough to perform onstage but did seem to involve more than one button-push.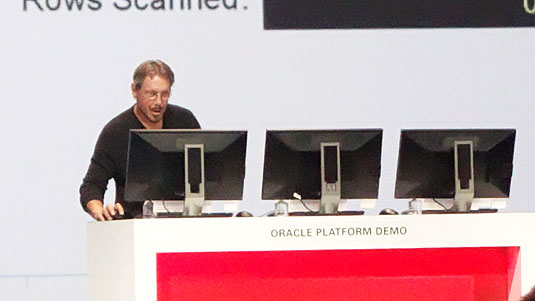 Try upping the font size, Larry: Ellison demos Oracle's "pushbutton" cloud migration at OpenWorld 2014
Luckily enough, Ellison didn't fall victim to the conference-demo curse on his first outing as CTO, and nothing crashed.
Moving to Oracle's cloud means customers' applications are instantly "modernized" with features like multi-tenancy, Ellison said, all without them changing a single line of code.
Oracle's former CEO added that in addition to the data migration process, many routine administrative tasks are taken care of automatically when customers move their databases to Big O's cloud, such as upgrading and patching the software. Storage and CPU allocation is also handled automatically, he said.
"Oracle 12c – or Oracle 12c on infrastructure-as-a-service – doesn't have nearly the automation that we deliver with Oracle 12c Database as a platform service," Ellison said. "Not only is it faster and much easier, but it's much more reliable because the human element is removed through automation."
That also means customers save money, he said, and while he once sneered that Oracle planned to do nothing about the cloud computing trend "other than change the wording in some of our ads," the world's fifth richest man now promises to compete with the likes of Amazon and Google "at the lowest possible cost."
In addition to customers, Oracle partners will also benefit from its new cloudy goodness. "We have lots of ISVs that would love to move their applications to the cloud," Ellison said. "We now have the technology, our platform, to enable them to do that and do that right away."
In closing, Ellison said that he expects Oracle's PaaS offering to quickly become its largest cloud business.
"We have hundreds of thousands of customers that want to modernize their databases, want to modernize their applications, and want to save money every day when they run them in the cloud. They have literally millions of databases, millions of applications. So we're just getting started," he said. ®