This article is more than 1 year old
Gridstore bigs up hyper-converged box: Our storage nodes 'know' what Hyper-V needs
Upstart: Rivals 'not operating at both ends of the pipe'
Gridstore has introduced hyper-converged appliances for Hyper-V, including an all-flash variant.
The startup has so far produced scale-out Storage Nodes that are aware of Hyper-V VM needs.
Its Hyperconverged Appliance (HCA) complements these, we're told, and take Gridstore into competition with Maxta, Nutanix, Scale Computing and Simplivity, and also with a rumoured EMC box on the way.
Each HCA has:
Four compute/storage nodes
All-flash or hybrid flash/disk storage
Compute nodes (servers) are any Windows Server with Gridstore's vController driver code, running in the Windows kernel, that interfaces to Storage Nodes
Capacity Storage Nodes scale up to 12PB using SATA disk drives
Hybrid Storage Nodes have PCIe flash for cache-boosted performance
Up to 250 nodes can be grid'ed together in a single resource domain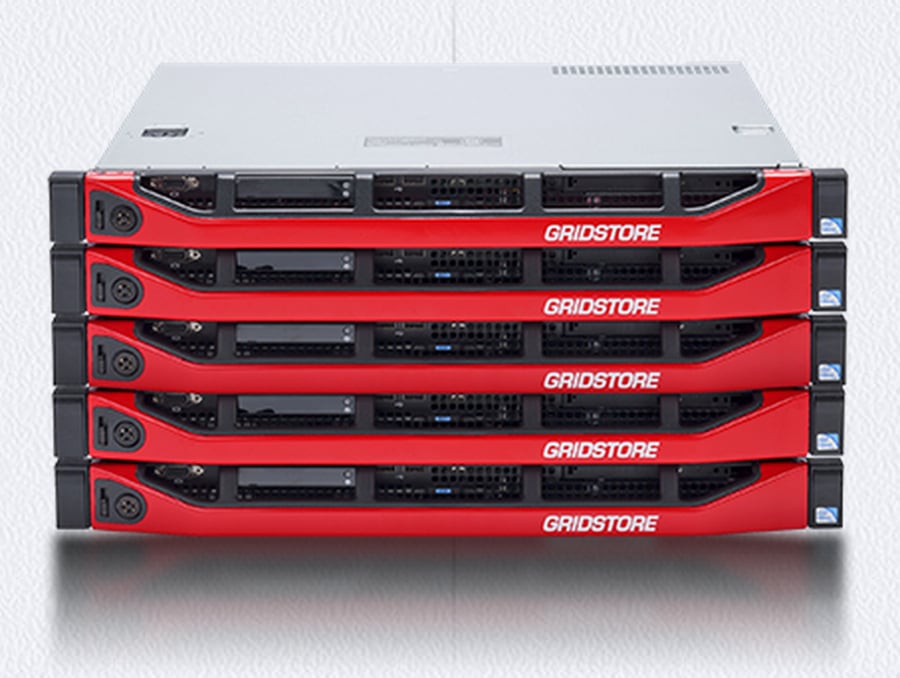 Gridstore HCAs
An all-flash HCA has all-flash compute nodes and storage nodes. A read cache dedicated to the compute processes is used for maximum read performance, with the integrated storage being all-flash - SSDs. The hybrid HCA just uses flash for caching.
Writes are accelerated through write-back cache on permanent storage.
Storage Nodes can be purchased separately or matched with Hyper-converged Appliances. HCA compute power can be scaled out by adding another HCA or adding more servers, which in this case would be running the vController.
Gridstor says that the vController "provides simple management and end-to-end control of IO from server to storage, eliminating the "IO blender effect" and allowing performance to scale linearly with capacity."
In effect the HCA provides an isolated IO lane for each VM and auto optimises to enable better application IO.
Storage Nodes can be added to the HCA to scale out capacity while adding HA nodes scales out performance. Gridstore is trying to have its hyper-converged cake and eat it with a non-hyper-converged cake, saying "the easy turnkey deployment of hyper-converged systems can be combined with the extensibility of independent servers and storage, to maximise both flexibility and resource management."
Sysadms can set quality of service parameters for individual Hyper-V VMs.
Gridstore says its "design eliminates the need for the typical 3-way replica, thereby providing increased usable capacity and up to 50 per cent TCO savings."
It sees three markets suited to its appliances:
VDI with each appliance typically supporting up to 600 desktops
Initial Hyper-V deployments with the appliances ready to run the same day as Hyper-V systems are installed
Remote and branch office deployments needing single boxes containing both compute and storage
Gridstore CTO Kelly Murphy has blogged that "the biggest problem with hyper-converged models like VSAN / EVO:Rail is how terribly inefficient they are," characterising them as server-side SANs.
He also characterises virtualised servers as the first generation of hyper-converged products and says they need "3-way replication for protection against failures," meaning you have to buy 3TB for every 1TB of capacity you need and write three full replicas for every IO – two across the network, which is burdensome.
Murphy claims that Gridstore's architecture means "we are able to deliver the first All-Flash Hyper-Converged Infrastructure with performance that is 10X that of an All-Flash Array (AFA)."
How so? "Gridstore operates in the Windows Server Kernel to minimise resource CPU and memory and enable the fastest data path. This puts us in a privileged position to eliminate the I/O blender and provide end-to-end storage QoS per VM."
Moreover, in Murphy's words: "No other storage system (except possibly VSAN) can achieve this because they are not operating at both ends of the pipe. The Gridstore data path is end-to-end and this is the key to eliminating 3-way replicas."
Gridstore avoids replication by using erasure coding that "breaks source data into chunks that are encoded and distributed in parallel to a set of N nodes."
You can co-opt existing physical or virtual servers into the grid by installing vController drivers on them. With Gridstore you can manage "everything as a single elastic pool of converged infrastructure resources."
It's believed at Vulture Central that an all-flash Nutanix system is coming and that EMC is going to join the hyper-converged appliance party, probably with a VMware bias.
The all-flash Hyper-converged Appliance will appear first, by the end of the year, with the hybrid flash/disk version appearing after them. Storage Nodes are available now. ®